Straight Talk Broadband 1GB $15 (Email Delivery)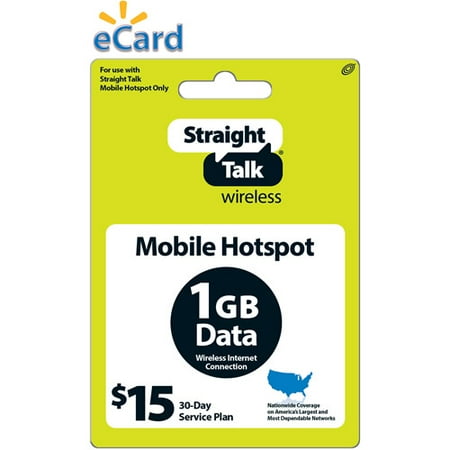 Sale :

$15

Sold & shipped by Walmart
Product Description

Additional Information

Reviews
Product Description
Additional Information
Straight Talk Mobile Hotspot (3G):Wireless Internet connectionNo software to installConnect your laptop or tablet and enjoy Internet connectionConnect up to 5 WiFi devicesUser-friendly web interfaceNo contractNo monthly fees or chargesFlexible data cardsYou will receive a confirmation email from Walmart.com within minutes of successful order placement. A second email from
[email protected]
with access to your PIN will be delivered within 60 minutes.*If you have issues receiving your email, go to the following webpage to access your purchase: www.walmart.e-deliverygroup.com. Enter your email address used to order on Walmart.com, your billing ZIP code and your Walmart.com Order Number (your order number can be found on your confirmation email from Walmart.com or in your Account Order History on Walmart.com).When your purchase is complete and you have received your PIN access email you will have the option to send your eCard as a GIFT after you login to www.walmart.e-deliverygroup.com. To view frequently asked questions about this product visit www.walmart.e-deliverygroup.com/faq.htmlThere are no returns or refunds on electronically fulfilled PIN numbers.Walmart.com is not responsible for stolen or misplaced PINs.*Pins are usually delivered in minutes or, at most, within 48 hours depending on additional order validation required by Wal-Mart or your Credit Card company.
Reviews
misscricket
Good deal!
$15 bucks for 1 gig does not seem like a good deal at first. It is basically mostly an activation fee. It keeps the device active and you get 1 gig of data for those who only need the mobile hotspot once in a while. Sure beats what the others charge for a basic low data plan. They charge 50 bucks for 5 gigs whether or not you need 5 gigs a month or not. At least I can keep my service active and if I need more data in a month I simply buy a larger data plan card. It is not for the heavy user. Of course the larger amount of data you buy that month each gig gets cheaper. As you are not paying for the initial activation fee and buying in bulk they can charge less per gig too. For me it is a great deal as in most months I don't even use the whole amount. $15 bucks for backup internet is well worth it. It means if the power and DSL are knocked out and I have important things like business to tend to online I am not out more money by losing a sale or an order I made get screwed up by the outage. If its stormy I just switch off the DSL and hop on the hotspot and stuff gets done
Unhappyshopper
could not use where I was at
I purchased this hot spot device so I could use it when I traveled to Pa last year. The I bought 4GB card to go with it because I work from my computer. The connection was horrible and I could not work. when it worked, it was so slow. I ended up losing 3gb of data because I could no use it..This year when I went, I only bought this 1 GB card...and it did not even work at all. I even called straight talk to make sure the data was on the device and they said yes it was showing and I told them where I was at and they said I should have internet. I did not...the whole thing is probably still on there and again I will lose it because I could not use it there and I am home where I do have internet..So basically, I wasted the cost of the Hot Spot device and now 5 GB of data. And I definately will tell peope not to invest in this product
pleasantgroveteal
Great for a novice
Great for someone like me who is not a big Wifi hog but needs it in places I can't usually pick up Wifi. The amount of broadband is just right for someone like me.
spinmasterka
easy to set up
Instructions were clear was easy to set up.
rsh7
Aggressive data calucation usage
Pro: - none Con: - I notice that Straight Talk must be calculating data usage at a high rate. I browsed a few web pages that should be only a few megabytes ends up being hundreds of megabytes. So buying 1GB data card is really not what it appears to be. I have tried other service providers and this is not always the case. Additional: I brought a 4G LTE hotspot and this 1GB data card. I could not get the 4G LTE hotspot to work with 4G LTE. The hotspot would only work under slower speeds.