Straight Talk $130 Unlimited 90 Day Plan (with up to 10GB of data at high speeds, then 2G*) (Email Delivery)(Email Delivery)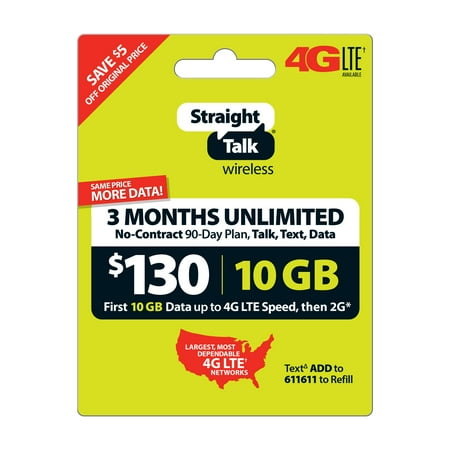 Sale :

$130

Sold & shipped by Walmart
Product Description

Additional Information

Reviews
Product Description
Get unlimited nationwide talk and text with the Straight Talk 3-Month Plan. Enjoy nationwide coverage on America's largest most reliable network.
Additional Information
Straight Talk's $130 Unlimited 90 Day Plan comes with Unlimited Talk, Text, and Data with the first 10GB of Data up to 4G LTE† speeds, then 2G* (*See Terms and Conditions of Service at StraightTalk.com)

Data is reset after each 30 day cycle

Nationwide coverage on America's largest, most dependable network.

90-Day Plan

Reviews
TomWinSouthCarolina
Service is a disaster !
I have used StraightTalk for over three years, and used to be extremely happy with the service and coverage. In the past, I recommended StraighTalk to my friends and business associates. However, during the last two weeks, I began having problems with the voice coverage. I have called StraightTalk more than six (6) times in the past two weeks, in an attempt to resolve this problem. It is not resolved, and I can no longer make or receive voice phone calls. I can text and receive data. I have been using Skype to make necessary phone calls. In all fairness, each customer service representative has attempted to be helpful, until today. I spoke with a supervisor, and in frustration, spoke with his supervisor. The rudest person I have talked to at StraightTalk, was the supervisor's supervisor - who, after being extremely rude, just hung up on me. I currently pay for StraighTalk service with three phones - mine, my associate, and for an elderly parent. I will be changing all of these. What good is a phone service on which you can not make or receive phone calls? StraightTalk used to be great; now, it can only be termed a DISASTER!
luckybait
From verizon to Straight Talk
I was paying $120.00 per month when I left verizon. Today my service is just as good and I have never missed a call, text, or email with Straight Talk. If you have not changed from the Big companies who are overcharging you just don't care about your money! great job " straight talk " !
jpop0753
Great Service, Good Price
We have three phones that we have been using on Straight Talk for over two years and we have only had one recurring problem. Walmart has occasionally accepted then declined my online purchase of air time cards when using the same debit account I use regularly and flawlessly the the store. When this happens I just go to the Straight Talk site and purchase the same service for just a few dollars more. Even at Walmart site when I am able to purchase airtime cards online there is normally no more than a 2 hour lag before I get my PIN code via email. I have never waited until the last minute to purchase airtime and have never had any problem with Straight Talk service.
gramma2rd
easiest way to buy straight talk minutes
Easy, way to get minutes for my grandsons phone. After you get the email, which in most cases arrives within a half hour of the time of purchase, all you have to do is follow the instructions to add the time to the phone. There are 3 options, you can do it online from a computer, by making a phone call to an automated system from a landline or you can do it via internet from the phone itself. I`ve tried all three and the only one I had a problem with was using his phone. It said the time was placed in reserve but when the current plan ran out the phone was turned off. Luckily I had saved the email & went to the website, and added the new plan again which turned the phone back on almost instantly. Now I just use the link in the email and its done in a flash.
Sil
easiest way to buy straight talk minutes
I was an extremely happy straight talk costumer till I just recently went on a trip to Puerto Rico and found out I couldn't contact anyone back home in the states. When i got back home i contacted costermer service only to be told they were sorry but there's nothing she can't do. Straight talk doesn't cover international calls. No Wi-Fi nothing phone went completely dead.