(Email Delivery) TracFone Data Card 750MB $20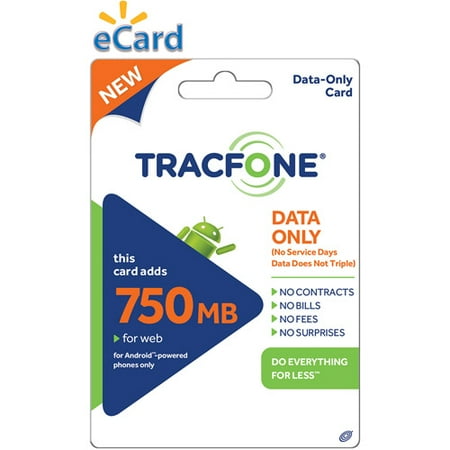 MSRP :

$20





Sale :

$15

Sold & shipped by Walmart
Product Description

Additional Information

Reviews
Product Description
Additional Information
TracFone Data Card 750MB $20 (Email Delivery):
TracFone is America's #1 National No-Contract Wireless service provider
No contract, no bills, no daily or monthly fees
Nationwide Coverage on Americas Best and Most Dependable Networks
Call Nationally, Internationally or Roam at local call rates
Lowest out of pocket cost for Phone and Service
Calls to over 100 international destinations
Phones from great manufacturers such as Samsung and LG
No Credit Check or Credit Card required
TracFone cell phones and airtime available at over 90,000 retailers nationwide
Keep your existing phone number or get a new one
You will receive a confirmation email from Walmart.com within minutes of successful order placement.
A second email from [email protected] with access to your PIN will be delivered within 60 minutes.*
If you have issues receiving your email, go to the following webpage to access your purchase: www.walmart.e-deliverygroup.com. Enter your email address used to order on Walmart.com, your billing ZIP code and your Walmart.com Order Number (your order number can be found on your confirmation email from Walmart.com or in your Account Order History on Walmart.com).
When your purchase is complete and you have received your PIN access email you will have the option to send your eCard as a GIFT after you login to www.walmart.e-deliverygroup.com.
To view frequently asked questions about this product visit www.walmart.e-deliverygroup.com/faq.html
There are no returns or refunds on electronically fulfilled PIN numbers.Walmart.com is not responsible for stolen or misplaced PINs.

*Pins are usually delivered in minutes or, at most, within 48 hours depending on additional order validation required by Wal-Mart or your Credit Card company.
Reviews
Canopyfan2
Data rollover
Tracfone Data Cards for Androids will not work with non-Androids and will not work with Tracfone's Safelink brand (as of this writing). And data can not be used for hot spots or tethering (as of this writing).----- Data Cards will not add minutes, not add text, and not extend your service date, will only work if you have existing minutes and service date. You can not use a Tracfone Data Card to activate a phone. ----- For example, if I have 100 minutes on my phone and my service date is January 1, 2014 when I add 300MB data card I will still have 100 minutes and my service date will still be January 1, 2014 and 300MB of data that will rollover with future Tracfone airtime card (any card) redemption. ----- Tracfone data cards are good for lite Internet like periodically checking email and weather, a couple of times a day maybe. For more frequent internet use the Straight Talk $45 unlimited plan is a better value. The introduction of rollover data for Android Tracfone is very nice, having been a Tracfone customer since 1999 I certainly appreciate how far we've come.----
ghostman56
was sent fast to my e-mail
It could be a bit cheaper
Sweshe
Perfect data card
It's a good card to get you by if you don't use a lot of data. If you do use a lot of data you should get 2 or 5mbs.
TFUser
Expected More
Should be tripled or doubled based on your phone.
RepentJesusisComingSoon
nice deal
Arrived by email within 48 hours. Walmart discounted the card with 5 dollars off the regular price. So I will buy again.