TracFone $19.99 Basic Phone 60 Minutes Plan (Email Delivery)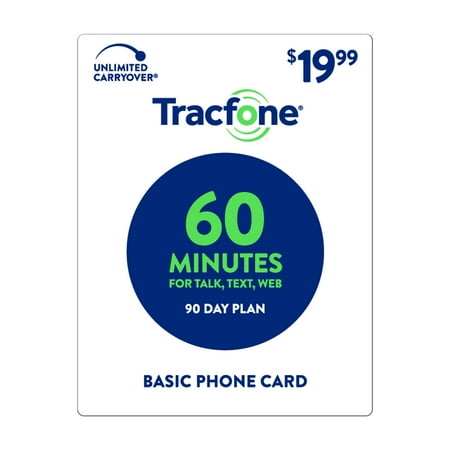 Sale :

$19.99

Sold & shipped by Walmart
Product Description

Additional Information

Reviews
Product Description
No bills. No surprises. You're in control. This TracFone card adds 60 minutes and 90 days to service end date. One of the lowest priced no contract plans in the market today!
Additional Information
Reviews
PFLEMENT
found it flustrating
I don't know how easy it might be the second time around..but the first time.me was awful and time consuming.I was trying to activate my tracphone and add minutes..I don't know if everyone is aware but the whole tracphone process from activating to adding minutes and so on is done by automation..NO person to person to ask questions..there are many codes to be entered,I could not get my phone to accept the minutes..it took me 2 days of trying before it was achieved..I NEVER talked to a person, and after exhausting all my options I think it was a FLUKE that it finally said I needed another code..after that it excepted my pin code and the minutes appeared on my phone..I haven't used them because the "AUTOMATED VOICE tells me I have to pay another $15.00 roaming fee of which I have already purchased but my phone won't recognize it and they want another $15.00..I haven't made that move yet, so when I do I hope.my minutes work properly..such a big headache..but I did get the.minutes downloaded on my phone..finally...
Catsissie
Great way to buy your Tracfone Airtime!
I've bought my Tracfone Airtime on my phone, online, in the store, and, for the first time, at Walmart.com. It costs the most online at the Tracfone site...there are extra taxes and charges there, and they don't necessarily compensate for "fastest", unless you are completely out of service days and minutes. The store is the same price as online, but you risk losing the card...I ordered at night, so finally went to bed after waiting a couple of hours, since Walmart has delivered everything else just fine. In the morning, there it was, right on my phone, when I went on the site and did the stuff I needed to do to get it there. No problem, no hassle. Just a bit of waiting. No more time, really, than when I bought a card at the store, went home, but away my groceries....you know the drill. Do this. The reason I gave it a four? I waited until morning. My bad? Probably. But I'll do it again, believe me, I will, in a heartbeat! Yay, Walmart!
Kvberryhill
Online purchase for pre paid phone card
Our 1st time to order online from Walmart and had it emailed to me to get pre paid min.faster for my phone. I admit I was nervous about doing so. Especially unsure on how it was going to work... Or what if it doesn't come by email and I paid for it. Just the unknown when it comes to buying online and not having an actual product in hand or mailed etc. However all those thoughts were totally unnecessary. .. Placed my order. Received confirmation instantly and by email. Also allowed me to track it if I needed to. Received it less then 5 min. And it comes just like if u bought n store. Added my pin number that was on card and had minutes I instantly.... Loved it.. Will do it that way from this point on. We use the prepaid phone for our son. Incase he needed to call us or had an emergency etc. I recommend this 100%.... Very convenient, saved gas, no travel time lost, extremely secure sight for using you bank or credit cards online and had it quicker then if I would of went to a store and bought one. Ca. Not say enough great things about this purchase.....
Arnj
Tracfone is great. PIN thru Walmart.com not
I have used Tracfone for over 10 years and I am very satisfied with their service and their service plans. However, I doubt that I will try to obtain their Service PIN through Walmart again, especially if time is of the essence. . That is because I am not too impressed with the uncertainty of PIN delivery time. THe FAQs say delivery should be within 60 minutes of completing your order on Walmart.com. When placing the order, it states it could be 48 hours, and some reviews have said it took a couple of hours. In my case, it did not arrive until 14 hours after I placed the order. After 12 hours, because my service was expiring, I went out to a supermarket and bought a physical card and then hit the CANCEL ORDER button on Walmart.com. However, 2 hours later, the PIN arrived in my e-mail and the order was completed. I would recommend Tracfone and the 60 min card to a friend or anyone else for that matter. but I want to let people know that ordering here online with e-mail delivery may not necessarily be faster then going to a physical store. .
OnTheRoadAgain
Fast and Easy with One Caveat
This is the easiest way ever to buy phone time. I needed a quick fill on a new phone I got when I left my regular phone behind on a recent trip and went straight to TracFone 90 days. (The phone was under $7, the fill $20. Not a bad deal for 90 days of emergency service, should I need it.) The email delivery was easy. All I needed to do was copy info to my TracFone account and I was up & running. One caveat: You will be charged tax based on your credit card's address, not the address you will be using the card in, so keep that in mind if you're calculating cost. This isn't TracFone's fault so they're square - but I do wish there was some way to tell the ordering system shouldn't have to pay both sales & luxury tax for something I needed in a location that has no such tax. Yes, I know I could have purchased it in a store instead of email delivery to avoid the taxes, but driving for an hour to reach one wasn't possible.