Straight Talk Unlimited* Text, Talk, and Web Access 180 Day Service (Email Delivery)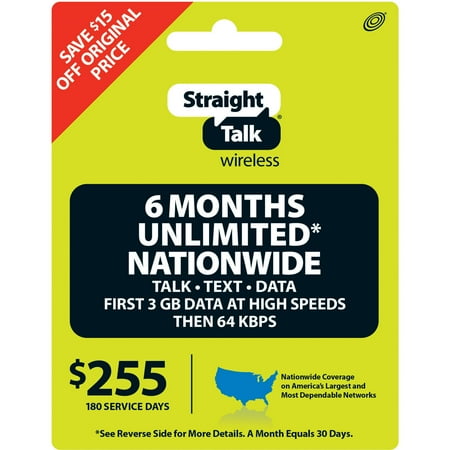 MSRP :

$270





Sale :

$249.99

Sold & shipped by Walmart
Product Description

Additional Information

Reviews
Product Description
You will receive a confirmation email from Walmart.com within minutes of successful order placement.
A second email from [email protected] with access to your PIN will be delivered within 60 minutes*
If you have issues receiving your email, go to the following webpage to access your purchase: www.walmart.e-deliverygroup.com. Enter your email address used to order on Walmart.com, your billing ZIP code and your Walmart.com Order Number (your order number can be found on your confirmation email from Walmart.com or in your Account Order History on Walmart.com).
To view frequently asked questions about this product visit www.e-deliverygroup.com/faq
There are no returns or refunds on electronically fulfilled PIN numbers. Walmart.com is not responsible for stolen or misplaced PINs.
*Pins are usually delivered in minutes or, at most, within 48 hours depending on additional order validation required by Wal-Mart or your Credit Card company.
Additional Information
Reviews
caliReviewer
Love straight talk after 2 years
I've been using straight talk $45/month plan for about 2 years now and it's the best phone plan I've ever had. I have used it with iphones and Android. It uses the at&t network, so coverage is great and data speeds are great. I travel a lot for work and service is great throughout the country. It takes a few minutes to get it set up on your phone, but after that you don't need to adjust anything. Just make sure you track your data consumption and don't go over 5 gigs in your 30 day billing period or you will get throttled to a very slow data speeds. There are a few downsides. You can't use straight talk in other countries, even Canada or Mexico. Customer service is horrible if you ever need it. A Google search works better than calling straight talk. It does take a few minutes to set up the data settings on your phone. I've had problems not getting picture text messages, but not anymore. Maybe they fixed it. Overall it's a great service and you will save a lot over Verizon and AT&T.
BlueWaterAngel
Best purchase I've ever made
Only 2 purchases a year for the best service ever! I hear friends complaining about their $80.00+ per month bills and lousy reception, lack of internet connection and lost signals. The 180 day option is great, paying less than $42.00 a month for total service and being able to purchase online and activate myself or call a number and have a customer service person so kindly do the activation is a plus! I've had Straight Talk for just under 180 days and purchased another 180 days, this time online. The purchase was flawless, directions sent to my email was a bit unclear, view gift or send gift was confusing. Better choice of words would be view my purchase or send gift. I viewed gift and got the info to add 180 days to my existing days. Great thing is I can add any of the packages at any time and it will be added to what your remaking available time. I'm impressed and brag about how easy the purchase was and how easy it was to activate!
llkoolmay
Be aware
First, understand that even though this is a digital order, it took 12 hours for the code to be sent by email. Do not wait until the day your plan expires to do this or you will run into problems. Second, do not use the Straight Talk website to enter the code. They are a mess there. When I finally got everything straightened out (after 3 hours on the phone) they third representative I spoke with very clearly told me to not use the website in the future that I should call and have them do it. In other words, they know they have issues. Third, understand I am very computer savvy and do all of my banking and other activities online, when it is available to me. I have learned their online system does not work. I will continue using them because of the value of their service, but you have to know what you have gotten yourself into.
Cluzey1
Worst customer service ever!
I've purchased 1 year plans twice now and only 2 months into my second year I changed jobs and was required to port my number into my work providers account. I asked for a refund but straight talk said they would not do that. I asked if they could port my wife's number over to the account so she could use the balance if the year I had purchased and they said sure no problem. I followed their instructions and had my number ported off and called immediately to port hers on but they could not make it work. 2 months later and after they've sent me 2 new Sim cards they still can not make it work. I've spent 8 plus hours on the phone with customer support with no results. Tonight they told me my only option was to go buy ANOTHER Sim card from Walmart which I did for another $65 and after ANOTHER 2 hrs on the phone with customer support they still can't make it work. I'm beyond frustrated and will never EVER use straight talk again!
beaniebean04
DO NOT PAY FOR STRAIGHT TALKS YEARLY PLAN.
DO NOT PAY FOR STRAIGHT TALKS YEARLY PLAN. I bought this and I had had them for over two years. Since I never had a problem with them, I opted to go with their yearly paid plan. Well 5 months into that plan, I no longer get service in the vicinity of my house, my calls drop in and out. I get service everywhere other than in my local vicinity. They insist it is my phone and I need to replace my phone. It is not my phone. My phone works perfectly fine; it is the connection in the lines. Straight Talk refuses to work with me, nor will they refund me the 180 days I have left on this yearly plan. My phone is useless. They got close to 600 dollars of my money but they refuse me customer service. We have talked to 3-4 of their customer service agents/managers and they have been nothing but nasty. I would advise staying far away and going with a different company.