Merchandise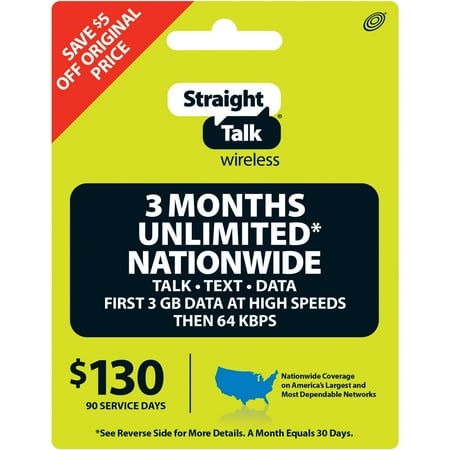 MSRP :

$135





Sale :

$130

Sold & shipped by Walmart
Product Description

Additional Information

Reviews
Product Description
You will receive a confirmation email from Walmart.com within minutes of successful order placement.
A second email from [email protected] with access to your PIN will be delivered within 60 minutes*
If you have issues receiving your email, go to the following webpage to access your purchase: www.walmart.e-deliverygroup.com. Enter your email address used to order on Walmart.com, your billing ZIP code and your Walmart.com Order Number (your order number can be found on your confirmation email from Walmart.com or in your Account Order History on Walmart.com).
To view frequently asked questions about this product visit www.e-deliverygroup.com/faq
There are no returns or refunds on electronically fulfilled PIN numbers. Walmart.com is not responsible for stolen or misplaced PINs.
*Pins are usually delivered in minutes or, at most, within 48 hours depending on additional order validation required by Wal-Mart or your Credit Card company.
Additional Information
Reviews
Unknown Customer
Excellent product, Walmart delivery slow
The Good: Straight Talk is an excellent deal and as long as you abide by the TOS (no streaming audio or video) and no tethering than you likely will never have a problem with them. The Bad: Straight Talk has horrible customer service with many confusing ways to contact them. This is to be expected and is where some of the savings come from. Avoid them by not porting a number and not violating the TOS. Huge data usage WILL get you throttled and possibly kicked off their network. Recommendation: do NOT port your number in to Straight Talk. If you must keep the same number port it to Google Voice. This gives you the freedom to throw your SIM away and go with another one or another carrier. Walmart delivery of the code is slower than posted, it can take several days. Do NOT wait until last minute to do your refill, get it a week early and you will be fine. Once you have the code you can add it to reserve or wait to add it to Straight Talk at the last minute if you want, your choice. Just plan ahead here.
BrunetteBlonde
Best deal available!
So I'm probably one of those people the older generations all gripe about-no, the phone isn't an extension of my hand, but I do have a really busy life. I play as hard as I work, so my cell phone is crucial to me for business and my personal life. I had got to the point where I was spending ridiculous amounts on my bill, when a colleague suggested I look into an unlimited option, and made what, at the time, to me was a ludicrous recommendation-prepaid. Well, having done the research, I was blown away by the idea of paying only $45 for unlimited everything on Straight Talk! It's been ideal for my extensive usage, and has the option of running off either the Verizon or AT&T networks, depending on your location and/or phone needs. I'm also thrilled at how quickly they are adding really good phones to their selection-yes, a couple of smartphones too. I would suggest if you can afford it, buying the 3 month card as it saves you having to renew monthly. Great service at an affordable rate. Well recommended.
mobilecomp
Prepaid Straightalk
great service for the price
skiatl
Beware Straight Talk has terrible customer service
I bought this 90 day reload for my phone one week prior to the end of my first 30 days of service. My online account showed it was added the day after I purchased it. But, the day when the 90 day service was to go into effect I could not make calls, text or get online. It was 630 am on a Sunday and nobody was at ST support until 8am. After numerous calls and emails and Facebook 'support' I finally had service restored 3 hrs later after a reprogram of my phone. THEN the very next day it happened AGAIN. I could only make a call to one number...and it was the one I called Sunday, BUT it was routed to Verizon.....figure that one out ?? So I had to call ST on a landline phone to make contact. ST had to reprogram my phone once again. Another 3 hrs without service. To date ST has not given any reason why this happened, or can guarantee it will not happen again. I had read stories where people had lost service during the updating of your service period. The reloading of service to your phone should be seamless. Buyer beware.
Videonaut
Cheap, but unreliable data on AT&T
Nothing wrong with walmart's delivery of the card, and it's even a few dollars cheaper than buying from Straight Talk directly. But Straight Talk has a very serious problem with data. Most of the time when you attempt to access the web, you will see an "Access Forbidden" message that can only be fixed by taking your phone off the network & starting it back up again. The simplest search takes minutes when you have to watch it fail, restart your phone & start over! I recommend going to the Straight Talk forums & searching for "Access Forbidden". You will find dozens of threads which are taken quickly into "offline chats" by reps rather than talking about a fix publicly. Multiple calls to support did no good...either they don't know what the problem is, or they do know but have no fix. After eight months of frustration, I finally went back to paying too much, because the savings didn't justify the hassle. If they ever fix this, I'll be back in a heartbeat.