(Email Delivery) NET10 $20 Prepaid Card, 200 min for Talk/Web or 400 texts and 30 days of service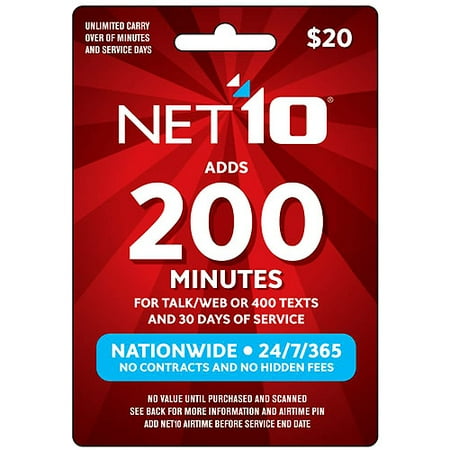 MSRP :

$20





Sale :

$19.88

Sold & shipped by Walmart
Product Description

Additional Information

Reviews
Product Description
Additional Information
You will receive a confirmation email from Walmart.com within minutes of successful order placement for this NET10 $20 prepaid card.A second email from
[email protected]
with access to your PIN will be delivered within 60 minutes*If you have issues receiving your email, go to the following webpage to access your purchase: www.walmart.e-deliverygroup.com. Enter your email address used to order on Walmart.com, your billing ZIP code and your Walmart.com Order Number (your order number can be found on your confirmation email from Walmart.com or in your Account Order History on Walmart.com).To view frequently asked questions about this product visit www.e-deliverygroup.com/faqThere are no returns or refunds on electronically fulfilled PIN numbers. Walmart.com is not responsible for stolen or misplaced PINs.*Pins are usually delivered in minutes or, at most, within 48 hours depending on additional order validation required by Wal-Mart or your Credit Card company.NET10 $20 Prepaid Card (Email Delivery):Low monthly cost and no hidden feesNo contracts, no bills, and no credit checksNo long distance or roaming chargesKeep your existing number or get a new one200 minutes of talk time; 400 textsCell phone card is good for 30 daysNationwide 24/7/365 serviceTo view frequently asked questions about this NET10 $20 prepaid card visit www.e-deliverygroup.com/faq
Reviews
Niceywdc
No Need To Wait For Card
They give you the PIN for the card rather than send you the card. They need to make this more obvious. I like this system better, its faster and is green, no packaging.
parrothead11877
Don't use Net 10
I purchased this card to add minutes to my wife's cell phone. After adding the pin #, a "Service Unavailable" message came up. So I called customer service, spent more than 3 hours on the phone, only to be told that someone else had already activated minutes using that pin #. So basically my $20 was flushed right down the toilet.
SHELLLS
easy
i never knew that i could just buy a card online and get the pin a few minutes later. plus it's a few pennies less than store bought, plus the price of gas. didn't have to go anywhere. net10 always gives me so much trouble ordering time online, now i know better.
thornedrose1165
Great and Fast way to buy Net10 Minutes
As indicated this was a FAST way to buy minutes for my net10 phone. In a manner of second after paying with paypal I received my minutes via email. Great way to buy minutes online when you want it simple and fast!!! I recommend this!!!!
ComputerGeek2138
Great way to get minutes when you need them
I bought these minutes to replace the 750 minute monthly plan that I had on my phone at the time, seeing as how it wouldn't allow me to download content to my phone via the mobile web service. I called and had them to take the 750 minute monthly plan off of my phone and this put on, and within just a few short seconds it was on my phone. I still can't believe that net10 was able to help me get this on my phone as fast as they did.