(Email Delivery) NET10 $60 Prepaid Card, 900 min for talk/web or 1800 texts and 90 days of service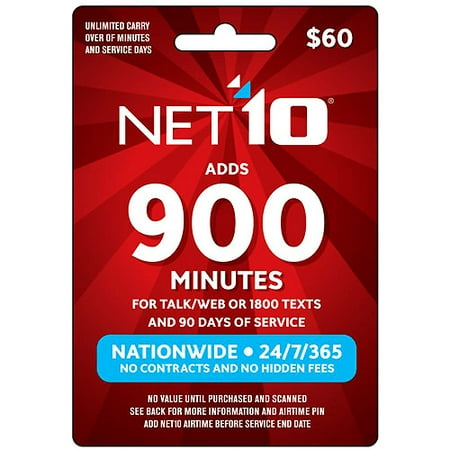 Sale :

$60

Sold & shipped by Walmart
Product Description

Additional Information

Reviews
Product Description
Additional Information
You will receive a confirmation email from Walmart.com within minutes of successful order placement for this NET10 $60 prepaid card.
A second email from [email protected] with access to your PIN will be delivered within 60 minutes*
If you have issues receiving your email, go to the following webpage to access your purchase: www.walmart.e-deliverygroup.com. Enter your email address used to order on Walmart.com, your billing ZIP code and your Walmart.com Order Number (your order number can be found on your confirmation email from Walmart.com or in your Account Order History on Walmart.com).
To view frequently asked questions about this product visit www.e-deliverygroup.com/faq
There are no returns or refunds on electronically fulfilled PIN numbers. Walmart.com is not responsible for stolen or misplaced PINs.
*Pins are usually delivered in minutes or, at most, within 48 hours depending on additional order validation required by Wal-Mart or your Credit Card company.

NET10 $60 Prepaid Card (Email Delivery):
Low monthly cost and no hidden fees
No contracts, no bills, and no credit checks
No long distance or roaming charges
Keep your existing number or get a new one
900 minutes talk time or 1800 texts
Cell phone card is good for 60 days
Nationwide 24/7/365 service
To view frequently asked questions about this NET10 $60 prepaid card visit www.e-deliverygroup.com/faq
Reviews
monavy
best buy for Net10 minutes
This is what I always buy for my prepaid cell phone with Net10. So far it's the best deal I've run across (since I do not use it for data purposes...just talk and text).
likestosleepduringmovies
Net10 phone cards
Since the stores rarely have these cards anymore it was a treat to find it online and it cost me nothing in gas!! I will definitely buy more cards this way. it's easily done, a pin comes to you via email and you are set to go!
Huey9
Great Value but not accurately described
This card is definitely for 900 minutes and 90 days of service even though it is described in some places as 600 minutes and 60 days. I loved being able to pay by PayPal since Net10's website wouldn't let me pay with a Canadian Credit Card. I'll definitely buy my cards online from Walmart in future.
NE54
Excellent price and very easy to purchase online!
I was pleased to be able to purchase this prepaid 900 minute card online as it is no longer carried in the store. The process was relatively easy as you receive an e-mail that contains the info to add the 900 minutes electronically to your phone....
happywoman2013
Net 10 900 prepaid card
I've been looking all over for the Net 10 900 minutes prepaid card. The last three times I tried to purchase one on line at Walmart my order would not go through. I finally was able to purchase one this month and it was just as easy to use as the one I purchase in the store. Walmart sent me an electronic prepaid card with the pin number and contact information. I did not have any problems using the electronic card. Thank you.