Straight Talk Unlimited* Text, Talk and Web Access 30-Day Service Card (Email Delivery)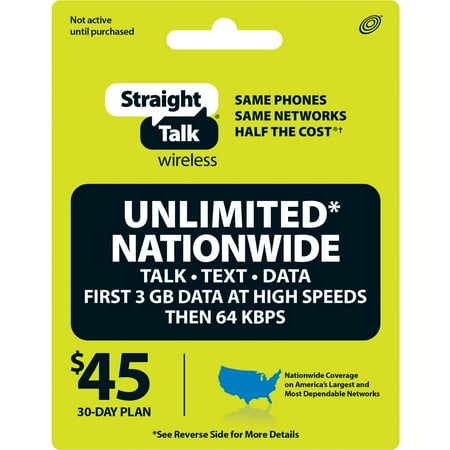 Sale :

$45

Sold & shipped by Walmart
Product Description

Additional Information

Reviews
Product Description
You will receive a confirmation email from Walmart.com within minutes of successful order placement.
A second email from [email protected] with access to your PIN will be delivered within 60 minutes*
If you have issues receiving your email, go to the following webpage to access your purchase: www.walmart.e-deliverygroup.com. Enter your email address used to order on Walmart.com, your billing ZIP code and your Walmart.com Order Number (your order number can be found on your confirmation email from Walmart.com or in your Account Order History on Walmart.com).
To view frequently asked questions about this product visit www.e-deliverygroup.com/faq
There are no returns or refunds on electronically fulfilled PIN numbers. Walmart.com is not responsible for stolen or misplaced PINs.
*Pins are usually delivered in minutes or, at most, within 48 hours depending on additional order validation required by Wal-Mart or your Credit Card company.
Additional Information
Straight Talk Unlimited* 30-Day Service Card with Text, Talk and Web Access (Email Delivery):
Nationwide service on Straight Talk's reliable network
No activation, reactivation, cancellation, daily access or overage fees
30-day plan
Unlimited minutes and texts nationwide
Unlimited* high speed data for the first 3GB of data use and unlimited data at 2G speeds for the rest of the 30-day cycle (on Mobile Web-enabled phones)
Calls to 411 at no additional charge


**30 day Unlimited Plans include 3GB of high speed data per 30 day cycle. After 3GB, your data speed will be reduced for the remainder of the 30 day cycle. High speed data is restored once a new 30 day service plan is added. Other limitations, terms and conditions of service apply. Straight talk reserves the right to terminate your service for unauthorized or abnormal usage. Please refer to the Terms and Conditions of Service.
To view frequently asked questions about this Straight Talk Unlimited* 30-Day Service Card visit www.e-deliverygroup.com/faq
Reviews
DSpooner777
Informative review on Straight Talk Service Card
The Straight Talk Unlimited Talk, Text and Data is a FABULOUS value at only $45! Every month I get one of these for my husband, he even likes Straight Talk's service so much I bought him the newest Android by Straight Talk phone for Christmas! My son bought himself one as well! With so many competitor's trying to get your business, Straight Talk speaks for itself. Straight Talk offers a fantastic service with an exceptional new Android phone offering UNLIMITED Talk, Text and Data! You just can't beat it anywhere. Bundling a $45 Straight Talk Service Card and the newest Android Straight Talk phone will make a wonderful Christmas gift for ANYONE!
Pete7519
it's better than the $100+ a month phone bill.
I was using Sprint before I switched cause they were charging me over $100+ a month for my cell phone and data service. Now I pay less than $50 a month to do the same stuff with my new Straight talk service that I used to do with Sprint. Hmm to me it's an easy decision.. Thanks again Wal-Mart
Twolinks
Great value save money
I have been with them for a few months now and my mother has been with them for over a year. It is a good service and works well for both of us. When you change over to it you just have to remember to get the right phone for your area and do not go with a cheap phone you will regret it. My mom uses a zeta it runs about $150 and works really well I use a I phone 4 and it works really well. If you fellow this two things you should not have any problems, I would give it a 5 stars but I do have to say the customer service is good just hard to understand them the one or two times I have called but all in all it was a good choice for me. I was paying $77 a month now I pay $48, a nice saving and just to clear it up it does say in the terms that it is 3g for the first 2.5GB and they slow it for the rest of the month but I have had a smart phone for over 3yrs and never used more then 1.5gb a month so if you are a heavy user than this is not for you but if you are an average user than you can save some money.
Askance
I Was Nervous, But Walmart Came Through!
I noticed that I could purchase a straight-talk card on walmart.com rather than trying to hike up to the store for a last minute gift or purchasing on the straight-talk site and getting hit with additional charges. I browsed through and noticed some people complained about not getting their code-sometimes for DAYS. I needed the code for my brother's christmas gift, since his account expires tomorrow. So, I went against my vibe from other reviewers and did it anyway thinking it might just be customer error. Especially, with the filters on spam folders lately. I was pleasantly surprised, although, definitely had my nerves going. I placed my order at 12:19am and received my pin number around 12:34am. So 15 minutes was all it took for me. I use gmail, so my walmart order form went to my regular inbox and the pin number went to my "promotions" box. I can tell you, it felt like the longest 15 minutes of my life and I really didn't want to regret the purchase, but I am glad I did it!
FOUO
1 STAR IS TOO MANY!!!!
ok so i have been using straight talk for several months now and now its time to reload some minutes and my sim card is blocked. so i call their tech support, which really isn't that helpfully, and they tell me that there unlimited everything plan as limits. Basically they can shut you down due to their "Fair Use Policy" that is nowhere on their website and printed in like 2 font on the paperwork they send you with the sim card. To sum this policy up for yall, straight talk doesnt want you on youtube, facebook, pandora, google, they even monitor the lengths of your calls to determine whether or not you talk to much. So i was like ok whatever just reactivate my phone and ill watch how much of my unlimited data ill use and they told me they couldn't that but i could just buy another sim card and start over. Neeless to say I'll be finding another provider with better customer service and one that doesn't rope you in with the fine print. I would not recommend this to anyone stay as far away from them as possible.