Dingo Medium Bone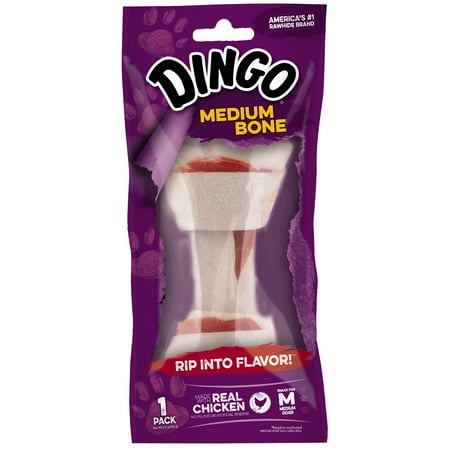 MSRP :

$3.76





Sale :

$16.4

Sold & shipped by Palatial Products
Product Description

Additional Information

Reviews
Product Description
The Dingo? brand combines powerful flavors and benefits to create bones, chews and treats that are sure to keep you and your dog wanting more. With a wide variety of shapes and flavors, there are options for any size companion. Dogs love the great taste of Dingo? rawhide chews which have an irresistible combination of real chicken in the middle wrapped with premium rawhide. Dingo rawhide chews are hand-tied and made with the highest quality ingredients, no fillers or artificial binders, to give your dog a fun and delicious reward that is bursting with flavor! The 2.2 ounce, medium sized bone is also packed with protein! This healthy, fun chew promotes clean teeth by preventing tartar buildup from the natural action of chewing. Whether your pet has been especially good or you simply want to show your love, let your dog rip into flavor with the Dingo Medium Rawhide Bone!
Additional Information
Reviews
Blackwolf07
one of the best dog chews around!!!
My better half has a Cockapoo mix that can be a real terror when it comes to chewing on things he isn't supposed to, so I picked up a Dingo chew last weekend, and lo and behold, Zeak forgot all about shoes, papers and hats-the bone was gone in 3 days, and I went back to the local Walmart for more. If you are looking for something that will occupy a chew monster for hours, get one of the Dingo Meat in the Middle chews!!!
TrainedOwner
Better than real beef soup bones!
Okay, I am an obnoxious dog mom. Only the best for my baby. Our kids don't get the royal treatment our dog does! Wyatt is a big lab/retriever mix that we rescued five years ago and he has become the love of our life. We even have medical insurance for him because we'd mortgage everything to take care of him. Before I found dingo, I would buy soup bones, boil them with spices and store them in the frig for Wyatt...no plain old bones for him! Then we found dingo, and he prefers them to real beef soup bones!
grammieb9910
Long enough lasting to get house clean!
My "baby" is a 110lb pit bull who saves my life on a daily basis. I suffer with arthritis in my back and shoulders along with some other issues that would make laying in bed alot easier than getting up. Every morning I wake up to a gentle touch on my nose with his nose and ten comes the dance that is a sign to get up and get breakfast going, I am sure just because I am on this that when I say He is MY World it is agreed about 100% Thanks! ObiieJoes Mom aka
Zenasmom
My dogs favorite
I adopted my dog a couple weeks ago from a local rescue, so I wasn't sure about what products she'd like or were best for her. I picked up a Dingo Rawhide bone the other day, and she loves it! She now turns up her nose at any other treat and does a happy dance in the kitchen when I get the Dingo package out. Great consumer satisfaction LOL!
pookie
My two babies love the meat filling
I have two small shih tzu's and they just love the meat inside so every morning I have to soak the bones to get the filling out and they have fun playing when they are eating them. They also like to hide big pieces so they can eat them later and the other one won't find it and eat it.