Dingo Rawhide Mini Bones for Small Dogs, 7-Count, 2.3-Ounce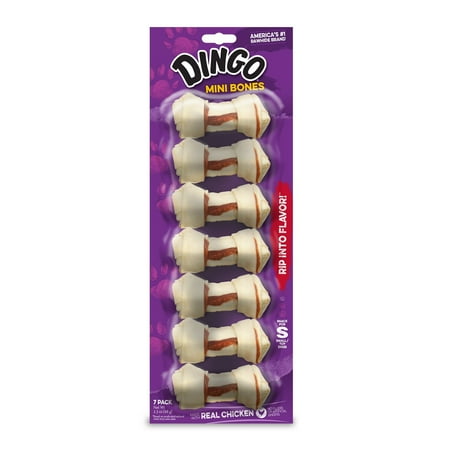 MSRP :

$5.31





Sale :

$20.36

Sold & shipped by UnbeatableSale
Product Description

Additional Information

Reviews
Product Description
The Dingo® brand combines powerful flavors and benefits to create bones, chews and treats that are sure to keep you and your dog wanting more. With a wide variety of shapes and flavors, there are options for any size companion. Dingo® Brand's irresistible rawhide chews made with real chicken are mini-size for your favorite little friend. Dingo Mini Bones are perfect to give your dog every day for a chew that is full of fun and flavor. These mighty bites, made just for small dogs, deliver all the benefits of Dingo Brand bones. The non-china mini bones are also packed with protein and contain no fillers or artificial binders! This healthy, fun chew promotes clean teeth by preventing tartar buildup from the natural action of chewing. Whether your pet has been especially good or you simply want to show your love, let your dog rip into flavor with Dingo Mini Bones!
Additional Information
Rawhide Chew, Mini
Packed with protein! Rawhide chew with meat. Tasty treat dogs love! Dingo brand's irresistible rawhide chew with Real Meat in the Middle is mini-sized for your favorite little friend. Give one every day for a chew full of fun and flavor. These mighty bites, made just for small dogs, deliver all the benefits of Dingo brand bones. Irresistible combination of real meat wrapped with the highest quality natural rawhide. Great for your small dog - high in protein. Healthy, fun chew to promote clean teeth and gums. So unique, they're patented. taste tests prove 9 out of 10 dogs prefer Dingo brand over standard rawhide chews (test conducted by Q-Mark Research). Harvard Medical School study (as published in the JAVMA, Vol 197, July 15, 1990; Lage, A. et al) confirms rawhide is fully digestible and safe for all dogs. Try our Dingo Munchy Stix with real chicken in every bite! Treated by irradiation. Card 100% recycled fiber. Eight in One Pet Products. www.DINGObrand.com. Made in Cambodia.
Reviews
1ofaKynd
Dingo Mini Beef
I have two Yorkshire Terrier's that can't live without these treats. We tried to introduce everything for treats when they were young, and they turned their noses up! Since introducing these Dingo's in the knot shape only, (we tried the sticks and they sit on the shielf), they will do anything for them. They have both learned to take us to the shielf and sit there till we give in and toss them their Dingo treat! Please give them a try....especially if you have a spoiled and fussy little companion:) I would highly recommend they will become their favorite treat of all time!!! Hugs, Diane
Tom84
Hiloherd
Change the picture. I ordered again because local suppliers were out. Nothing like the picture. The red is gone. Well we will see how the 4 dogs react.
Tom84
A Wonderful Travel Treat
We have 4 large dogs (70-110 pds). We take our dogs everywhere with us when we travel. We have a SUV so they have to stay in a smaller area than they like but frequent stop (for husband not dogs) lets them out and to break up the travel time we will give them this smaller treat which they love. It's no so large that it will fill them up and they won't eat and since there is less energy being used it's less calories to be stored which added weight for the older ones would not be healthy for them. Dingos is the only chew I have seen the dogs go crazy for and the Christmas Wreath is always in their stockings as well as a package of these treats each year. So the mini's aren't just for small dogs. Thank you for such a great product.
Shell
Dingos Rock!!
Our dogs know the cabinet we keep the Dingos in and whenever we open it suddenly we're surrounded! Hahaa They LOVE THEIR DINGOS! We've tried other brands and ended up giving them away to neighbors and friends. Our two Papillons, two Beagles and a Siberian Husky all love their Dingos and sit at their best behavior when we open their "Dingo Cabinent"! The cutest picture we have, hanging on the wall is one I took not long ago is of my husband opening "THE cabinet" and all 5 dogs in a semi-circle around him, waiting in great anticipation for their favorite kind of Dingo! Priceless! P.S. The weights of our dogs (below) range from 12 lbs for the papillons to 20 lbs. for the Beagles to 55 lbs. for Siberian Husky.)
AnimalHouseGuy
Reliable Source
Our 3 dogs (2 shelties and a rescue dog from Texas) really like the mini Dingo Rawhide Chew bones. I have been buying them forever at our local Walmart but the type bag I was buying (14?) is either no longer carried by them or is ALWAYS sold out. The bigger bones are too big and buying these mini bones from this company is now the answer. It's a bit expensive to buy a bunch, but over the long haul the cost is about the same. All I have to do is pick up and wrinkle the bag and the race is on to be first in line for a "dingo bone." I think that explains the degree of their love for this product. The dogs and I hope they will continue to be available. "Animal House Guy"