Keurig K-Compact Single-Serve K-Cup Pod Coffee Maker, Imperial Red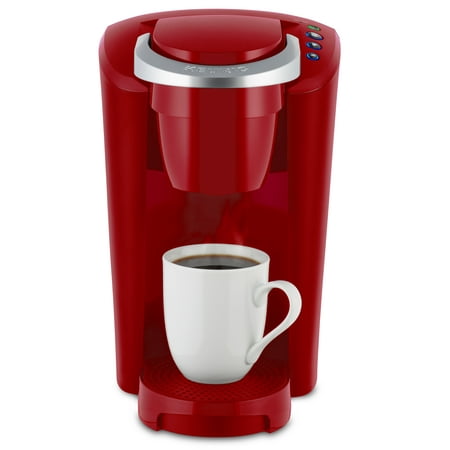 MSRP :

$69.99





Sale :

$59

Sold & shipped by Walmart
Product Description

Additional Information

Reviews
Product Description
Space saving. Crowd-pleasing. The slender and stylish Keurig K-Compact brewer is our slimmest removable reservoir coffee maker ever, but still delivers the delicious taste and unparalleled convenience that the Keurig brand is known for. Designed to leave the smallest footprint possible, the Keurig K-Compact brewer is just over 8 wide, leaving you plenty of space on your countertop without sacrificing a thing. Brew 6, 8, or 10 oz. of your favorite beverages in under a minute. Choose from hundreds of delicious K-Cup pod varieties coffee, tea, hot cocoa, iced beverages, and more and enjoy a perfect cup, every time. Or brew your own ground coffee with the Keurig Universal My K-Cup Reusable Coffee Filter (not included). The new Smart Start feature heats and then brews in one simple process for even more convenience. The K-Compact brewer has a removable drip tray to accommodate travel mugs, and its 36 oz. removable water reservoir allows you to brew multiple cups before refilling.
Additional Information
BREWS MULTIPLE CUP SIZES: (6, 8, 10 oz.). Enjoy the most popular cup sizes. Use the 6 oz. cup size to achieve the strongest brew.
COFFEE IN NO TIME: Brews K-Cup pods in under a minute.
OUR SLIMMEST REMOVABLE RESERVOIR BREWER: 36 oz. removable water reservoir make refilling easy.
SMART START: Your coffee maker heats then brews in one simple process. No need to wait for it to heat before selecting your cup size.
SIMPLE BUTTON CONTROLS: Just insert a pod, select your desired cup brew size, and brew a great-tasting cup in under a minute.
ENERGY EFFICIENT: Auto off feature turns the coffee maker off 2 hours after your last brew, helping to save energy.
REMOVABLE DRIP TRAY: Removable drip tray accommodates travel mugs up to 7.0 inches tall, and holds a full accidental brew for easy cleanup.
DISPENSE HOT WATER: Open and close the brewer handle (without a pod) and select your cup size for hot water on demand.
Reviews
Bordersboy
Perfect for the office
I ordered this Keurig K-Compact Classic Series Brewer because I have owned a Keurig coffeemaker for my home and I love it, so I figured having one at my office would be great too. The coffeemaker was packed perfectly, so it arrived looking as perfect as it possibly could. I was glad to find that this unit is about one fourth smaller in width than the Keurig I have at home because I needed this to fit on my desk. Also, this simplified version of the Keurig coffeemaker does not have a clock or timer, so I simply turn it on to warm it up and shut it off immediately after the coffee is prepared. The water tank on this unit is pretty ample and can hold 36 ounces, so I only have to refill it every couple of days. I also like the water tank better than my premium Keurig coffeemaker at home because it is so much easier to remove and replace, the tank on my premium Keurig is kind of fumbly when you try to put it in place. All around, this is a terrific little coffeemaker. Oh, and it makes a great cup of coffee!
NCGal83
Great coffee maker!
This is only my second Keurig so I don't have much to compare it to. This Keurig is very compact and is perfect for small kitchens. Unfortunately for me, I have one countertop in my kitchen so this is perfect. I like how this one is small but still offers a water tank on the back. The water tank can only hold enough water for about three cups of coffee/tea. When I opened the Keurig I did as instructed and ran water through it before making any coffee. After making a few drinks, I had to fill the Keurig again. There is a max water line. The water tank comes off, but I found it easier to fill the water tank by using a cup and pouring water in it rather than taking the tank off. When I refilled the water tank there was a very strong plastic smell. I am guessing this will go away soon. There are three sizes options for drinks, depending on how strong you like your coffee. This is a great feature to have. Overall, this Keurig is perfect for small spaces! I highly recommend this product.
julyalwys
Keurig K Compact Brewer
I was pleasantly surprise at the size of the coffee maker. It has a water reservoir and light indicator to show the machine is on, which size cup you are using and when to add additional water. The coffee maker came with three different blends of coffee which was nice which allowed me to try the coffee brewer immediately. The Donut Shop; regular was extra bold coffee and the Caribou; was a medium roast and the Green Mountain; breakfast blend was a light roast coffee. My family and I prefer a rich bold tasting coffee. The Green Mountain was very weak for our taste. The coffee Brewer allows for several people to have different size cups of coffee which is convenient. It is easy clean up. The coffee pods pops right into the well, select cup size and in less than 3 minutes you have a hot cup of coffee. I have enjoyed this Keurig K Compact Classic Series Brewer. I would recommend it to anyone that would like to have a cup of something hot regardless of day or night. Thanks for the opportunity to try it out.
QueenLadi
I love this Keurig
How is it possible that I have gone so long without this machine? The unit is fully assembled. The only thing I had to do was remove from the box and remove strips of tape. Prior to the first use, you should clean the water reservoir and complete a dispenser cleaning. The cleaning involves a tap of the single serving button and tossing out the water. Super simple, instructions are included. After that, you add a K cup. It took less than 45 seconds for my cup to fill with coffee. The coffee was hot, smelled amazing, and tasted excellent. There is a max line on the water reservoir. With three uses of the smallest cup option (6-8 ounces), a bright blue light indicated to add water. I thought this machine would be useful in the home or in a business. Individuals can select tea or coffee, whatever is of interest to that person. When you have guests or clients, small touches such as individuals options can make a world of difference. No more wasting a kettle tea of or pot of coffee. Great for a gift.
Sismyn
I'm in love with this Keurig!
Being a Keurig fan and owning the original brewer and giving the compact brewers as gifts to family, I was anxious to get this updated slim version of the original. It measure 12.5"H x 8.2"W x 13.2"D and takes up much less cabinet space but still has a reservoir to allow three different size brewing options; 6, 8 and 10 oz. The reservoir removes easily and holds 36 ounces of water. I had a fantastic cup of coffee in under a minute, which is the standard brewing time. I love that the unit came with three boxes of coffee to allow for varied preferences. It came with Green Mountain light roast, Caribou medium roast and Donut Shop extra bold. If you already own a Kuerig you will love this slimmer version. If you have never owned a Keurig this unit is a must since it covers both the slim body and reservoir which is truly missed in the single cup compact version. It comes in black and a beautiful red. You can only get this unit at Wal-Mart.