Keurig K425 Single Serve, K-Cup Pod Coffee Maker, Black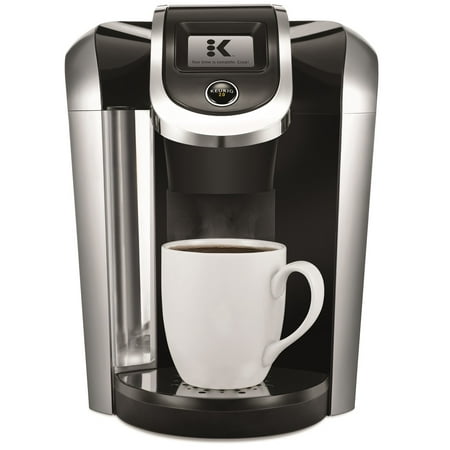 MSRP :

$139





Sale :

$99

Sold & shipped by Walmart
Product Description

Additional Information

Reviews
Product Description
A Premium and Customizable Single Serve Keurig Coffee Maker, the Keurig K425 brews a rich, smooth, and delicious cup every time with the quality you expect from Keurig. With a strength control setting for a bolder brew, five temperature settings, and multiple K-Cup, K-Mug, and K-Carafe pod brew sizes, you can customize your settings to get your perfect cup. Plus, an easy-to-use large color touch screen with a digital clock makes your brewing experience stress free, and you can even program your brewer to turn on or off automatically at set times. Whether you like your coffee strong, mild, decaf, or flavored, you can brew all of your favorites with the Keurig K425 – and with large 70oz water reservoir, you can brew 8+ cups before having to refill. Discover hundreds of K-Cup pod varieties from all of the brands you love, including Green Mountain Coffee, Starbucks, and Lipton, and enjoy coffee, tea, hot cocoa and more. Available in several colors to complement any décor, and also compatible with the Keurig Plus Series My K-Cup Reusable Coffee Filter, so you can brew your own ground coffee. Single Serve Coffee Makers are expertly engineered to deliver a consistently delicious beverage experience, giving you the same great taste, cup after cup. You can create and customize your perfect beverage, at the touch of a button, and prepare coffee, tea, cocoa and more just the way you like it. All Keurig brewers also dispense hot water, adding to their versatility.
Additional Information
A premium, customizable coffee maker.
LARGE 70oz WATER RESERVOIR: Allows you to brew 8+ cups more before having to refill, saving you time and simplifying your morning routine. The water reservoir is removable, making it easy to refill whenever you need to.
K-CUP POD BREW SIZES: (4, 6, 8, 10, 12 oz.). Brews a Carafe (22, 26, or 30oz) using K-Carafe pods, to give you more coffee when you need it. (Carafe sold separately)
STRENGTH CONTROL SETTING: Allows you to brew a bolder cup using any K-Cup pod brew size. Plus, five temperature settings allow you to enjoy your favorite beverage at your desired temperature.
LARGE COLOR TOUCH SCREEN: With a digital clock makes it easy to brew a fresh, great tasting cup in under a minute. Plus, program your brewer to turn on or off automatically at set times, so that it is ready to go when you want it, and turns off to conserve energy.
DISPENSE HOT WATER: Only by opening and closing the brewer handle (without a pod), and selecting your desired brew size. A removable drip tray at the base of the brewer catches drips and makes for easy clean-up.
Reviews
blackpearl2
One of my best purchases.
I love my new Keurig..the touch screen is great and being able to fill the water tank to make more coffee or any hot drink through out the day w/o constant refills is another favorite.. there is so much more to like about the Keurig, I would recommend you try it and you won't be disappointed.
Ericka
already broken
I bought this for myself last Christmas, it was working fine up until a few months ago. Now, the screen is blacked out, and I have to unplug it and plug it back in in order for it to work. I no longer have the option to pick anything from the screen because it is blacked out. I am going to have to purchase another machine that hopefully will last longer than less than a year. I am not going to purchase another Keurig though!
REM46
Very pleased with this Kuerig
Visiting with my sister recently and using hers, I liked it so much I decided to by one for myself. The coffee it makes tastes great. Your are able to adjust the cup size and strength of each cup. It can be programmed to save your preferred settings. Its walks you through every step of making a great cup of coffee.
JPVinson
Wife LOVES IT!!❤️❤️
Loved the purchase and how fast is was to receive!! I bought this for my wife and he reaction after easy set up and first cup of coffee brewed was.... I LOVE LOVE LOVE IT, OMGOSH!!!❤️❤️❤️❤️❤️
irie10749
Amazing Drink Maker !!!
This was my favorite item! I am so in love with all the choices of drinks that I could make. You can make different drinks such as ice coffee to lemonade...