Philips Shoqbox Mini Waterproof Bluetooth Wireless Portable Speaker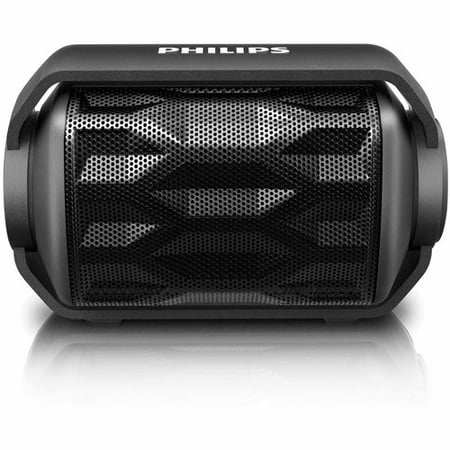 Sale :

$29.45

Sold & shipped by Walmart
Product Description

Additional Information

Reviews
Product Description
Listen to music from your device anywhere with the Philips Shoqbox Mini Waterproof Bluetooth Wireless Portable Speaker. It pairs with a smartphone or other compatible audio source for streaming songs in high quality. This Philips portable speaker is also waterproof, keeping it safe from splashes from the pool. It fits easily onto a shelf, desk or elsewhere.
Additional Information
Philips Shoqbox Mini Waterproof Bluetooth Wireless Portable Speaker:Battery includedWaterproof portable speakerBluetooth technology
Reviews
Nikki
Nice!
This is a awesome portable speaker! No it's not Beats, but it sounds amazing!
ChefMommy
Loud!!
I purchased this for my bathroom because it was small but now I find myself carrying it around everywhere. It can be very loud and I was shocked. Now my husband wants to take it to work with him.
Shopper8530
Good Speaker
Nice compact with good sound
CodyC
Poor connection, distorted audio at medium/loud volumes
Generally, if I place the speaker more than a few feet from the media source, the connection cuts in and out. This is especially true if there is a wall or something in between the two devices. The sound is easily distorted by medium to loud volumes. I bought this mainly just to listen to podcasts, so I don't require much bass to be satisfied. Even with just listening to voice audio, the sound gets fuzzy. I am afraid to test the water resistance. I have read other reviews where people have ruined their speakers by getting them wet. The battery doesn't last very long, although long enough for a 2-hour car ride. You have to hold the power button down for about 7 seconds before it actually turns on. You'll hear the speaker turn on, but the unit isn't actually on until you hear the very loud BEEP! BEEP! I find having to hold the button so long as well as the loudness of the beeping to be quite annoying.
Nwamaka
Poor connection, distorted audio at medium/loud volumes
Loved it, used it, fantastic output, great battery life (audio distorted if moved a few feet from phone or music device or if there is a wall between)..... till now... :-( A little to its first year's birthday... Doesn't charge, volume not as loud, audio choppy... guess this happens with age ;-) Enjoyed it while it lasted. Will certainly get another one soon.