e.l.f. Makeup Mist & Set Setting Spray, Clear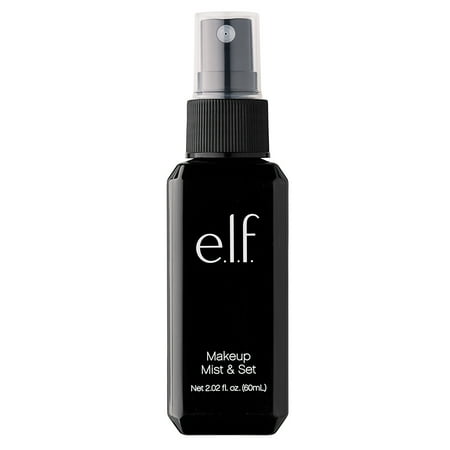 Sale :

$3.99

Sold & shipped by Walmart
Product Description

Additional Information

Reviews
Product Description
Keep face makeup in place all day with the help of this radiance boosting e.l.f. Makeup Mist and Set. It is specially designed to moisturize and soothe the skin with key ingredients aloe, green tea, cucumber and vitamins A, C and E. It is lightweight, comfortable to wear and alcohol free. This cosmetics face mist provides an invisible hold and helps to prevent color from running or fading. It comes in a handy spray bottle with a leak-proof design, making it a breeze to store and transport. This e.l.f. mist and set, 2 oz, is ideal for most skin types and can be used daily.
Additional Information

e.l.f. Makeup Mist and Set Setting Spray, Clear:
Long-lasting formula with a smooth finish
Keeps makeup in place all day
Moisturizes and soothes skin
e.l.f. makeup setting spray revitalizes color
Contains aloe, green tea, cucumber and vitamins A, C and E
Can be sprayed or sponged on before makeup application to provide extended hold
Cruelty-free
100% vegan formula
Revitalizes makeup color with just a few sprays
Reviews
Lizete
Too watery
I don't really mind that it came scratched right out of the box but the formula is just too watery. My Other setting spray that I use is by Nyx and when on the face it dries down a little crunchy but thats a good thing cuz it actually does something. But if you'd prefer your setting spray to dry down sticky and not serve its purpose than maybe this is for you. If you'd like perspective on how long it'll last you, I bought it last month and just used the last of it today. That makes sense because i spray it a lot.
Ari
Love it!
I initially tried this spray because my boss was using it. I ended up falling in love and got two bottles for myself. I use it after putting on liquid foundation and elf's HD powder. It gives me a dewy/natural look and holds my makeup in place, but my face will get shiny a few hours later. Keep in mind though that I haven't tried this with powder foundation or an oil-less liquid foundation. Overall: I love it!
geekyerin
Works for 12+ Hours
This product, in conjunction with the eyelid primer stick / eyeliner setter makes my eye makeup last all day, and helps me to look awake and human. I have never had issues with the sprayer in my Mist & Set bottles, and it has always worked perfectly for me. With these two products, my eyes always look great.
Amy
Kept makeup on even through a nap!
I'm judging this upon first use, but I loved this so much I had to review it! When I received this product, it was REALLY small! But I guess you get what you payed for. Any who, I applied a tinted moisturizer (without primer), powder foundation, blush, and bronzer. Then I sprayed the mist and set (about 3-4 sprays). I must say the smell was not really pleasant, but it was bearable for me. Plus, once you're done with spraying, you won't be able to smell it. It was a pretty hot day (about 87 degrees ferinheight), and I was running around town shopping for about 2-3 hours. Throughout the day I didn't need to touch up. Later on, I took a 1-2 hour nap. When I woke up, my makeup was still fine! I mean it wasn't perfect, but it certainly did not look like I just woke up. That's when I was convinced it works! Usually, my tinted moisturizer would be gone. LOVE THIS! Giving it 4 stars because of size and smell. Other than that, it's a 5 star product!
migdalia
e.l.f. Cosmetics Makeup Mist & Set, 2 oz
AMAZING