e.l.f. Cosmetics Mineral Infused Face Primer, Clear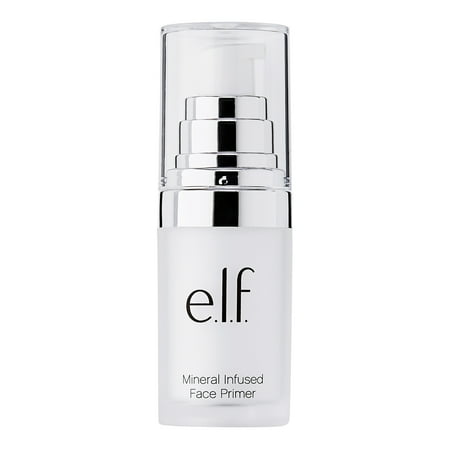 MSRP :

$8.56





Sale :

$6

Sold & shipped by Walmart
Product Description

Additional Information

Reviews
Product Description
Transform your face into a flawless and smooth canvas with e.l.f. Mineral Face Primer. It was developed to combat excess oil, flaky dryness, enlarged pores and fine lines. This clear, multipurpose, e.l.f. Cosmetics skin primer will prepare your skin so makeup goes on evenly for a long-lasting satin finish. Correct under eye problematic areas, discoloration and acne. It blends in easily and evenly to provide a natural finish. Instantly smooth, soften and virtually fill in laugh lines, crow's feet and wrinkles for a flawless finish and a glowing, radiant complexion.
Additional Information
e.l.f. Cosmetics Mineral Infused Face Primer
Transform your face into a flawless and smooth canvas with the Mineral Infused Face Primer. Developed to combat against excess oil, flaky dryness, enlarged pores and fine lines. This clear multipurpose skin primer will prepare your skin so makeup goes on evenly for a long lasting satin finish.
Reviews
Sildyani
Tricky Packaging!
I love the product and I will continue to use it for traveling, but the packaging is a little deceiving. The value is not that great when you realize the actually amount of product is closer to a sample size then a full size product.
ordinaryGirl
Not enough oil control
This primer was a major let-down. It claims to do many things such as minimize pores, smooth fine lines, control excess oils, improve wear of makeup, but I found that it did no such thing well at all. It is marketed as sort of a "jack of all trades" primer, but it is certainly no master of anything in particular. It did give a slightly smoother appearance to my skin after make up was applied, but its oily consistency never really "dried" on my face or soaked in. I use an anti-aging serum (which fully absorbs into my skin and leaves a matte finish), and I expected this supposedly lightweight primer to layer appropriately. Instead, I was left with an oily base on which to apply my foundation. Whatever, I thought, maybe it sets better later on. However, it made my foundation look bad and watered down. I noticed it did not have the medium coverage it normally has. As far as prolonging wear, I could not tell because my coverage was so light, it was hard to tell if it faded or not over the day. I think my makeup transferred just as badly as it would have with NO primer. I had to use several blotting sheets over the course of the day. I do have very oily skin, but I guess I thought it would have SOME type of oil control. It does not. Did not work for me at all and not worth the money considering you can get mattifying primers that have good collateral effects like pore/line smoothing for around the same price per ounce. I understand this is not marketed as a mattifying primer but it does list oil control as one of it's "effects." = not true. Probably best on dry skin because it does have an oily gel consistency.
KJ2165
Excellent drugstore version of Smashbox
I read some article about how this e.l.f. primer was nearly identical to Smashbox Photofinish Primer, and it definitely is! I bought both of the primers and the only difference is about $20 in price!
erispie
Amazing Stuff!
I had read all the amazing reviews about this product and was determined to try it. I don't wear makeup a lot anymore as I'm on a budget so I only just got around to it. Put it on before the mineral foundation powder at around 7:00 am; was out and about in over 100F weather on buses and walking until about 6pm. While I still got sweaty this did not result any any of the usual terrible greasy and shininess, and when I finally got around to cleaning my face at about 10pm that day, I STILL SAW FOUNDATION COLOUR COME OFF ON THE REMOVAL WIPE! I've now used it for about 4 days straight, and it plus the makeup remover wipes also from e.l.f. have actually noticeably improved my skin. I didn't get any of the usual over-greasy oily I get from being out in hot even WITHOUT makeup, and the increased washing of face to remove makeup has not resulted in the usual patches of dryness. I have no idea how much of the latter to attribute to the primer rather than the remover wipes, but it's still amazing!
Meggie
I've tried them all
So I've tried each shade of this and the only reason it gets -1 star is because of a few things. First off the glow color misled me! Not only is it super sparkly (which is not in the description that I could find, yet is nbd because I apply foundation over it), but this causes the texture to be thicker than the other colors. It's worth the price but I wish they put more product in a bottle and then just doubled the price, it's annoying having to buy this so much more often than anything else I use. Especially since I like the green which is not in stores and I have to order and store a bunch of them for when I need it. For me, each has lasted about a month of daily use. Also, the pump doesn't get it all out so be sure to unscrew it and use the excess inside. I'd really prefer just a squeeze tube, then there would be no need for a pump, it'd be less bulky, and the cap wouldn't always fall off like it does. Other than that I love this! Super smooth and fills in pores and lines nicely.