B350-XT 203475 BlueParrott Noise Canceling Bluetooth Headset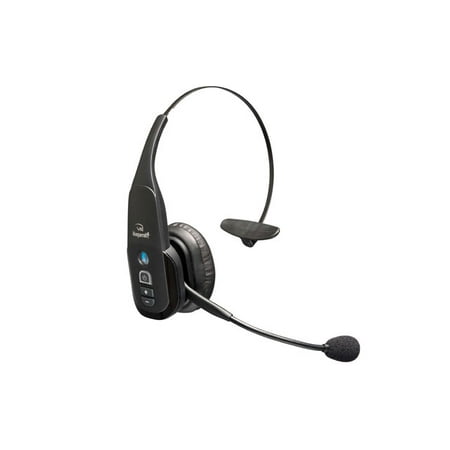 MSRP :

$129





Sale :

$99.99

Sold & shipped by Walmart
Product Description

Additional Information

Reviews
Product Description
The VXi BlueParrott B350-XT has the industry's best noise canceling and sound quality. Plus, you can set the new, exclusive Parrott Button to your choice of mute, speed dial and more. B350-XT is packed with great features, and it's sleeker, more rugged and more compact than our B250 series.
Additional Information
Blueparrott 203475 B350-xt Bluetooth Headset:
Xtreme noise suppression technology
Ultra-stable, over-the-head design
A2dp
Flexible gooseneck boom microphone
Can be set to the user's choice of mute, speed dial and more
This microphone headset streams music or GPS directly to the headset
NFC pairing
Pairs with 2 cellular phones at the same time, or 1 phone and 1 Bluetooth-enabled computer at the same time
Sleek and rugged construction
Up to 24 hours of talk time
Includes AC and DC adapters
This Blueparrott is sleeker, more rugged and more compact than the models in the brand's B250 series
Reviews
Robert
Excellent purchase!!
This is the best blue tooth headset ever. I originally bought the Blue Parrot 250, but kept hearing an echo when talking to my fiancé with her on her cheap blue tooth, so we decided to get the 350 for me, and she could use the 250. All I can say is WOW!! Totally amazed with how clear both are!! As a truck driver, I need to hear the person I'm talking to clearly. This is totally amazing!! My last blue tooth was horrible. Only kept aa 6 hr. talk time, kept disconnecting from the phone, even after switching cell phone companies, because I thought it might have been them. My fiancé has a hearing deficit and cannot always hear things correctly. Thanks to Blue Parrot, she and I are oh so happy for this product. Highly recommended for everyone!! Thank you Walmart for carrying this product at an amazing price. Between both headsets, I spent around 175.00. I spent 100.00 on my blue tooth somewhere else and it lasted less than a year before dying. Well worth the money!!
Kevin
Great Product!!!
This is my first Bluetooth headset so I have nothing to compare it to but I am very happy with my purchase. The B350 has incredible background noise canceling ability. I repair those air/vacs you see at gas stations, while talking to a coworker, I decided I wanted to test the noise canceling ability so while I was talking to him, I started the vacuum while standing right next to it and asked my coworker if he could hear me and if he could hear the vacuum. He said he heard the vacuum for a split second but that the noise quickly went away and all he could hear was me. The sound quality through the speaker is very good and the person on the other end says sound quality is good. I researched this headset before buying and found Walmart.Com to have the best price by far, everywhere else wanted $129.00, I paid $89.00, thanks Walmart. I had one issue with static during a call and remembered other reviewers talking about a firmware upgrade which I did and haven't had a problem since. Highly recommend this product!
weekendexplorer
VXI BlueParrott B350XT Bluetooth a Truckers Friend
I drive a semi pulling an end dump trailer hauling spent Brewer's grain from Miller Brewery in Trenton Ohio to farms in Ohio and Indiana. Legally I have to have a hands free device to avoid heavy fines from the Highway Troopers and DOT. I could have purchased any ear piece hands free device but with the constant noise inside my truck I needed one with excellent noise cancellation. This headset lives up to all it's advertised. I receive calls daily from my Dispatcher and family members. No one complains of not being able to hear me clearly. The headset charges pretty quick and stays strong for my whole 12 hour shift. I was so impressed with the ease of use and clear communications I purchased 3 more sets for my family members including my 73 year old Mother. I would highly recommend this device to the folks who have to travel around for a living.
JenniferS
Great headset.
I use it on my cell phone (Android). The sound quality - both for both callers - is the best I've ever experienced. I do have a little trouble charging it, but I suspect that is due to user error.
msstatelp
Best Bluetooth headset I've ever owned.
I read many reviews before purchasing this headset. I wanted one with true noise cancelling. As soon as it charged I had to test it out. Part of my job involves hauling things in an old U-Haul style moving truck. It shakes and rattles and squeaks and is sometimes so loud, it's hard to hear the radio. I was driving to a job site and called a friend. She asked where I was because she couldn't hear the rattles and squeaks that she normally heard when I called from the truck. I even put my window down to see if she could hear any wind noise. She was impressed and so was I. Now, if I'm on the phone to someone and hit a rough patch of road that causes the old truck to sound like it's falling apart, I'll ask them if they heard "that". Invariably all of them have said "no". I have been impressed by the B350XT and would recommend it to others.