Boy's Double-Knee Multi Pocket Twill Pants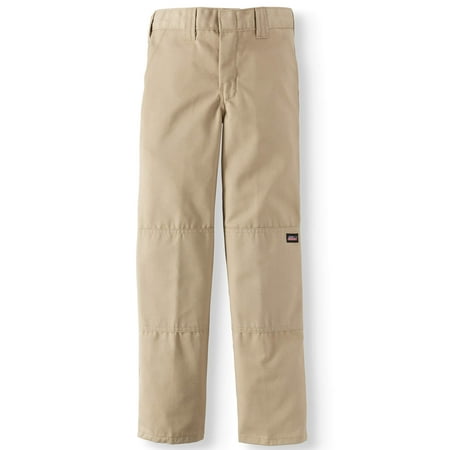 Sale :

$14.97

Sold & shipped by Walmart
Product Description

Additional Information

Reviews
Product Description
Made from a blend of polyester and cotton, Dickies Boys' Double-Knee Twill Pants are ideal for everyday use. These knee pants feature an interior adjustable waistband that offers superior comfort, wrinkle and fade resistant fabric, and a double layer knee to ensure that these pants last a long time. Their 4-pocket styling with bonus multi-use pocket and extra wide belt loops add to the pants' comfort factor. Also available in
Slim
sizes.
Additional Information

Dickies Boys' Double-Knee Twill Pants:
Wrinkle- and fade-resistant material
School uniform-approved boys' twill pants
Double-layer knee minimizes wear and tear
Interior adjustable waistband
4-pocket styling with bonus multi-use pocket
Cotton pants with extra-wide belt loops
Hook-and-bar closure with zipper fly
Traditional Dickies boys' twill pants with no-nonsense fabric for durability and wear
Adjustable waist pants are machine washable
Choose from sizes: 4, 5, 6, 7, 8, 10, 12, 14, 16 and 18
Available colors: black, dark navy and Desert Sand
Reviews
Dsmart
Double knee and waist adjustment are great!
These pants are heavy material and cotton/polyester blend so should wash and dry with few wrinkles. The quality of construction is very good with a metal zipper, bar tacks at all the pocket edges, wide belt loops that are double stiched. The double knees are two pieces of material sewn together on the whole front of the knee, not just an iron on patch on the inside of the knee like some other brands. The waist has the inside adjustable elastic and button feature which is so great as they are big in the waist now but can be adjusted as he grows. These will be used for uniform pants so in the beginning of the school year you want pants that are a little big but have features that will make them last the whole school year. The adjustable waist feature and double knees make us hopeful he will still be wearing these at the end of the school year. They do have a Dickies logo tag sewn on the outside but it can be easily removed if your school does not allow logos.
MsChilanta
Satisfied Mom!
Recently my son was enrolled in a school that wears uniforms. I was devastated, I love going shopping for my son. So when I found out he was to wear red shirts with khaki pants and white shirts with navy pants I felt I had no options. I am also very picky about clothing and tend to buy name brand items for the quality and durability. I purchased a few pairs of pants from different places (Old Navy, Rainbow Kids) and ordered a pair of Dickie shorts as well as a paid of Double knee pants. Let me just say in the first 2 weeks I could tell the difference. The Dickie pants are wrinkle free and with a hit of THE IRON...THEY LOOK GREAT! They have an adjustable waist on the pants, and they do not fade. I have since ordered the rest of the pants he will need for the winter in the proper colors. As far as sizing, They are exact. My son wears an 8. I purchased the first pair in a size 8 but the rest in a size 10. They size 10 gives him some growing room, but with the adjustable waist, buying the size 10 was a better (money saving) option. Hope this helps!!!!
MoAries
Wonderful Quality for the Price
I absolutely love these pants. My sons are in 5th and 3rd grade and they have worn uniforms since they started in pre-k3. I have gone through a lot of pants with these two very active boys whom apparently love to spin on their knees...lol. Every year we have had to re-buy pants around winter break. That is until 2 years ago when a friend gave me a few pair that her son had used the year prior. My boys used them that year and the next and this year they were still in such good condition that I am able to pass them on to another little boy. I no longer purchase any other pants for my sons and I will buy the same brand for my daughter when she starts school in a couple of years. I recommend them to everyone I know. However they do have a red label on the knee that can be taken off as another reviewer said, with a seam ripper. Also, Walmart.com had the asked absolute best price you will find anywhere, including the Walmart stores.
Minwy
Clean and durable
These are perfect for anyone looking to find school pants for their boy(s). Even if your child does not go to a private school or a school that requires uniforms. As advertised, there definitely is a double padded stitching, you can clearly see it but, in my opinion, it doesn't stand out to the point that it looks tacky. The double padded stitching is a big help since it provides extra support that will increase the wear ability of the pants (especially if your boy is very active). The sizing was accurate. I bought a size 10 for my 7 year old step-son because he's taller than most kids his age, but the size 10 still left a good amount of length on the bottom for him to grow in. The other very helpful feature is the button adjustments located inside the waist that you can use to loosen or tighten. The hook clasp is very user friendly for kids, which is another plus. This was overall a very good buy.
sefremin
Great Deal
I have bought my 9 yr old Khakis from everywhere including the expensive name brands . They look nice but, don't hold up at all for an active little boy . If you want quality pants you can't go wrong with these Dickies !!!! Best pants I have ever found for school . The knees are reinforced and can take anything .... I will be buying more each new school year and in between !!!!!! Thanks Dickies and Walmart !!!