First Act Ukulele - Frozen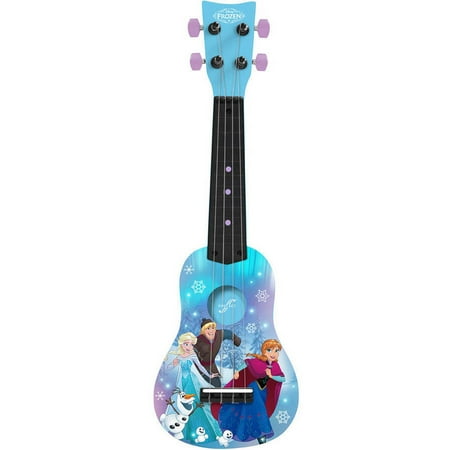 MSRP :

$28.13





Sale :

$11.25

Sold & shipped by Walmart
Product Description

Additional Information

Reviews
Product Description
Watch your kid sing and strum with the First Act Ukulele (Frozen). Designed and sized especially for young players, it features a lightweight build that makes it easy to hold and play. The beginner's ukulele is also compact, so it is ideal to take along on trips. This soprano ukulele has nylon strings that produce a soft, pleasing tone. It's easy on little fingers so they won't callus easily. Give your child a hobby to keep them entertained. Featuring colorful graphics inspired by the hit movie, Frozen, this First Act Ukulele comes in other prints, including Marvel Avengers, and Nickelodeon's Teenage Mutant Ninja Turtles. First Act Disney Frozen Ukulele:
Additional Information
Sing and strum with this First Act Discovery Ukulele
This beginner's guitar is designed and sized especially for young players
Lightweight body is easy to hold and play
Standard soprano-size uke
Beautiful sound
Compact size makes it ideal for traveling
Nylon strings produce a soft, pleasing tone and are easy on little fingers
A wonderful companion for your little musician
Beginner's ukulele has several other print options to choose from including Marvel Avengers and Nickelodeon Teenage Mutant Ninja Turtles
Reviews
Marky
Good Product With a few recommendations
This is good product for a good price could of been better in a few ways. One it could have came with a guitar pick two could have came with a beginners booklet like a booklet telling you the notes how to tune it and a few songs to practice with
UkuleleGrandma
Important! Please read!!!!
There seems to be a lot of confusion about what these ukuleles are. They are real, usable musical instruments. They are NOT toys to give a two year old! These First Act ukuleles are suitable for kids from about 5 years and up. I teach kids how to play on these ukuleles, and they are great! Here are some suggestions and information on how to be successful with these ukes: 1. Right out of the box, unwrap carefully. Turn the ukulele with strings away from you. Take a phillips head screwdriver and tighten the 4 screws that are set inside the geared tuners. They should be snug but NOT as tight as you can make them. This is how you get the ukulele to stay in tune. 2. You can't just pull it out of the box and expect to play a song!!! You have to "tune in" an instrument with nylon strings. The strings will stretch for the first week or so, so you have to re-tune frequently. That's normal. The ukes come with the strings very loose. It takes quite a bit of careful turning of the tuning pegs to come even close to the true note you want at first. A uke/guitar tuner is very helpful for this, but you have to know what note you are aiming for. A soprano uke is tuned G - C - E - A. Buy a ukulele "how-to" book along with the uke. There are also great "how to tune a ukulele" videos on You tube. 3. Teach your kids not to bang the uke into stuff or hit each other with them. They are real, quality musical instruments and will go out of tune or get damaged if you abuse them. You wouldn't hit a baseball with an expensive violin, would you? 4. On the other hand, these ukes are made from quality plastic, so you can take them to the beach or camping and not worry about the dampness warping them. 5. They have lightweight nylon strings on them for two reasons!!! First, the strings are easy on little fingers. Mine, too, for that matter. I can play my Finding Dory uke for hours and not kill my fingers. Second, they are quieter than "regular" ukes. This is a HUGE plus when your child is practicing for obvious reasons... (Or if you don't want anyone to hear YOU practicing :-) 6. These ukes are standard size Soprano ukuleles. Little fingers can play them, but so can great big hands. Ya remember Iz, the large man who played "Over the Rainbow" on the uke? He was playing a uke exactly this size. I hope this clears up all the confusion about these great instruments. No, they are not $100 ukuleles. I actually like playing them better than my $100 ukulele. They are good quality, easy to play, and tons of fun as long as you know how to use them and have the correct expectations. Happy Strumming!
Katrina
You get what you pay for.
I thought this was a perfect size for my musically inclined two year old. She plays a guitar twice this size that belongs to her brother. This is made with cheep plastic string and makes no noise when played... at least not a noise like an instrument. I will be buying the thinnest guitar string I can find and putting new strings in it. I did not realize it would be this ridiculous, her brothers was 5 dollars more and twice the size and has real strings. I understand it's made for toddlers, but I did not know I'd be wasting my money on strings that make less sound than a rubber band. The only lyrics good qualities are the Elsa and Anna that she loves and the size.... other than that it's kind of a waste of money. She's smart enough to realize it does not make the right noise.
ComputerGeekRunnerDad
Inexpensive fun for a toddler
As long as you don't expect this to be a "real" instrument, this is great fun for a toddler. I never expected this to start in tune or anything, so as long as that is your expectation, you should get a lot of enjoyment from this.
pluckiducki
Cute but doesn't really play music
Purchased two of these Ukulele's for my kids for Christmas. The strings on these are plastic. They stretch very easily and were broken the first time they used them. We were not able to tighten the provided strings and eventually one string broke. The sound produced from these is not very good. I know that they don't actually know how to play the Ukulele but I would expect actual "notes" to be heard when strummed. Ended up purchasing real string and having a friend restring these. What an improvement. The kids are able to strum away and make terrible music. They love the design of the pictures.