Nexxus Maxximum for Control Finishing Mist, 10 oz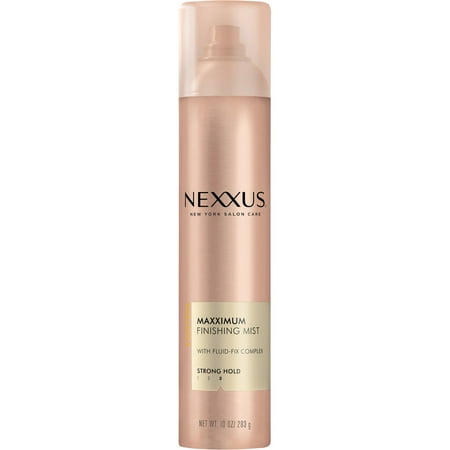 MSRP :

$11.97





Sale :

$10.97

Sold & shipped by Walmart
Product Description

Additional Information

Reviews
Product Description
MAXXIMUM FINISHING MIST, a micro-fine, refreshingly fragrant mist with superior hold gives long-lasting control and manageability, fluidly defining hard to retain styles. This strong hold, yet lightweight formula, adds a light luminosity to hair while maintaining suppleness and touchability.
Additional Information
Nexxus Maxximum for Control, Finishing Mist
Control: A flexible, firm hold hairspray (10 oz) for all hair types
Infused with our signature Fluid-Fix Technology for flexible hold and natural movement
Salon-quality, micro-fine hair mist adds brilliant shine to hair
Gives long-lasting control to define hard to retain hairstyles
Leaves hair soft, touchable, and brushable
Refreshing and subtle citrus scent with floral notes
Reviews
booby106
Poor Quality
Hello shoppers, do not buy Nexxus products anymore they are not made the way they used to be, maxximum finishing mist and comb thru finishing Mist were excellent products, they are no longer that, as Nexxus has changed their formulas in the past few years ,don't waste your money! The only products they have that is close to the original is Nexxus humectress and therappe conditioner and shampoo they still work pretty well. Everyone who thinks their products are great now missed the greatness back in the day!!
schleppenheimer
BEWARE - THEY ONLY HAVE THE PINK BOTTLE
You know the GREAT Nexxus Maxximum hairspray? The kind that worked fantastic on thin hair? The kind that helped your hair stay in good shape all day long, AND gave it some body (magically)? Well, THIS ISN'T IT. I bought ten bottles of the stuff because Walmart still has the silver can pictured in their ads. I bought ten bottles because I had gone literally EVERYWHERE trying to find the silver bottle, and it was nowhere to be found (in Washington D.C.). Much to my dismay, Walmart sent the pink/salmon-colored bottle, which I can find anywhere. Although this hairspray is OK -- it is not magically different from all the other hairsprays I can purchase (and I have quite a lineup in my bathroom of the brands that don't work well). I would say that this hairspray is only "slightly" better than the others, and even I wonder if it's hopeful thinking on my part -- because I just bought TEN CANS OF THE STUFF!!!
javajunky
NEXXUS MAXX
I too have a lot of EXTREMELY fine hair, always have. I've tried brand to brand...including the salons, and have NEVER found any other that compares to the quality that this does. For example, I wash it each morning, style it and DON"T touch it until I wash it the following day. Granted, it's two and a half times the price as others but am willing to sacrifice the money BECAUSE of the hold and fresh looking results at the end of every day; in fact I RARELY have a "bad hair day"...how's that for a nudge to try it? *TIP: I've found that it's never out of stock...almost $2.00 cheaper online...shipped free to my W. store, ready for me to pick up each week I go to the grocers.
LadyFaye
Best hairspray I've ever used!
I have thin, fine, color-treated hair and I have went from hairspray to hairspray for years and could never find the right one for me. Well I finally found this one and WOW! It has a pleasant smell, never offensive, holds well without stiffness and doesn't dry my hair out like all the other ones I've used in the past. Please don't ever discontinue this product. I LOVE IT SO MUCH! I couldn't live without it!
Ddstrong
Finish mist
Strong holding mist. Good if you want your hair yo stay in place.