Equate Premium Saline Nasal Moisturizing Spray, 3 FL OZ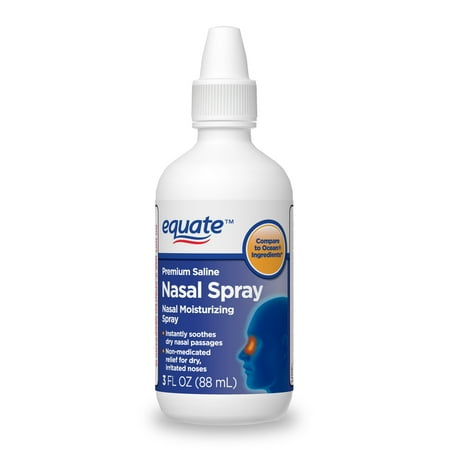 MSRP :

$6.97





Sale :

$3.32

Sold & shipped by Walmart
Product Description

Additional Information

Reviews
Product Description
If you have dry sinus passages that need instant relief, EQ Saline Nasal Spray, 3 oz is a good choice. This Saline Spray provides instant, non-medicated relief to your nasal passages. Whether your nasal passages are dry due to allergies or for some other reason, EQ Saline Nasal Spray, 3 oz, can help. Usable in either a spray stream or a drop form, this dry nasal spray is made of premium saline.
Additional Information
Reviews
Fruitcake
It burns so bad!!! Owwww!!!!!
I wanted to love this product, I really did. I have been using Simply Saline for nasal irrigation and it has worked wonders!! It has the taste you would expect saline to taste like. After I had used this product I started thinking maybe I misunderstood and this wasn't supposed to be for nasal irrigation because it burned the worse burn I have EVER felt in my life. The taste was AWFUl like I just ate laundry detergent or something. Now my nose, throat and inside my ears burn like absolute crazy and I'm kind of scared!!!!!! Maybe it wasn't suppose to be used as an irrigation but that's what I did and it was absolutely awful. As I type this I still am hurting with each swallow and my nose feels like I accidentally breathed in the swimming pool as a kid. I'm going to use my simply saline and smooth the damage this product has caused!!! I have to admit I'm a bit jealous of all the good reviews here because a cheaper alternative would have been great!
Matt
Fake doesn't work!
This crap doesn't even work I tired other brands of Saline spray and they worked fine but this was waste of my money! does not work still gettting bloody noses would not purchase i wish i could get my money back
Momo
Fake doesn't work!
This spray made my throat burn for hours afterwards! Never buying this again, its awful!
kyfrenchy
Use This Every Day
This is a great product at a great value. It was recommended to me by a doctor to use saline nasal spray to help with allergies. The Equate brand was the better value, so I tried it. I use it throughout the day - when I wake up in the mornings, after I come back indoors from being outside & at night before bed. I no longer have to use a prescription steroid nasal spray. The consistent use of the saline nasal spray works wonders for me & Equate is the only brand I have ever purchased. Great value.
FairChance1
It Works!!!
I suffer from severe sinus pressure and pain and over the years have tried many different products including famous named brands, but never experienced the relief I have experienced since using this product. I was just looking for a nasal spray with a moisturizer in it and I somehow lucked up on this one and it has been a jewel, without the side effects of other products. Stocking up!!!