Spring Valley Melatonin Tablets, 5 mg, 120 Ct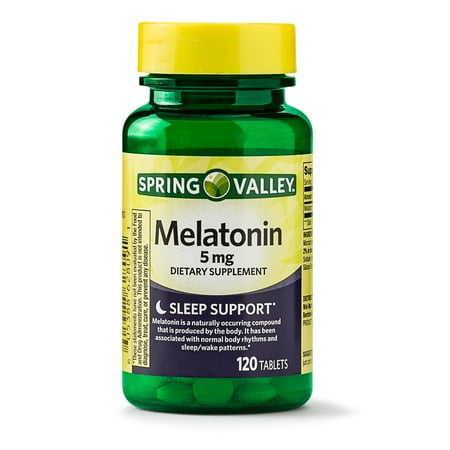 Sale :

$4.88

Sold & shipped by Walmart
Product Description

Additional Information

Reviews
Product Description
The Spring Valley 5mg Melatonin 120-count pack supports healthy sleep patterns with a special time-release formula. The body naturally produces certain hormones in response to changes in light. Spring Valley Melatonin helps these hormone levels rise at night so you can enjoy quality rest. Stay calm as you drift off to sleep. This supplement is free from addictive ingredients. It will help you stay asleep throughout the entire night and wake up feeling refreshed.
Additional Information

Spring Valley 5 mg Melatonin, 120-Count:
Promotes sleep
Melatonin 5 mg tablets helps to establish normal sleep patterns
All-natural melatonin supplement created from what your body already produces
Time-release formula
Non-addictive ingredients
Free of gluten, artificial colors and flavors, sugar and lactose
Adults take one tablet just prior to or at bedtime
120-count bottle
Reviews
TangoEcho1408
UPC : 605388628091 - Spring Valley Melatonin Tablets, 5 mg, 120 Ct - PickPanda.com
I heard about this from a friend that I work with, the melatonin supplement is great for anyone that works the graveyard shift, it keeps me asleep all day and don't notice the little things like lights or the sun to wake me up. I stay asleep when I want to and wake up when I need to without feeling tired or having the drowsy side effects like other sleep help products I have used before.
AirTerWin
Worked First Night!
I was skeptical about buying supplements from Walmart, however, to my surprise it worked the first time. Walmart had the lowest price that I found. Gave it to my husband, who is up every hour and a half, every night. In the morning after the first dose he said, I think that pill you gave me helps me sleep. The second night, he got up at 1:30 AM and said, where is that stuff you gave me last night that help me sleep? We highly recommend this product, and buying it from Walmart.
Tallulah77
Good Night's Sleep
I used to have trouble staying asleep once I fell asleep, so I started taking melatonin. I was taking two three milligram tablets but that wasn't doing it. I decided to try the five milligram tablets, and that did the trick. An hour before bedtime, I take two tablets with water, and once I fall asleep, I stay asleep for eight hours straight. I don't wake up until it is time to wake up, and that has been a delight for me. It is wonderful to wake up feeling refreshed and wide awake. Melatonin has a reputation for causing odd dreams, and I have experienced that with other brands, but this brand makes me sleep so well that I don't generally recall my dreams, let alone if they were odd. The only thing that would make these better, would be if I slept for nine or ten hours! That is only because I spent years and years with insomnia to varying degrees. Eight hours does it for me, and I don't really need more than that. I wish I could sleep well, but without this I can't. I will buy this for the rest of my life. It really does help me sleep, and I stay sleeping. My daughter was in the military and frequently deployed overseas. She told me that the military told them to take ten milligrams of melatonin if they had trouble sleeping until they acclimated to the time changes. It worked well for her on the occasions she needed it, and it works for me all the time.
djnk
Good Night's Sleep
Being older and having severe chronic pain issues with several conditions, I need extra help getting to sleep and staying asleep. (We don't make as much melatonin as we grow older.) I take about 25 mg at bedtime and sometime have to take one or two extra during the night. Getting appropriate sleep helps to reduce the pain during the day. Ask your doctor about taking more than 10 mg. Works great and at a great price!
Andrewfurb
melatonin
I have always had a hard time going to sleep. About ten years ago I discovered the value of melatonin to help me get to sleep and it works! What's more, it an off the shelf product that is not addictive. You can keep your prescription sleep aids!