Interceptor Men's Force Tactical Steel-Toe Work Boots, Black Leather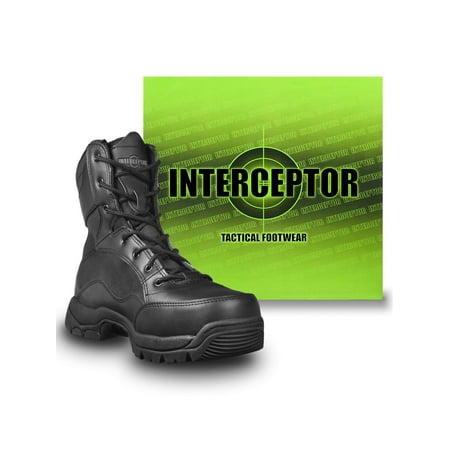 Sale :

$29.77

Sold & shipped by Walmart
Product Description

Additional Information

Reviews
Product Description
Black steel toe work boots for men, meets or exceeds ASTM F2413-11Slip and oil resistant outsole perfect for work uniforms and outdoor sportsPadded collar and genuine leather for durability and comfortSteel Toe Tactical Men's Work Boots for Demanding JobsWhen the job calls for a steel toe work boot that meets ASTM F2413-11, Interceptor Force is the pair you want. The Interceptor range of men's work boots are the perfect complement for jobs you need to get done. Whether you need added protection or slip-resistant tread, Force steel toes are ready for action right out of the box.Our tactical boots have a reinforced insert between the insole and outsole for arch support. That provides added comfort for those long days. Full-grain leather and all-black nylon tops a color matched sole. With all the built-in ruggedness and comfort, could you ask for anything more from a steel toe boot?Slip-Resistant Rubber Tread and Extra Durable ComponentsDon't pick between protection or comfort when shopping for your men's steel toe work boots. Interceptor Force tactical boots feature breathable nylon that keep your feet cool. This Interceptor tactical boot is not only versatile, but customizable. A molded EVA midsole adds support to the arch. All Interceptor men's work boots have removable foot beds, a major advantage for those that need orthopedic inserts.We Bring a Functional Combat Style Boot to the Job SiteSpend time outdoors, for work or recreation? Then you'll appreciate the durable construction of Interceptor Force men's tactical work boots. A gusseted tongue makes lacing up easier and prevents debris from finding its way inside. Interceptor steel toe boots protect your feet whether you're working in the garage or hiking in the woods. The Force's slip resistant tread allows you to work both rugged ground and smooth flooring. This makes it ideal for hard hat work that demands readiness day in and day out.Steel toes make all the difference. Heavy equipment and dropped tools are no match for our boots. Interceptor Force steel toes keep you on the move without worrying about your feet. You will love the slip resistant tread. We know you do your best to steer clear of risky situations, but sometimes the job calls for quick decisions. These slip resistant steel toe boots can give you peace of mind in unfamiliar territory.Interceptor Tactical Boots Do More Than Protect Your FeetThe steel toe has been saving feet since the early 1900s, the heel is also important in men's work boots. In a typical men's work boot, the arch area of the sole is often smooth. They rely on the depth of the heel to offer traction while climbing ladders or stairs. Interceptor men's tactical work boots feature an innovative ladder grip in the tread of the arch.Army, police, and security personnel want boots that can handle any situation. Interceptor makes tactical boots with personal safety in mind. Ladder grip technology provides added grip to give you extra protection on ladders, stairs, and uneven terrain. Our design balances comfort and durability in every pair.Interceptor Force Steel Toe Boots offer you protection and comfort in any situation. These and other styles of Interceptor Boots are available at Wal-Mart. Get a pair at a Wal-Mart near you, or online at Walmart.com.
Additional Information
Black leather tactical work boots with steel safety toeOil and slip resistant outsole with multi-directional rubber tread and reinforced shank for torsional supportPadded collar and genuine leather for durability and comfortGusseted tongue prevents debris ingress and allows easy foot insertionRemovable EVA foot bed can be replaced with orthopedic insertsBreathable materials reduce discomfort from perspiration and high temperaturesLadder grip offers more traction on ladder rungs and stairways
Reviews
Faymore
Horrible
I work on my feet all day and my work requires me to have ANSI certified steel toed boots, so when I saw these for only $20 I decided to jump on it. If they lasted me a year I would have been happy. Nope. Within a month the inside heel ripped exposing a plastic backing that started rubbing my ankle, In two months the laces broke and the coating on the "leather" started flaking off. the cloth sides began to fray as well. Month three the soles are worn down to almost nothing. Stitching along side the boot gave out and opened a 3 inch hole in the boot forcing me to have to buy another set of boots because I can not wear defective boots at work. I would NOT recommend these if you actually are going to use them unless you are going to buy 4 pairs and throw them out every 3 months.