Super Tech Full Synthetic Motor Oil, 5W20, 5 qt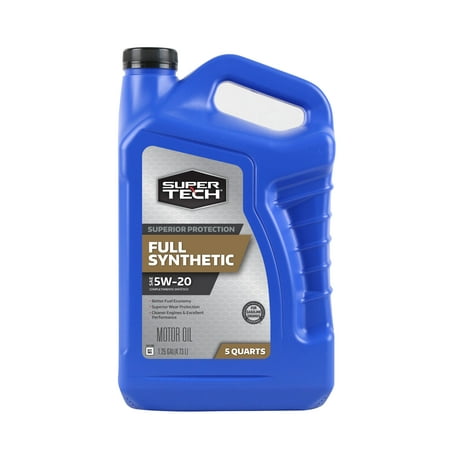 MSRP :

$17.47





Sale :

$15.68

Sold & shipped by Walmart
Product Description

Additional Information

Reviews
Product Description
Super Tech Full Synthetic High Performance Formula is a premium formulation utilizing 100 percent synthetic base oils and a high performance additive system providing increased protection for tough driving conditions that put extra stress and demands on your engine. The additive system utilizes a performance booster to provide better protection against sludge and varnish formation, keeping your engine cleaner longer.
Additional Information

Super Tech Full Synthetic Oil, 5W20, 5-Quart:
Automotive synthetic motor oil
Shields against sludge and varnish formation
Contains a performance booster
Helps keep your engine free of build-up
Works in warm and cool temperatures
Compatible with other conventional and synthetic brands
5W20
5 quart
Reviews
mitchd123
Great oil, great price
I've been using Walmart FULLY synthetic oil for at least 10 years. My Honda Odyssey currently has 256,000 miles. My wife's Pontiac Montana has 208,000. Both engines are running really strong with no major repairs. I just wish the rest of the car held up as well as the motor. Fully Synthetic has been advertised as good for 25,000 mile oil changes. I change every 10,000 with a new filter. This Walmart Fully Synthetic has the latest and industry ratings, ILSAC GF-5 and API-SN. Conventional oil requires more frequent changes (5-8k), meaning more labor, more downtime, more money. This is penny wise and pound foolish. Using fully synthetic means fewer oil changes, greater value. Wear occurs when there is no oil being pumped, like when putting in a new oil filter full of air. Fill the oil filter with oil before installing to reduce wear and tear. Increasing the change interval to 10k will reducing the number of oil changes. This also reduce the number of filter changes, and reduce the wear and tear.
Albiceleste
Good Serviceable Oil
I have used this oil for a while now and it seems to be completely serviceable oil. Changes are at now annual intervals because I retired and don't drive distances. It seems to be only dark brown instead of coal black at the end of the year so I would say it's better than what I was using because it was always black at the end of 3 months(my old change interval). I will use the new Full Synthetic now that it is on the shelves. Warren Distribution still supplies Walmart. I was told the product itself comes from the Shell Group with the difference being that the additive package is generic as opposed to the proprietary as is the case with the other Shell Group oils (Shell, Pennzoil, and Quaker State). Who know? I only know that on the MSDS it says Warren Distribution instead of CITGO now so, who knows? I just know it works for me. Results tend to be individual anyway. YMMV.
Hoyatrack
All Supr tech motor oils get high ratings
I'm very particular when it comes to putting anything in or on my car. Okay, so I'm a little OCD, admittedly. So I CHECK all products I'm going to use for my car. According to the organizations that test. analyze and report about motor oils, all super tech oils are as good or better than any oils sold in the USA. Super tech oils are produced my one of Europe's big companies (Warren Performance Products) which produces lubricants for all kinds of motors. Even super tech oil filters have been rated "better than average" but I haven't gone that far in using one on my car since the price difference isn't significant over a purolator. I've use the 5w20 synthetic (since there is no 0w20) and haven't noticed any problems. Why spend more when you don't have to especially if you change your oil and filter on a regular basis.
Whit
Great price - quality oil.
Best deal on synthetic oil! Do it yourself for fraction of quick change costs.
JB
WHAT A DEAL!
It's about the same price as a Mobil 1, Conventional Oil Jug, but it's SYNTHETIC! For the extra money I save buying this oil from Walmart, I spend more on the oil filter, and not get any cheap stuff. I go about 10k miles in between changes on my 2003 civic. Still running strong!