Super Tech Full Synthetic Motor Oil, 5W20, 5 qt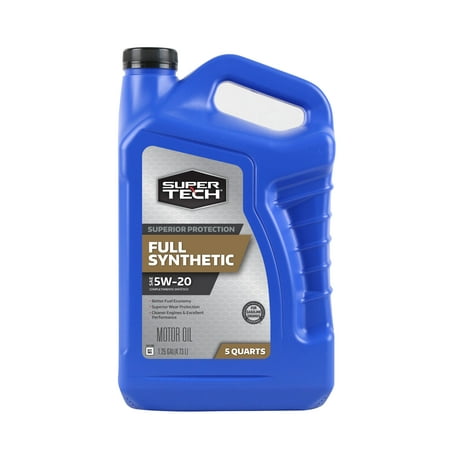 Sale :

$15.98

Sold & shipped by Walmart
Product Description

Additional Information

Reviews
Product Description
Super Tech Full Synthetic High Performance Formula is a premium formulation utilizing 100 percent synthetic base oils and a high performance additive system providing increased protection for tough driving conditions that put extra stress and demands on your engine. The additive system utilizes a performance booster to provide better protection against sludge and varnish formation, keeping your engine cleaner longer.
Additional Information

Super Tech Full Synthetic Oil, 5W20, 5-Quart:
Automotive synthetic motor oil
Shields against sludge and varnish formation
Contains a performance booster
Helps keep your engine free of build-up
Works in warm and cool temperatures
Compatible with other conventional and synthetic brands
5W20
5 quart
Reviews
RC
Top industry oil
I wanted to switch from the majors for the savings, but was not sure it would void my warranty. 2015 Dodge Grand Caravan. Fiat/Chrysler MS-6395 specs was not on the bottle/jug. Just received from Warren Distribution the data sheet meeting the spec in addition to top industry certifications. Fully confident to use and recommend it.
mitchd123
Great oil, great price
I've been using Walmart FULLY synthetic oil for at least 10 years. My Honda Odyssey currently has 256,000 miles. My wife's Pontiac Montana has 208,000. Both engines are running really strong with no major repairs. I just wish the rest of the car held up as well as the motor. Fully Synthetic has been advertised as good for 25,000 mile oil changes. I change every 10,000 with a new filter. This Walmart Fully Synthetic has the latest and industry ratings, ILSAC GF-5 and API-SN. Conventional oil requires more frequent changes (5-8k), meaning more labor, more downtime, more money. This is penny wise and pound foolish. Using fully synthetic means fewer oil changes, greater value. Wear occurs when there is no oil being pumped, like when putting in a new oil filter full of air. Fill the oil filter with oil before installing to reduce wear and tear. Increasing the change interval to 10k will reducing the number of oil changes. This also reduce the number of filter changes, and reduce the wear and tear.
Hoyatrack
All Supr tech motor oils get high ratings
I'm very particular when it comes to putting anything in or on my car. Okay, so I'm a little OCD, admittedly. So I CHECK all products I'm going to use for my car. According to the organizations that test. analyze and report about motor oils, all super tech oils are as good or better than any oils sold in the USA. Super tech oils are produced my one of Europe's big companies (Warren Performance Products) which produces lubricants for all kinds of motors. Even super tech oil filters have been rated "better than average" but I haven't gone that far in using one on my car since the price difference isn't significant over a purolator. I've use the 5w20 synthetic (since there is no 0w20) and haven't noticed any problems. Why spend more when you don't have to especially if you change your oil and filter on a regular basis.
Slickliquid
Full synthetic motor oil at an affordable price
I have been using Super Tech Full Synthetic Motor Oil in my F-150 for about 5 years now. For the light driving I do I could use standard oil but at the price Walmart offers this full synthetic it just makes sense to spend the extra bucka and go for the better lubrication and longevity of synthetic. I've been happy with the results.
Livestrong1003
The best oil I have ever purchased
I have used synthetic oil for over 20 years. I have used all of the major brands and they are ok, but very expensive. The Super Tech Synthetic gives my 8 year old Mazda 6 32 mpg, which comes as a shock to me. My last 6 gas fill ups have all been above 31 mpg. I can tell that the oil is the difference. It is super slick, lower temperature, and by far the best oil I have used. The increase in mileage is 2-4 mpg over what I got using oil costing $7 more. The oil pas for itself on performance alone. I use 5W-20 and suggest that for most cars. The thinner the oil, the better the mileage. This oil is better than Slick 50 and Duralube.