Special Kitty Classic Pate Variety Pack Wet Cat Food, 13 Oz, 12 Ct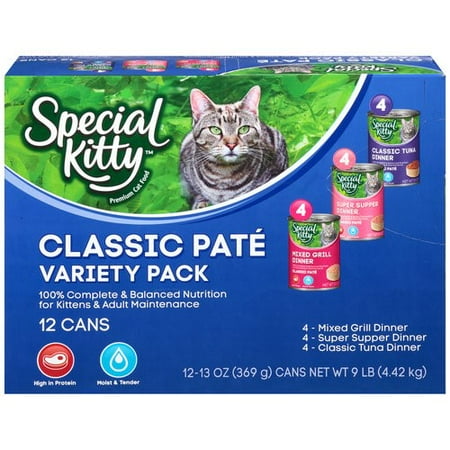 Sale :

$8.38

Sold & shipped by Walmart
Product Description

Additional Information

Reviews
Product Description
Treat your cat to the tender smooth textures in the Special Kitty Classic Pate Variety Pack of wet cat food. This pack includes three different dinners made with tender, hearty morsels in irresistible sauce for the tastes they love. Plus each meal offers 100% complete & balanced nutrition for kittens and adult cats.
Additional Information
Product Features
100% complete & balanced nutrition for kittens & adult maintenance
High in protein
Moist & tender
walmart.com
Reviews
serenjupiter
Great Online Deal
My kittys like this food alot. I love ordering with the Free shipping deal. Thanks Walmart
Lorelai
upset stomach diarrhea cats
This can cat food made my kitty and my other adult cat very sick. Never buy this again it's should be recall on not the greates can cat. I m very upset that I have spend money at the vet very upset. So anyone don't buy it not good for cats. Review I give a 0 zero bad bad. Made my animals very sick. ;(
dgarrett
even STRAY Homeless cats are FINICKY!
Cats are putting the word out on the streets that the "GOOD STUFF" is over on Peach Street... I've been feeding Strays since I moved here ump-teen years ago. The Cats LOVE this cat food...I mix it with Meow Mix dry and there is never a shortage of hungry fat cats waiting for the twice a day feedings....and I'm only too happy to give them the BEST...Every animal should have a home that's safe & loving and unfortunately that's not the way it is, but if I can make things a bit better for my neighborhood animals, than I believe I am honoring my own good fortune...nooo, not money wise, just an attitude of graditude. And the price is affordable, which counts since I'm on disability. Try this cat food, your cat will agree...and if you can, place a little outside with fresh water for those not as fortunate /- :
galet09
The worst cat food out there!
I reviewed this before but my review is not here. This made my cat sick. She was a mother cat I took in who I was trying to fatten up as she was malnourished and I brought her kittens in too. She got sick and kept throwing up all over the place. This brownish liquid. Then she wouldn't eat at all. Prior to that she could eat anything such as Friskies, Fancy Feast or even 9Lives. I had to take her to the vet for a shot to calm her stomach and also stimulate her appetite again. Now if it stopped there I would think maybe it wasn't the food, maybe she had eaten something else she shouldn't have. However one of her offspring who was a couple of months old ALSO threw it up. I will never buy this cat food for any of my cats, or the 6 stray cats that I feed. People who are thinking of buying this need to read the one star reviews FIRST and not necessarily pay attention the the 5 star reviews. I can't understand that over 40 reviews love this cat food.
averybadcat
they love it but getting enough is a big problem
I feed 20+ homeless cats plus my 16 housecats..Everybody l,OVES Special Kitty wet and dry,and is super sleek,shiny and healthy.But I can't get the big $1 cans shipped,there are never more than 8-12 in the store either, and i have to go to 3 walmarts to get enough cans for a week. Also the stores dont even carry the 44-lb bags of Outdoor Special Kitty Dry food, which is the best deal in town for "feral" cat feeders--you have to order online and then sometimes it arrives torn open. My wish list: (a) be able to order and ship the 22oz $1 cans, and maybe have it in more than one flavor (but most important is shipping it), and (b) keep the 44-lb bags of Outdoor Dry in the store. I'm spending $300 bucks a month on walmart's cat food anyway. It would be awesome,so much more convenient and good for the cats,if we could just make these few improvements in shipping home and stocking enough in the store. Thanks!