Equate Sensitive Nighttime Lubricant Eye Ointment, 0.125 Oz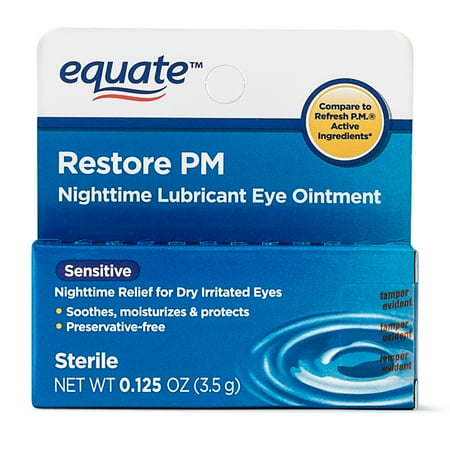 MSRP :

$20.95





Sale :

$8.94

Sold & shipped by Walmart
Product Description

Additional Information

Reviews
Product Description
Alleviate symptoms quickly with Equate Lubricant Eye Ointment. The sensitive formula contains mineral oil and petrolatum. This nighttime eye ointment provides temporary relief of burning, irritation and discomfort due to dryness, as well as exposure to the wind or sun. It also soothes, moisturizes and safeguards by acting as a protectant against further irritation. This Equate Lubricant Eye Ointment is available in a convenient tube and is beneficial for use at home or while traveling. Making the right health decisions can be challenging. With a complete range of products and simple solutions, Equate allows you to take care of your family with confidence.
Additional Information

Equate Nighttime Lubricant Sensitive Eye Ointment:
For the temporary relief of burning, irritation and discomfort due to dryness of the eye and exposure to wind or sun
May be used as a protectant against further irritation
Soothes, moisturizes and protects
Equate eye ointment for nighttime use
Contains active ingredients mineral oil and white petrolatum
0.125 oz easy to use resealable squeeze tube
Sterile sensitive eye formula
For home or while traveling
Reviews
lfhpueblo
Equate Nighttime Lubricant Sensitive Eye Oinment
I have to use this product every night and sometimes during the day. My eyes rarely produce natural tears. I used to have a problem that this product was too melty and hard to get into the eyes, but I now keep this product refrigerated on my refrigerator door in the area that most will call the butter compartment. Keeping the product cooler has kept it from being too thin to get into the eyes properly. It lasts longer and does not melt out as fast. Plus it feels nice going into the eye area cool. It makes it feel more refreshing and seems to last longer that way. This is much more affordable than other name brands, but I wouldn't say it is as good as they are either. Yet when you have to use a product like this twice a day and are on a strict budget, with an insurance company that won't pay for a product you medically need, then use this and my tips about keeping it cool in the refrigerator. I think you'll have good results.
LUTHIENT
Not too thick, not too thin
I've tried a variety of "name brands" trying to find the best night time eye ointment to protect my eye from developing broken capillaries during the night. Overall, I like the consistency of this equate nighttime ointment the best. For my purposes, it is a nice medium thickness so that it melts into my eye in a matter of about 10 seconds, but still stays thick enough to protect my eye for the entire night. It only makes my vision a little bit blurry. It can be rinsed away easily with a few drops of a thinner eye drop in the morning. Some of the other brands of ointments have drawbacks that I personally do not care for, such as: Some are so sticky that they are difficult to get off of the tube & onto your eye; some stay in a thick blob & get stuck in your eye lashes instead of melting & spreading around your eye; some of them completely blur your vision for the entire night and the next morning and are difficult to flush out; some make your eyes burn a little bit. All things considered, I prefer the Equate eye ointment to any of the others that I've tried.
Nancydrew
NOT TOO HEAVY
My eye doctor said I needed to use a sterile nighttime eye ointment for micro dot dystrophy which dries eyes pretty bad, causing corneal tears when I open my eyes in the am. I found all others too heavy ( most are 95+% petroleum) and I was uncomfortable with my eyes being completely blurry so I stopped using and kept tearing my cornea. By accident I found a sensitive brand at CVS which is half petroleum and half mineral oil. It's much lighter and I haven't had a corneal tear for months!!! ( Had 3 in one month before using this). CVS now longer carry this as of 12/18 and Thankfully Equate sensitive is the EXACT same formula ( active and inactive) and $4.00 a tube less expensive to boot!!! I don't have any problem putting it in as another reviewer stated although I do agree it is more liquified than non sensitive brands. I just pull the middle of my lower eyelid down to make a pocket and it goes in easily ( literally only need 1/4 to 1/2 inch). Also if you need daytime relief and aren't happy with your brand try the Refresh Advanced which has 3 ingredients ( not the same as regular Refresh and most others which have 2 ingredients). Finding the advanced version was a small miracle. I use it immediately upon awakening ( literally keep my eyes close and very slightly open each eye to add drops to avoid ripping the cornea. Then I use it another two times throughout the day.
luvonlineshp
Works!
Found this product after Refresh Lacri dry-eye ointment disappeared from the shelves. It is a good product and works for my son's dry eye!
Larry40
Very poor imitation of Refresh PM
Same formulation as Refresh PM but separated in tube into a liquid and jell. Most of the time the liquid comes out, sometimes the jell comes out. Refresh comes out as a soft jell all the time.