Garnier Fructis Sleek & Shine Intensely Smooth Leave-In Conditioning Cream 10.2 FL OZ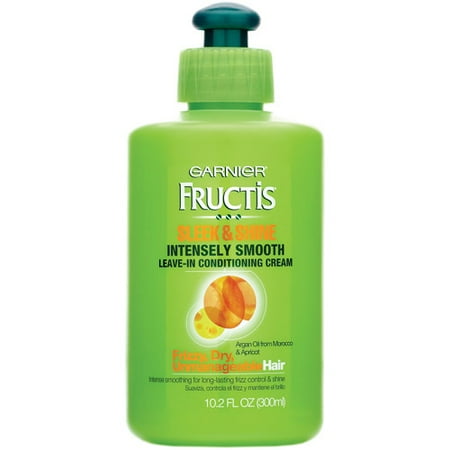 MSRP :

$3.42





Sale :

$2.97

Sold & shipped by Walmart
Product Description

Additional Information

Reviews
Product Description
Use Garnier Fructis Sleek & Shine Intensely Smooth Leave-In Conditioning Cream as part of your daily routine for shiny, healthy-looking hair. Hair is almost entirely made up of protein, which gives it its strength. This Garnier Fructis conditioning cream is specially formulated to support your hair's natural strength, help control frizz and leave your hair manageable. With an exclusive combination of citrus proteins, vitamins B3 and B6 and fruit and plant-derived extracts, this hair care product is infused with argan oil from Morocco. It penetrates your dry, frizzy, unmanageable hair and leaves it smooth and shiny. When used as part of Garnier's recommended hair care system, this Fructis leave-in conditioner helps control frizz even in 97% humidity. Paraben-free, this vegan formula creates easy-to-manage hair so you can create your signature look each day.
Additional Information
Whether you wear your hair straight, curled, up or down, Garnier Fructis Sleek & Shine Intensely Smooth leave-in conditioning cream helps support your hair's natural strength to make styling easy. Each bottle contains 10.2 fl oz.
Garnier Fructis Sleek & Shine Intensely Smooth Leave-In Conditioning Cream 10.2 Fluid Ounces:
Get up to 3 days sleek with Sleek and Shine system of shampoo, conditioner and leave-in cream
The system provides frizz control even in 97 percent humidity
Leave-in conditioning cream with Argan Oil from Morocco
Soaks into frizzy, dry, unmanageable hair for lasting smoothness and shine
Features a powerful combination of citrus protein, vitamins B3 and B6, plant extracts and conditioners
Garnier Fructis conditioning cream contains no animal-derived ingredients or byproducts
10.2 fl oz
Reviews
Hair
Garnier Fructis sleek & Shine
This is my "go-to" hair product!!! I put it on my wet hair and brushing out is a cinch! When I heat style, it keeps my hair from becoming frizzy and I've noticed an improvement in the texture and reduction in split ends. The price is absolutely reasonable for the quality of the product! My teenager has thick, coarse hair like me and he loves it too! Go figure!
tinydancer82410
What's not to love??
I had been looking for something to calm my frizzy hair when I use my 3-barrel waver. So, I decided to use something by Garnier Fructis since I don't use their products and they make a wide variety of products for "sleek & shine" hair. To be honest, I picked this bottle up and bought it because, hey, it was the cheapest thing on the shelf. You get MORE than what you pay for. When I first used this, I didn't want to use too much because usually leave-in conditioners make my hair oily. But when I sqeezed a little onto my hand, boy, it smelled GREAT! it's mouth-watering. I put it in my hair at night and woke up- it was not oily at all, but incredibly soft! That morning I decided to straighten my hair and it looked so much better and shinier than ever before. When I used my triple barrel waver it also looked much better! Absolutely NO frizz. I am super satisfied with this product and if you want shinier, softer, frizz-free hair, I HIGHLY reccomend this product. Garnier Fructis promised me "intensely smooth hair" and I got it <3
Violet12
This stuff is pretty awesome
I am African-American with relaxed, thick, bra strap length hair. I was having problems with extremely dry and damaged ends. I'm really unsure how it happened but I had a lot of breakage, bad split ends and it looked like scraggly straw. For months, I didn't know what to do to save my hair. I bought garnier (the price was so good) but I had put off using it because there were other leave ins I wanted to try. I've tried so many other big names but this is the only one that's worked for me so far. I apply to my damp hair after washing, air dry and my hair is on it's way to being healthy again. The ends are no longer scraggly, look sleek and overall, my hair has a slight sheen to it. My hair is finally getting the conditioning it needed.
valeria123
This stuff is pretty awesome
The only leave in conditioner I repurchase at the moment for almost 2 years in a row. Apply it with wet hair and after naturally dries it will be more smooth. After curling apply garnier hair spray and the curls will last two days and be super soft and not sticky.
houseo75fc
This stuff is pretty awesome
I love it cos you get a good amount of product for not a lot of money. The smell is so amazing and leave your hair very hydrated and moisturise. Love this product. I love using and will recommend it to others as well.