Garnier Fructis Style Flexible Control Anti-Humidity Hairspray 8.25 OZ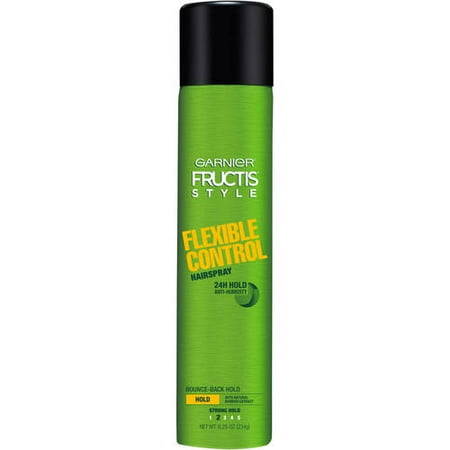 MSRP :

$5





Sale :

$3.99

Sold & shipped by Walmart
Product Description

Additional Information

Reviews
Product Description
Garnier Fructis Style Flexible Control Anti-Humidity Hairspray 8.25 OZWant workable hold without crunchy stiffness? Garnier Fructis Style Flexible Control Anti-Humidity Hairspray is a versatile hairspray that provides the strong flexible hold you need, and the natural, healthy-looking movement you want. With 24 hour hold and anti-humidity protection, your style stays touchable all day long, even in extreme humidity. HOW DOES IT WORK? Our strong, yet flexible hairspray formula, infused with natural Bamboo Extract, keeps you in control of your style for 24 hours. Added frizz protection ensures bounce-back hold that lasts all day. Our light, sparkling fruity fragrance will leave your hair smelling fresh and vibrant. GET INSPIRED! Use any Garnier Fructis Style product with Flexible Control Hairspray to create and control any style. For best results, use Garnier Fructis System of shampoos, conditioners and treatments. For more looks, tips and fun visit our Style Hub.
Additional Information
Anti-humidity hairspray provides 24 hour strong flexible bounce-back hold and frizz protection Strong yet flexible hairspray is infused with Bamboo Extract Provides natural, healthy-looking movement for style that stays touchable all day long, even in extreme humidity Light, sparkling fruity fragrance
Reviews
wishmepink
The absolutely BEST!
I love this hair spray. It really is flexible. The spray is super fine and when it dries your hair is touchable. If it gets windblown a simple stroke with your hand puts it right back in place. Lasts all day and my style stays put. Looks and feels if you aren't wearing a hair spray at all. I have all my friends and my family using this spray and we all love it. Try it and you won't use anything else.
BrittanyO1987
Hands down, the best!
So, I waited & used it for over a week so I could really put it to the test & write a honest & informative review.. So here it is! Its the best flexible hold hair spray I've used in a very long time!!! I have curl hair naturally, but I straighten it, so naturally I had to try it on both styles a few times.. Not only was my hair beautifully bouncy & workable when it was curly, but even when styled straight it had a light feel (which is important to me), I could still run my fingers through it(also a huge deal), & it gave my hair nice movement but still held it where I wanted it to be!! I've used anti humid spray before & was never really satisfied completely. This spray held up wonderfully in the humid air, & there was NO FRIZZ at all curly & straight!!! I slept on it a few nights also & upon waking up, my hair still looked better then it ever has in the am!! I will definitely be adding this to my permanent collection of products! [This review was collected as part of a promotion.]
guateringa
Garnier flexible control hairspray
To start out the rating, I love garnier products. I have wavy to curly hair and it is very voluminous and thick. On rainy humid days it looks as if I was electrocuted so I would want a product that helps with that. This product was excellent for that situatuon. As it said it gave a medium (2) hold, it also said it gave a flexible control. Meaning your hair wouldn't be hard. I personally would of liked something with a stronger hold but this spray did the job. tried it during different occasions for about a week since I really wanted to see how it would do. One of those days was a regular cold winter day and the hold was pretty good. The next time I tried it was on a day where it just finished raining and it was humid. I tried it this day since the spray said it was antihumidity for 24 hours. After the whole day going to school and doing errands my hair was put and not frizzy. I loved it because of that. The odor the spray gives is not a chemically smell, it has a fresh smell which I like. Overall I would use this product again especially for humid days because of the odor and the hold it gives since my hair was not stiff or hard but nice and fluffy. [This review was collected as part of a promotion.]
Angela M
I will buy this again
Love this hairspray, doesn't leave my hair stiff or sticky.
Schastin
A GREAT Cover-Up
I have tremendously curly hair and, let me tell you, the curls are STUBBORN! Since I was a kid, I've always had the worse time trying to brush or comb my hair straight. It would, at first, lay flat and appear to be straightened...but give it about 30 seconds...and POOF...CURLS!!! For about a year now, I've been using the Garnier products...they have been outstanding, however, my greatest advancement in my hair care has been the "Garnier - Fructis Style - Flexible Control Anti-Humidity Aerosol Hairspray." I go out on a date, with a group of friends, performing on stage or wherever...I apply this spray, and my hair is nice and straight, just as I styled it. No oily build-up, no awfully, strong smelling aerosol...it's wonderful. I call it my "Cover-Up," I have friends that I've known for months now...they still don't know I have curly hair =). Thanks Garnier!