120V Electric Bug Zapper Insect Mosquito Flying Pest Killer Zapper Led with Trap Lamp Indoor Outdoor Convenient Small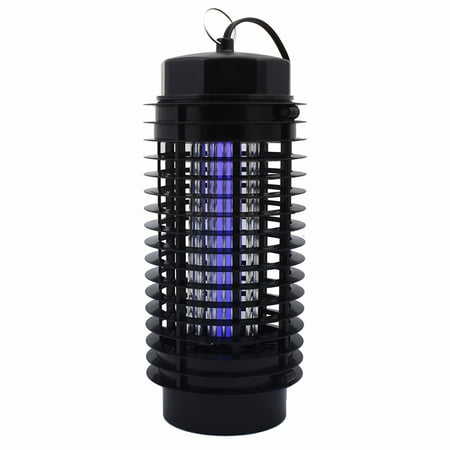 Sale :

$12.95

Sold & shipped by ihubdeal
Product Description

Additional Information

Reviews
Product Description
XtremepowerUS Bug Zapper can be applied both indoor and outdoor. Soft light and low consumed light. Harmless high voltage for killing insects. Long time use without break. No Smell. Automatically destroys insects, mosquitoes, flies, wasps, bugs and more Chemical Free and hypoallergenic
Additional Information
Automatically destroys insects, mosquitoes, flies, wasps, bugs and more Chemical Free and hypoallergenic Save energy Includes 42 long cord to kill bugs all around the home and office No gas, no chemical, no poison Input Voltage: 120V/50hz Voltage Grid: 950V Effective area: 50sq Overall Size: 5 (W) x 5(L) x 11(H)
Reviews
KevinW
DOES NOT WORK
I placed this on my porch right next to my light bulb that attracts 100's of bugs in 5 minutes, this zapper did nothing, I unscrewed the light bulb and the zapper still did nothing with all those bugs still flying around my light bulb. THIS ITEM IS USELESS if it wont kill bugs.
YONKERSYOKEL
Ineffective to say the least.
I have had this item for 2 weeks and it has caught 1 bug. Stick pads are more effective and I am trying to return. I would not buy this or recommend, also Walmart does not assist much with returns to their sellers,. If you bought with a Visa, they will assist you in getting your money back!
Bear
Not good
Has not performed at all well. After nearly two weeks has only killed two flys. Due to conditions at my apartment complex I am constantly fight flys. I had hoped this help with fly that come I when I use the front door. I have had to revert to insecticides. I am disappointed.
Disappointed
Didn't work
We were having an issue with house flies and didn't want to spray chemicals so we got this zapper. It was on clearance and cheap so we got it because of price and the fact that you could use it indoors. We had it a week and it never so much zapped a snat. Flies would land on the outside cover but never were zapped. Left it on at night, nothing. We put in the garage with no other lights on, nothing. We returned it after one week.
ltrunk
great little indoor bug zapper.
this is the 2nd one of these I purchased. It's small and quiet. It sits on the table inside the house so at night it works as a nightlight and just unplug and leaving sitting on table in the morning. Be sure and put a paper towel or sheet of paper underneath as some of the dead bugs will fall and it's handy when using the brush to clean. I brought this one for my bathroom as every morning there are gnats flying against the mirror. It's not like the larger ones that make the zapping sound (I have those out in my back and front yard). I would highly recommend this to anyone that has those pesky gnats in the house.