Oasis Thirst Quencher Dog Water Faucet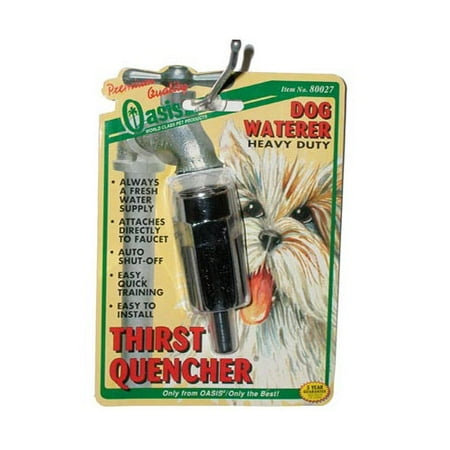 MSRP :

$10.61





Sale :

$10.49

Sold & shipped by Walmart
Product Description

Additional Information

Reviews
Product Description
The Oasis Thirst Quencher Dog Water Faucet is a new way to ensure that your dog always has a fresh clean water supply without having to worry about refilling and cleaning a dog bowl constantly. This dog faucet waterer attaches to any standard garden faucet or regular hose. Once installed, simply turn the water on and the automatic dog waterer will release water whenever it's nudged or licked - whenever your dog needs it. The Oasis Thirst Quencher Dog Water Faucet is easy to install and includes an automatic shutoff valve, preventing leaks and puddles from forming. It's a convenient, hygienic and economical solution.
Additional Information
Oasis Thirst Quencher Dog Waterer:
Provides a clean and fresh water supply
Easy to install
A lick or a nudge of the lever releases the water directly onto your dog's mouth
Sanitary and economical
Reviews
KirraKirra
Works great!
I was really pleased with this product. It doesn't leak at all, so I can leave the faucet on all the time. My dog doesn't quite understand the concept yet, but I think she will with time. It also seems tough enough to withstand being knocked around. I would definitely recommend this to anyone with a water-loving pooch. It takes the mess out of filling a water bowl all the time, and your dog can't knock this over and run out of water.
imaginesunshine
can't get any better
This Thirst Quencher for dogs is the best pet product I've purchased so far. Even better than a bowl system that grows as the puppies grow. Even better than large throw pillows for their beds. I have two 7 month old puppies, a Lab mix and a Dalmation mix and both are what I call "water dogs." They love the water...love to play in the pool, in the sprinkler, in the rain...whatever! I keep three water bowls at all times because they run all day. Now I can always have an easy mind that they will have fresh cool water at all times. It took each of them less than ten seconds to figure out that a nudge is all it takes to have the best water in the yard. This product is essential for your favorite dog!!!! And amazingly this product does NOT cause a dripping mess. Once the dog moves away, the water flow is shut off. It really works. I highly recommend a "Y" coupler (not included) so you may attach the thirst quencher and your garden hose at the same time...very efficient.
weblar
The Oasis Thirst Quencher Dog Water Faucet WORKS!!
Contrary to the ordinary use of this product, I hooked the Oasis Thirst Quencher Dog Water Faucet up indoors. After considering the reviews of this and similar products (Lixit, Top Paw), I chose the Oasis Thirst Quencher Dog Water Faucet on the basis that it was reported to leak the least of the competing products. And so far, this device has not leaked AT ALL. I hooked the Oasis Thirst Quencher Dog Water Faucet by inserting a "tee" fitting to the waterline that serves the icemaker on my refrigerator/freezer, and using standard brass plumbing fittings and a washing machine hose, routed water around my refrigerator/freezer to the Oasis Thirst Quencher Dog Water Faucet located next to my back door. Although the device does not leak, occasionally my dogs drip when they drink, so I placed a "boot tray" (http://www.walmart.com/ip/Mainstays-All-Purpose-Boot-Tray/15734493) immediately below the Oasis Thirst Quencher Dog Water Faucet to catch drips. I trained my dogs to use this device by spreading peanut butter on the "nozzle". Within a few days, my two dogs (one 13 years old; the other 18 months old) were drinking from the Oasis Thirst Quencher Dog Water Faucet. My kitchen floor is dry, and my dogs have a constant source of clean, fresh water. I am VERY HAPPY with this product and recommend it to anyone looking for a simple, easy way to provide water to their dogs.
keywestflamingo
Works Great!
This is a money saver for me. I use it for my 7 cats. Took one cat a few minutes to figure it out and man they line up for a drink. Fresh water and no ants. Used a "y" connector on the cold water supply in the laundry room, a piece of old hose and a repair connector kit for the cut end. We tested the length with the shortest cat to be able to touch it with his mouth. This went right on, turned the "y" on a small drip and let the hose fill up. Then turned the "y" to a smaller drip and the hose stays filled. My 7 cats drink all the time and it has worked 24/7 for us. Every time we went in to check on it there would be a cat drinking. It works! I know it works for dogs. I saw a dog using one and decided to try it for the cats. No more bath tub drinking from the spout and me forgetting to turn it off. This is a must have if you have pets. It can be used in doors or out. Very pleased with the weight, style and quality. I have a friend who has a huge bird. She is going to rig one up to the bird cage. I think it will work as long as there is a way for the drips to drain out of the cage. We have a drain in the laundry room floor but could also use a large pan like what they use under a water heater or portable washer in apartments for water collection in an emergency. There are many ways to be able to use this in doors. The amount of water that comes out is a small amount. Not enough to do any kind of damage. Does what it said it will. It works!
keywestflamingo
Great Product!
I love this! My dogs have chewed up and knocked over several types of water bowls. This is all metal so they can't chew it and they can't knock it over. It's also nice that they can have constant fresh water so I don't have to worry about them running out if I'm gone too long. It's also a great price and will far outlast some of the more expensive bowls we've purchased. I would highly recommend this for anyone who has outdoor dogs.