Whisper Bio-Bag Refill Cartridge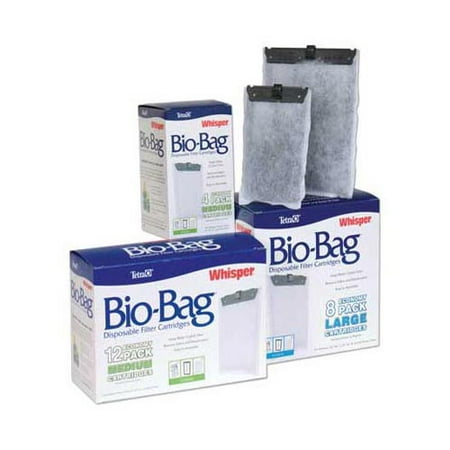 MSRP :

$12





Sale :

$11.71

Sold & shipped by Walmart
Product Description

Additional Information

Reviews
Product Description
Whisper Bio-Bag Cartridges come complete with the Whisper Power Filter package for a clean, easy-to-maintain aquarium. Filled with Ultra-Activated carbon, the ready-to-use disposable single packs remove waste particles, odors and discoloration, and are easily changed once a month. Choose from a variety of sizes.

Additional Information
Refill cartridges for your Whisper Power Filter
Reviews
CAREABOUTOTHERS
BIO BAG CARBON FILTER REPLACEMENT
Could not locate this in Walmart Store but so happy to find it available online. I have used this product for many years. Fits most aquarium filters for 20-30-40 gallon tanks. Keeps water chrystal clear, no odors, easy to install & remove. At this price you use it and throw it away, no more charcoal mess with refilling the filter but you can reuse the filter if necessary. They last a long time.
Jrazzy
Great filters
The bio-bag filters are great, especially if you are sick of the filters which are disposable and can't be reused. With these filters, you can wash them out and reuse them at least once, if not two or three times before they are completely worn out, and you can add carbon if you need to. They also are better for the environment than the disposable "one use" plastic type filters, because with these, after they are worn out, you take out the plastic insert, and throw away just the cotton type filter media and reuse the plastic insert in the next filter. Less plastic in the landfill, and on top of all the previous positives, these filters are WAY cheaper than other filters out there. Just make sure these will fit in your filter, because a lot of the filters will only take their specific brand name filters. If not, you could always get a Whisper filter, which these are actually made specifically for, and they are fairly inexpensive.
Lookin4AdealOR2
Great deal!
Product is great, and is much cheaper than my local pet store. I get 12 here for the price of 8 there. And with $0.97 shipping you can't beat it.
Chamarith
Satisfactory, but not great
If you are using the filter for which these cartridges are made, then these are the best for your filter. The filter itself, is only worth its' price, but not more. I am using it on a 29L filled about half full for a turtle tank. That is about 15 gallons. These cartridges are the original and are far superior to the cartridges that are now sold in the stores. The new cartridges do not have a frame inside, and are therefore very limp. The water pressure pushes them against the front of the filter which causes the water to flow over them instead of through them. I have sent a complaint to Tetra about this problem. I hope that this information helps you with your purchase.
peeweeshort
Satisfactory, but not great
Got it on line,alot cheaper,plus they don't carry it in the store.