Aussie 3 Minute Miracle Strong Conditioning Treatment, 8 fl oz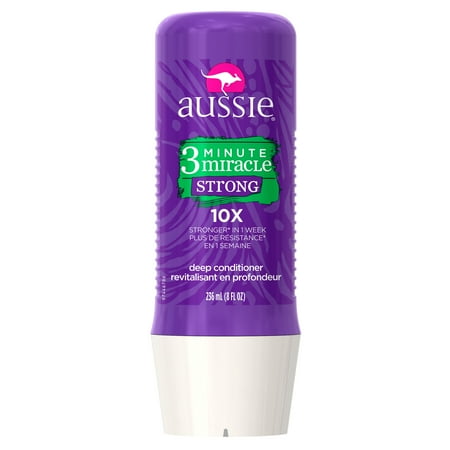 MSRP :

$2.99





Sale :

$2.97

Sold & shipped by Walmart
Product Description

Additional Information

Reviews
Product Description
Additional Information
Aussie 3 Minute Miracle Strong Conditioning Treatment, 8 fl oz:
Make hair 10x stronger against damage vs. non-conditioning shampoo with this weekly deep conditioning treatment
Lengthens the life of your locks by helping reduce breakage
Helps shield your hair against damage
Accented with a touch of Australian aloe, jojoba seed oil and sea kelp
One 8 fl oz bottle
Reviews
SamanthaS
im inlove!
i received this product to test for free which in no way has changed my opinion on this. i used to use this years ago, but ended up with the dreadful product buildup in my hair so i changed brands completely. after not using for 2 solid years and being selected to give aussie another shot i was excited and hopeful and was NOT disappointed one bit!! as i leave this 3 min legit miracle in my hair i wash my body shave etc and then rinse, and while i rinse i brush my hair in the shower to minimalize tangling and it does an amazing job. once i begin to dry and straighten i can feel the awesome results!! soft awesome smelling amazing hair!! im so glad they possibly changed their formula from the last time i've used them. for the past 3 weeks it's been all aussie and i have had no issues with buildup like i did before!! so you've surely regained an old faithful customer back!!
SamE
Lives up to it's name
I haven't used Aussie products for some time, but they were always great in the past. I received the smooth 3 minute miracle from Influenster. Usually products that claim to smooth my curly frizzy hair weigh it down and cause it to be oily. Not Aussie! This is the best conditioner I've come across to tame my unruly curls and frizz when I need a change. It left my hair smooth with subtle waves.
Mandy
A very excellent product for so cheap!
This is a really good product for my girls with curly bouncy hair! It's really good and I love it! I've been using it for a while now and I have seen an improvement on my curls. They're a lot softer and it leaves your hair feeling shinier than ever. The price is extremely low for something as high quality as this. Would recommend 10/5!!
Dara
Wow!
I'm so thankful for the opportunity to try Aussie's 3 Minute Miracle Strong Conditioning Treatment! I have put my hair though heck over the past ten years. Its been every color and every style, and it took it all like a champ I never had any problems! Finally, after one really, really, bad bleach job, my hair decided to go on strike. Split ends, my hair brushes packed full of spaghetti like strands. It was a goopy, crunchy, miserable mess. It took me weeks, lots of prayers, and a lot of very expensive products to save it from completely falling out and leaving me bald! It was much better after that, but its still bad and it won't grow. That's why I was SO excited to give this Aussie 3 Minute Miracle Strong Conditioning Treatment a try! Its nice and creamy, and easy to work into the hair, plus it smells great! I put it on during a bath and rinsed it when I was done. it rinses out really well, and that's important for me because I have a difficult time washing. My hair really does feel stronger and softer! I could comb though no problem! I'm really looking forward to using it for a few weeks and seeing the difference long term! I definitely recommend this to anyone! I received this item for free from Influenster in exchange for my honest review.
LauraJoli
Aussie 3 Minute Miracle is a very Good Buy!
I LOVE this! It is awesome. I can't quite place my finger on the scent to describe, but maybe a sweet citrus vanilla/orange creamsicle scent. I don't know, I just really like it. It leaves my hair feeling super soft and healthy. I received this product complimentary from Influenster for testing purposes, I used it every day until the bottle was empty, and then I have already repurchased this since I originally tried it. In my opinion, Aussie 3 Minute Miracle is a very Good Buy! While I tested Aussie for free, but all opinions are your own.