Herbal Essences Color Me Happy Conditioner for Color-Treated Hair, 23.7 fl oz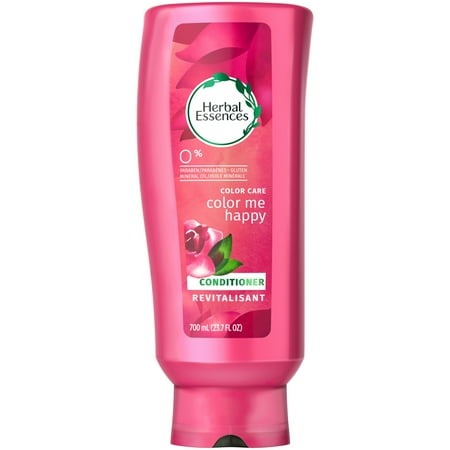 MSRP :

$12.27





Sale :

$4.97

Sold & shipped by Walmart
Product Description

Additional Information

Reviews
Product Description
Let your color-treated hair radiate with Herbal Essences Color Me Happy Conditioner. With notes of rose essences, this pH-balanced conditioner has 0% parabens, gluten or mineral oil. Gentle enough for daily use & color-treated hair.
Additional Information
Herbal Essences Color Me Happy Conditioner for Color-Treated Hair, 23.7 fl oz:Herbal Essences Color Me Happy Conditioner for Color-Treated Hair has 0% parabens, gluten or mineral oilLuxurious notes of rose essencesOffers color care for touchable, radiant hairGentle enough for daily use, color-safe and pH-balanced
Reviews
mash
conditioner for colored hair
First I want to say I have been a fan of Herbal Essences products for years, around 15 years now! People have always bragged on how soft my hair is and how good it smelled! When the new product line came out I was hoping it would be equally as good or better than its previous. But I think that I was more pleased with the texture of my hair with the last version of Herbal Essences and the scent seemed to be stronger, which I loved. It was one of the few products I could use and be able to tolerate the smell, due to allergies. The new line seems to make my hair feel more dry and it tangles more. I would love to see Herbal Essences bring back a few of the last version of products! Especially the shampoo and conditioner for color treated hair, I miss the way it made my hair feel! Another product that I used a few years ago was the leave in conditioner that was in the pump spray bottle, the is the best leave in conditioner I have ever used and I cant find it any where.... Once again I have always loved the products, just wish that some things could stay the same!!!
Aubrey
Perfect!
This conditioner leaves my colored hair shiny and soft. It smells wonderful and gets rid of tangles easily. The conditioner is very light weight and doesn't weigh my hair down or make it oily. I use it sparingly after every shampoo, as a little goes a long way.
Nymphius
Soft and Shiny
Blow-drying my hair after using this product makes it incredibly shiny and silky. My hair color stayed for an appropriate time frame as well.
Nymphius
Best hair care Iv'e ever had! Love it!
This is by far the best hair products Iv'e ever had! My hair has been absolutely beautiful since I started using this product! I get compliments all the time about how radiant my color looks! I always have people also complimenting me on how my hair smells! I straighten it every day, and It still smells like berries throughtout the entire day! I first heard about Herbal Essences from my friend, and she had beautiful hair, so I dided to try it, and I am so glad I did! My color is still beautiful and I haven't dyed my hair in 6 months! And it will probably still be a few more months before I dye it again! My hair is frizz free, soft, and visibly shiny! I reccomend this product to everyone!
ellabelle
Hard water is no longer an issue
I recently relocated and the water I shower in jumped from very soft to very hard overnight. Noticing how dry and dull it was looked (and how faded my chestnut locks were becoming) - I in a panic ran to the shampoo and conditioner isle to reconsider my options. I was told to stay away from sulfates and a whole bunch of other garbage to protect my color treated hair, but when I picked up color me happy and took a sniff I figured, "it smells good enough - why not?" I think that might be one of the best decisions I have ever made. The conditioner is thick enough to hydrate and protect, but thin enough not to leave the greasy residue every woman hates. I simply love this product!