Aveeno Baby Soothing Relief Moisturizing Cream with Natural Oat Complex, 5 oz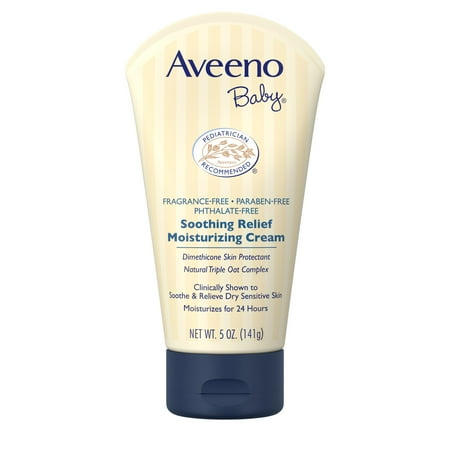 MSRP :

$5.99





Sale :

$4.97

Sold & shipped by Walmart
Product Description

Additional Information

Reviews
Product Description
Aveeno Baby Soothing Relief Moisturizing Cream is clinically proven to moisturize sensitive baby skin for 24 hours. Formulated specially for babies, this hypoallergenic, pediatrician-recommended baby lotion is made with natural oatmeal, which soothes your baby's dry, sensitive skin. Oatmeal helps maintain skin's moisture barrier to prevent and protect against dryness. Aveeno Baby Soothing Relief Moisturizing Cream contains no fragrance, parabens, phthalates, or steroids.
Additional Information
5-oz tube of Aveeno Baby Soothing Relief Moisturizing Cream for dry, sensitive skin
Fragrance-free baby cream helps heal and soothe delicate skin with dimethicone skin protectant
This fast-absorbing and non-greasy oatmeal baby cream moisturizes baby's skin for a full 24 hours
Gentle baby cream is formulated to help prevent and protect cracked or chapped skin
Hypoallergenic, paraben-free and phthalate-free so it's gentle enough for baby's delicate skin
The mild formula of this baby cream features skin-nourishing natural colloidal oatmeal complex
This pediatrician-recommended brand moisturizing baby cream is specially formulated for babies
Use this steroid-free moisturizing cream twice a day to keep your little one's skin hydrated
Reviews
Momof5
This burned my baby's skin
I put this on my baby's skin because he suffers from eczema. He cried and screamed for 45 minutes and we couldn't figure out why. I took his shirt off and his stomach was red and covered in welts/blisters! I had to put him in the tub and get it all cleaned off and then apply ointment. I then gave it to my teenager who also has eczema thinking maybe it was just his sensitive skin. It burned her skin too! She came to me after putting it on a couple patches of eczema saying it was on fire. We washed it with cool water and she had welts and looked sunburned. :(
M
NEW FORMULA CHANGE is terrible. I have a bad reaction.
I had a bad reaction to the new formula. The complete opposite of the original. It left my skin greasy, with a filmy residue and clogged up my pores. I put the lotion on in the evening and in the morning my skin still felt gummy with residue. My hands & feet felt sweaty and a bit swollen, most likely from clogged pores. I LOVED the ORIGINAL formula moisturizing cream! It was recommended to me by my dermatologist 7 or more years ago. It was the only moisturizing cream that left my skin instantly moisturized and lasted for many hours. It was a rich thick cream that instantly soaked into my skin leaving it feeling alive, fresh and fully hydrated. I don't know what I am going to do now that it no longer exists. It was the only cream that worked for my extremely dry sensitive skin. WHY change something that worked so well?
M
Aveeno Baby Soothing Relief Moisturizing Cream For Dry Sensitive Skin
Nothing works for my baby's skin but this product.
Jenn348310
Helped Clear Newborns Dry Skin!
I am a first time mom and recently gave birth to a beautiful baby girl. I noticed how dry her skin was. It was especially dry on her hands and feet. When i first used Aveeno Baby Soothing Relief Lotion i noticed it worked at first but her skin was then dry again. So I continued to follow the directions and apply to her skin twice a day. After a few days i noticed the dryness had gone away. I am very pleased and glad i used this lotion. I also like that this is fragrance free, hypoallergenic, and non greasy. I will definitely be sticking with Aveeno baby products for the near future! [This review was collected as part of a promotion.]
Ann832
So gentle for my baby's gentle skin!
I am so glad that Home Tester Club gave me the opportunity to trupy for free the Aveeno Baby Soothing Relief Moisturizing Cream. Lately i had benn noticing that my baby's skin was getting dry. I used many creams but none work as good and as fast as the Aveeno Baby Soothing Moisturizing Cream. After the first use my baby's skin look and felt so smooth and moisturised. I like that the cream is not greasy and absorbs quickly. An other fact that will make me to buy this cream is that is fragrance free, paraben free, phthalate free and steroid free. I all ready recommended the cream to my sister and her baby. [This review was collected as part of a promotion.]