Aveeno Skin Relief Intense Moisturizing Cream, Extra-Dry Skin, 11 oz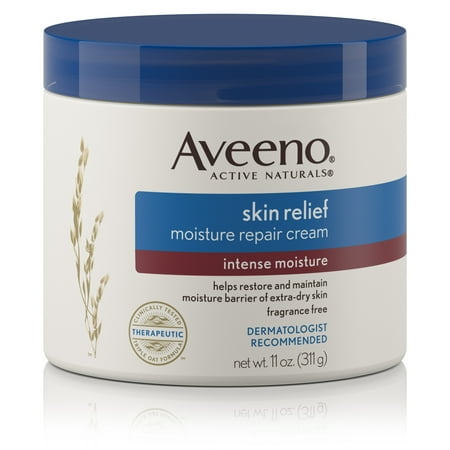 MSRP :

$11.46





Sale :

$10.98

Sold & shipped by Walmart
Product Description

Additional Information

Reviews
Product Description
If you are looking for long-lasting, effective moisture and relief for your dry skin, the Aveeno Active Naturals Skin Relief Moisture Repair Cream is a smart choice. With its unique, proprietary formula and a combination of ceramide, rich emollients and a triple oat complex, this Aveeno Skin Relief Cream, 11 oz, deeply moisturizes your skin and leaves it feeling soft and supple. Restore your skin's natural ebullience with this Aveeno Repair Cream, which additionally gives 24-hour moisturization and is fragrance free. In addition, Aveeno Active Naturals Skin Relief Moisture Repair Cream is designed for sensitive skin, as it is steroid free, non-comedogenic and recommended by dermatologists. Simply apply the Aveeno Skin Relief Cream, 11 oz, before going to bed at night or after a shower for all-day dry skin relief.
Additional Information
11-oz of Aveeno Skin Relief Moisture Repair Cream for intense moisture to relieve extra-dry skin
Hydrating body cream prevents moisture loss and helps restore your skin's moisture barrier
Effective dry skin lotion from the dermatologist-recommended skincare brand for over 65 years
Specially formulated with soothing Triple Oat Complex containing oat flour, oat oil & extract
Made with protective ceramide and rich emollients to deeply hydrate and restore very dry skin
Clinically proven to moisturize for a full 24 hours for long-lasting, all-day hydration
Our intensive moisturizing cream is fragrance-free, steroid-free and non-comedogenic
Therapeutic body cream from the dermatologist-recommended skincare brand for over 65 years
Reviews
LoveofJsLife
The Best I Have Used
I have extremely dry, super sensitive skin. Let me tell you, I believe I have tried every brand of lotion and cream available at drug and big box retail stores. My dermatologist recommended this after I went in for other issues but she noticed my extreme "body dandruff". (That is what I call the blizzard of tiny flakes of skin inside my clothing.) One application of this right after bathing made a world of difference. Repeat applications have all but eliminated the dandruff problem. I can't believe how soft my skin is now. This moisturizes without feeling sticky and has no fragrance. By that--I mean this product, unlike other "unscented" products that have a mild stink to them, this actually has NO fragrance. I love it and I wish I had found it sooner.
ElVee
Works well
I don't have any experience with the previous formulation, but I really like this cream. I have pretty dry hands and this works wonders and makes them feel refreshed and hydrated. I've tried some of the thicker formulated creams like Curel Intensive Healing and Equate but they are too thick, don't absorb easily and leave my hands feeling greasy. I like the fact that this cream is easy to apply, absorbs easily and does not leave a greasy feeling. I haven't found anything better.
DebbiefromOlney
This is Fantastic
I have tried lots of products but this one is the best so far and I have tried lots and lot of skin creams because of my dry skin. This one has all of them beat by far. I does not have any smell its not greasy when you put it on and most of all it keeps your skin soft all day long until you wash it off and apply it again. Please buy this it is FANTASTIC!!!!!!!!!!!!!!!!!!!
Lilbeaker
Works great for excema prone skin!
My boyfriend has SEVERE excema! This lotion has actually healed his skin. This is the only thing that has worked to heal and prevent the excema. He uses this lotion along with Aveeno sensitive skin bodywash and has had better results than years of perscription steroids and creams.
sargeret
Aveeno Skin Relief Intense Moisturizing Cream
I use 3 Aveeno products for dry skin. I use the Extra-Dry Skin Cream twice a week. I apply it after I apply the Aveeno Yogurt Cream after my shower in the morning and again the same process at night. They do not conflict with each other and the Extra-Dry lotion is a safe guard from getting the extra dry scaly skin that I had before I discovered the Aveeno products. Their Yogurt cream works very well but I like the added benefit of the Extra-Dry living in Florida.