RoC Retinol Correxion Anti-Aging Eye Cream Treatment,.5 fl. oz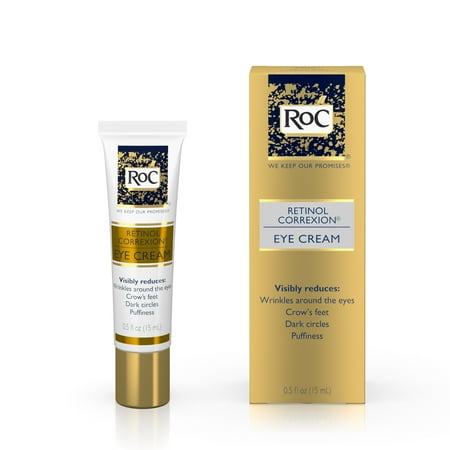 MSRP :

$19.98





Sale :

$17.95

Sold & shipped by Walmart
Product Description

Additional Information

Reviews
Product Description
Visibly reduce wrinkles around the eyes, crow's feet, dark circles and puffiness with RoC Retinol Correxion Eye Cream, .5 fl oz. It has a special formula that contains pure RoC retinol and an essential mineral complex. This ophthalmologist-tested RoC retinol eye cream is also hypoallergenic and noncomedogenic.
Additional Information
0.5-fl. oz tube of anti-aging retinol eye cream treatment
Works to reduce the appearance of crow's feet, dark circles, and puffiness
Eye cream formula contains anti-aging retinol and mineral blend
Non-greasy cream is hypoallergenic and non-comedogenic for use around the delicate eye area
Eye treatment has been tested to visibly reduce signs of aging around the eyes
Retinol treatment been clinically shown to reduce the appearance of wrinkles around the eyes in 12 weeks
Anti-aging eye cream nourishes skin around the eyes and reduces the look of puffiness in 4 weeks
Moisturizing eye cream visibly reduces signs of aging around the eyes
Reviews
Lynn620
Works so far
I use a number of Roc products & as usual, this one works as well as the other Roc products. This one claims: • Moisturizes and visibly reduces signs of aging around the eyes • Reduces appearance of crow's feet, dark circles, and puffiness • Formula contains retinol and exclusive mineral blend • Clinically shown to reduce wrinkles around the eyes in 12 weeks While I haven't used it for 12 weeks yet, I have not seen the full results. What I have noticed is that the dark circles have lightened up. It hasn't reduced the puffiness under my eyes yet, but I have noticed a slight reduction in the wrinkles around my eyes. This is not greasy or sticky & I have had bad effects of the Retinol in this cream. I'm hopeful that when I have used this for a full 12 weeks, I will have better results. I would definitely recommend this to a friend. I received this product for free from Crowdtap & Roc for trial and for my own honest opinion. No other compensation has been provided.
Shay
Worked for Me :)
After reading other reviews and given my results, I believe that, in part, it's one's genetics determine the degree of success. Although the tube is small, it does last at least a month, the minimum amount of time it must be used to see significant results. To my surprise, the (significantly noticeable) "bags" under my eyes are virtually gone and the fine lines at the corners of my eyes much less visible. As for those darks circles, all I can say is thank goodness for concealer! On most days, I used the cream every morning prior to putting on makeup and again at bedtime. That said I did miss a few mornings. In short, I am thrilled with the results and have already bought my second tube.
GinaC
Irritates eyes
I bought this product because of all the good reviews. It seems that is has been around for a while. I didn't want to spend an outrageous amount of money on eye cream. Thought I'd try. I have been using it for about 2 weeks. It causes my eyes to burn and water. I know it's this cream because I have tested it out by using one day and not another. I am not saying it doesn't work or isn't good. It just doesn't work for me. I am not typically sensitive to make-up and I don't have allergies.
Sandy50
Product date created?
I have been using the ROC Retinol Correction Eye Cream for fifteen years. I love it. But, recently, I purchased two new eye creams at different stores in two different states, and the year of creation on the product tube and box states the year as 2014... four years! I'm confused. Has your company not created an update on the product labels, or have I purchased FOUR YEAR OLD products??! Thanks
Brownwolf
Very Pleased With Results
I have used two other products by other manufacturers; one caused irritation under my eyes and the other didn't work. I just decided to try this product and I have been very happy with the results. I have used it for at least 4 months and have not experienced any irritation and it has been effective in reducing bags under my eyes, as well as lessen the dark circles under my eyes. Finally, it is very economical as it doesn't take much to put under and at the corners of my eyes and one tube goes a long way applied morning and night.