Band-Aid Brand Tough-Strips Adhesive Bandage, Extra Large Size, 10 ct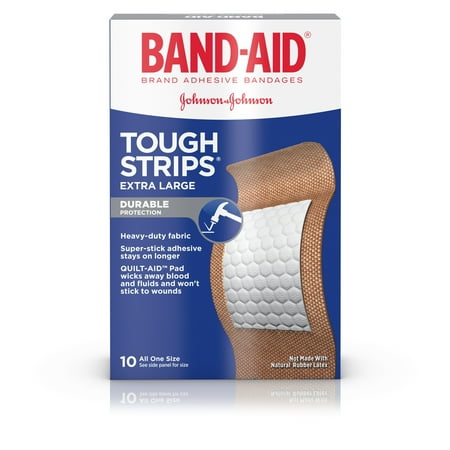 MSRP :

$5.55





Sale :

$2.5

Sold & shipped by Walmart
Product Description

Additional Information

Reviews
Product Description
Band-Aid Brand Tough-Strips Adhesive Bandages are designed to fit most wounds and provide breathable, all-purpose protection. These extra-large sterile bandages are made with Dura-Weave Fabric and a strong adhesive to provide durable protection. They feature a four-sided seal to lock out dirt and germs, keeping wounds clean. The pad stays in place for long-term wear, yet it's nonstick for gentle removal. This package contains 10 extra-large sterile bandages.
Additional Information
10-ct. box of heavy-duty extra large Band-Aid Brand Tough-Strips Adhesive Bandages
Durable bandages cover minor wounds to keep out dirt, and germs for durable protection
Sterile bandages feature Dura-Weave heavy-duty fabric with a strong adhesive to stay on up to 24 hours
Tough Strip bandages are 5 times stronger than ordinary bandages (compared to Band-Aid Brand Sheer Strips)
Sterile bandages feature a Quilt-Aid Comfort Pad that is designed to cushion painful wounds while you heal
Contains 10 tough bandages all one size and measure 1.75 by 4 inches
Tough-Strips Adhesive Bandages are not intended for sensitive or delicate skin
Apply bandage to clean, dry skin for minor wound care and change daily, when wet or as needed
Reviews
Unhappy patron
Inadequate band-aid
This product does NOT have great features. It rolls on itself and leaves a sticky residue on everything it comes in contact with. I would not recommend this product even to my old high school frenemies or rivals. Do better Band-Aid.
Pati
Avoid if at all possible
These are beyond sticky, more like super glue. Surprised there haven't been any newsworthy issues since removing them can remove healthy skin as well. A warning should be included on the front of the box. I finally found a statement in fine print: Not intended for sensitive or delicate skin. How often does anyone pick up a box of band aids to make sure there's not some sort of warning? I know this won't be posted without an edit but I still see them on the shelf at our local grocery store.
jpg391
GOOD BANDAGE
I like this bandage very much. It does not come off until you take it off. I used it every day to protect a blister that I had on one of my heals and it did not come off even with rubbing against my shoe.
TornSkinTexan
Pulls your skin when trying to remove!
I needed a band aid that would stick all the way around the non-adhesive pad to keep my wound clean, so I bought these. Big mistake. They are almost impossible to remove. I put one on my back and almost had to have a neighbor remove it because I was struggling to pull hard enough to remove it myself. They pull your skin when removing, and still do not stay stuck all the way around the pad. They also leave behind residue. I'm not using the rest of the box.
Laura
Love for active life
I am a very active and busy person. I'm constantly working outside and I get pretty dirty. I've had these band-aids stick for days at a time vs the other ones which may only last a few hours. There is a residue left behind, but I don't mind it as it usually washes off easily.