Aveeno Daily Moisturizing Lotion For Dry Skin, 18 Fl. Oz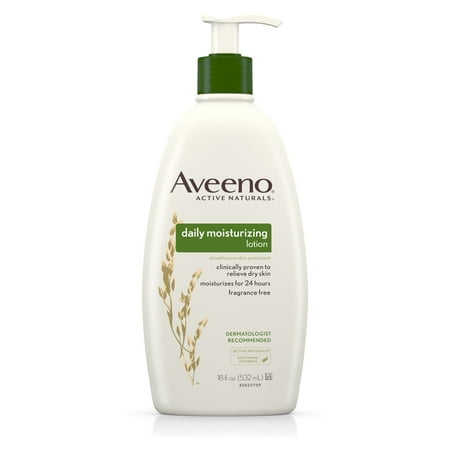 MSRP :

$9.26





Sale :

$8.97

Sold & shipped by Walmart
Product Description

Additional Information

Reviews
Product Description
For naturally smooth skin, try dermatologist-recommended Aveeno Daily Moisturizing Lotion, 18 oz. It is clinically proven to relieve dry skin. Formulated to provide lasting relief, this fragrance-free lotion moisturizes for 24 hours.
Additional Information
18-fluid ounce bottle of body lotion
Moisturizes for 24 hours
For dry skin
Soothing oatmeal
Dimethicone skin protectant
Clinically proven to improve skin's health in 1 day
Fragrance-free, non-greasy, and non-comedogenic
Reviews
Anna
I love this lotion
I really love Aveeno daily moisturizing lotion. I have always hated lotions that leave your skin feeling greasy and sticky, but with Aveeno I don't have that problem. Aveeno is great for my dry skin, I live in Texas and a good quality daily moisturizer is really needed, and I really think this one is the perfect one. It's greatly improved my elbows, which are my problem area, sometimes they would get so dry and scaly I could almost grate cheese with them , but since I started using this lotion they feel so soft and nourished. I use it daily, and it has greatly improved the way my skin feels, it leaves my whole skin feeling so soft, and the best part I don't have to keep reapplying it multiple times throughout the day. If your skin is in need of a good moisturizer that does not feel sticky and greasy, and actually leaves your skin feeling soft and nourished than this is a good choice for you. I hope my review was helpful to you, and if it was please click the button below.
MNSusieHomemaker
Best lotion EVER!!!
During harsh Minnesota winters, the backs of my hands get so dry that they crack and bleed, which is very painful. After years of having to constantly reapply greasy lotions to try to keep my hands hydrated (and nothing ever worked), I finally discovered this miracle lotion from Aveeno. I can hardly decide what my favorite thing is about this lotion: it's not greasy, absorbs into your skin almost instantly, is unscented...probably best of all is that you don't have to reapply it constantly. When my hands start to get dry, I put some on and it lasts all day (and sometimes into the next day), and doesn't disappear when you wash your hands. Now the only time my hands crack and bleed is when I don't notice that my hands are starting to get dry. But as soon as I put my Aveeno lotion on, my hands are back to normal! This may not be the cheapest lotion out there, but it's definitely a great value for the money—a little dab will definitely do you! I've had the same bottle for 4+ years and it's just now starting to run out. I've already bought another bottle because I can't stand the thought of not having this lotion when I need it!
bk28
Need to fix the pump
I Love Aveeno. My rating would be much higher if you would work more on the pump problem. There is ALWAYS 1/3 of the product in the bottom when it stops working because the stem is too short. I know there must be some gap at the bottom, but that is ridiculous. When each bottle gets to this point, I turn it upside down, put it in the closet and let it sit for awhile. Then when the next bottle gets down there, I dig out the other one and pound it and squeeze it out into the next bottle. Takes a lot of time, isn't fun, and ticks me off each time. Sometimes I squeeze it into an old small wide mouth container which is easier, but I don't use it up fast enough to do that every time.
cagelover
Need to fix the pump
Love this lotion. Little goes a long way. Very soothing to dry skin.
EpitomeOfPerfection
Only lotion I use
Aveeno Daily Moisturizing lotion is the only lotion I use. My profession requires me to wash my hands frequently. By the end of the day, my hands are dry to the point of cracking and bleeding. With one application, my hands noticeably look and feel better. It doesn't apply oily at all. It moisturizes when applied it and you don't feel any sort of greasy residue that some lotions leave. It has a neutral scent and doesn't bother my sensitive skin. Overall, great product.