Johnson's Baby Oil Gel Calming Lavender, 6.5 FL OZ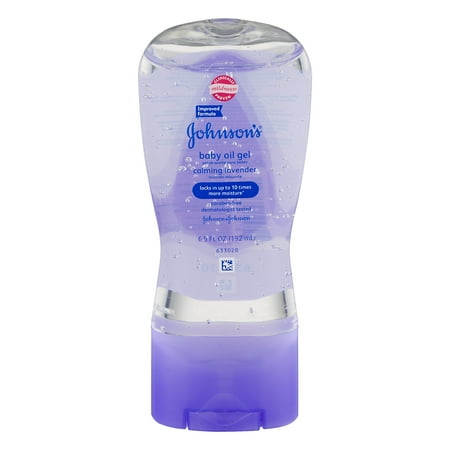 MSRP :

$4.86





Sale :

$3.92

Sold & shipped by Walmart
Product Description

Additional Information

Reviews
Product Description
The Johnson's Lavender Baby Oil Gel provides all the benefits of Johnson's Baby Oil in a concentrated gel form. It locks in significantly more amounts of moisture leaving your tot's skin looking smooth, healthy and fresh. The lavender baby oil gel is mild on your child's skin and it is largely hypoallergenic. You can use the oil gel to give your little one a refreshing massage. Also, the moisturizing baby oil gel features a refreshing fragrance. Like most parents, you could benefit from using this gel to moisturize your skin just after a bath.
Additional Information
Johnson's® Baby Oil Gel Calming Lavender.
Clinically proven.
Mildness®.
Improved formula.
Locks in up to 10 times more moisture*.
Paraben-free.
Dermatologist tested.
Johnson & Johnson.
Reviews
Melissa
Major Rash!
I used this product 2 days in a row on damp skin out of the shower. Several hours after the second application I noticed a rash on my thigh. Now three days later, though I've discontinued using the product, the rash has worsened and spread to both legs, upper arms and stomach. It is bright red and raised and horribly itchy. Knowing this was the only new product I had used, I did a Google search for contact dermatitis from Johnson's baby oil gel and found that there are reports of this reaction dating from as early as 2011 to as recently as February 2018. I'm disappointed in the product, certainly, but even more upset that the product is available for purchase even though it has been causing a bad reaction for both children and adults for years.
Jackie20743
Best Bath Oil Ever
This doesn't smell like baby oil. I love the very light lavender scent. I have extremely dry skin. This is the best product I have ever used. It's thick so it stays where you put it-- doesn't drip on things, floor, bath mat, clothes, etc.
Ronneigh
Makes legs smooth and moisturized
I saw this Product on social media to use for shaving your legs and making them smooth afterwards.I have to say that it works very well and beyond expectations.My legs are very moisturized and I don't have to shave as much either :).
Brittany
LEFT MY SKIN FEELING AWFUL! DON'T WASTE YOUR MONEY
I have very dry skin and have difficulty keeping it moisturized but the regular Johnson's Baby Oil (even the off brand) works great but can be a little messy so I thought I would try the gel. After I shower is when my skin is the driest and it feels awful so I always apply lotion or baby oil immediately; it's also when I get the best results. So I done my usually routine and applied the gel after showering. It was thick and greasy which I expected, but it never really dried/soaked in like the regular oil. The next morning I woke up and my skin is so dry and feels awful again, like I never even applied anything. The lavender scent is great, but overall the effectiveness is horrible! I'm going to attempt to return it as I only used it once and it's even more expensive than regular baby oil which is crazy since is doesn't even work.
Colliemom3
Wonderful scent, high power emollient
The scent is wonderful, very calming. This is best applied just from the shower while your skin is lightly wet to damp. It soaks right in then and spreads well. It is very emollient and wonderful for the driest parts of the skin such as crepey area under the upper arm, flaky dry legs, etc