Johnson's Baby Gentle Cleansing Shampoo, 15 Fl. Oz.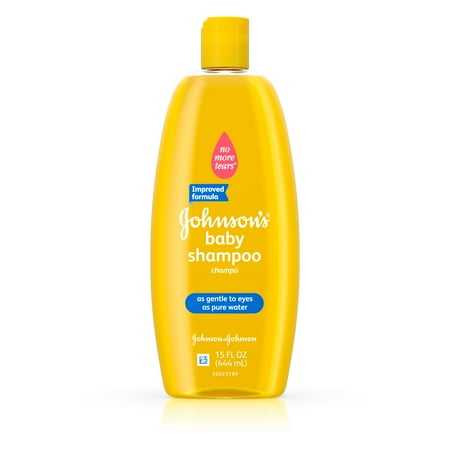 MSRP :

$9.99





Sale :

$3.92

Sold & shipped by Walmart
Product Description

Additional Information

Reviews
Product Description
Proud parents have always been able to trust Johnson's Baby Shampoo. Your baby's delicate eyes require special care. The No More Tears formula in this shampoo is as gentle to the eyes as pure water, so bath time can be as much fun as a splash in the pool. Clinically proven to be mild, this 15-fl oz hypoallergenic baby shampoo cleanses the skin gently and rinses away easily, leaving hair beautifully soft and shiny and smelling baby fresh. For over a hundred years, parents have come to rely on the Johnson's brand for the cleanest wash and the safest ingredients. This hypoallergenic shampoo, now with hypoallergenic fragrance, is also 100 percent soap free and dermatologist-tested. The improved formula achieves a better clean while protecting sensitive eyes and skin without using parabens or harsh chemicals.
Additional Information
15-fluid ounce trial bottle of shampoo
Gently cleans hair and scalp
Formulated for babies
Johnson's No More Tears formula
Soap-free
Dermatologist-tested and hypoallergenic
Light, fresh scent
Reviews
Grandmad
Worse shampoo ever
My daughter used this shampoo on my 3 month old grandson and now he has patches of hair missing.I told her to throw it away immediately. I used to love Johnson's products, but this shampoo is not allowed in my house.Instead of the slogan saying no more tears,it should say no more hair.I'm very disappointed in this shampoo.
Grandmad
It made my childs hair fall out
Sad. My child had a full head of hair at birth and a month of using it he now has a 40 year old hair hes almost bald on top! Ive never out of 4 children had a child go bald on top their head only. His 6 week older cousin has also gone completely bald from the shampoo!!!!!!!!!!!!!!
Grandmad
It took my son hair out I need a check
This product took my son hair out he's 4 months I'm still haven't grown his hair back
CV-UPI
Miracle Gold
Well... this little "golden shampoo" helps more than just babies... it helps adults. I am a gold prospector and I run a big group in California of gold prospectors. The first time I got a sty in my eye from the dirt in the field, my doctor told me about Johnson's Baby Shampoo and how it would help heal the sty. Washing with the shampoo, my sty cleared in two days!!! The initial medication I got from the doctors never worked. Now when I feel a sty coming on... I just wash my eyes with it and a little warm water. And it goes away. I also cleanse my face with it now since my Grandmother told me its all she's used for a long time and she had beautiful skin. (She passed last year.) I wish I can get enough of the travel size bottles to pass one out to every miner at our meeting. That would be awesome. Thank you for saving my eyes!!!
PacificMoceans
Something so simple made the most drastic difference in my life.
I have switched between different shampoos all my life and I have coarse, thick and curly hair. My hair would either be really brittle, matted up and lifeless, plus my scalp was ridiculously scaly cause my scalp reacted so bad to certain shampoos with ingredients that conflicted with the pH of my scalp. Long story short, I used this for my hair for three times a week and my hair hasn't felt this great since I was a teenager. Light, clarified, beautiful, naturally shiny and my scalp is squeaky clean without losing it's natural oils. I was stunned on my second wash, but a believer from day one. Confession: I bought this cause I've suffered from eye stye's and have heard from the internet grapevine that this is the cure. Sure 'nuff, it works. Clean the outside of my eye lid and the inside of my lid if need be, diluted with a little water as I wash and rinse. It's definitely tear-free as it promises. Thank you Johnson & Johnson for this amazing product that's been under my nose all these years. <3 This is the only shampoo I will ever need. I will be passing this along to my family and friends.