Aveeno Baby Eczema Therapy Soothing Bath Treatment with Natural Oatmeal, 5 ct.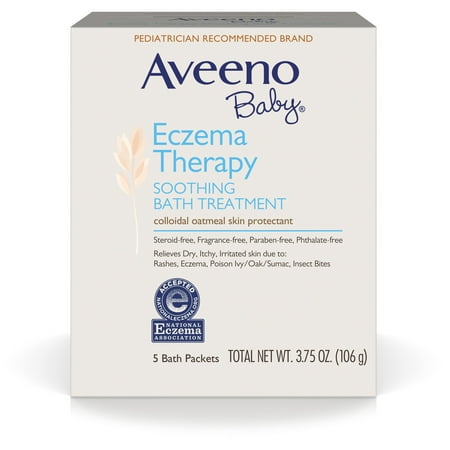 MSRP :

$6.28





Sale :

$4.97

Sold & shipped by Walmart
Product Description

Additional Information

Reviews
Product Description
Aveeno Baby Soothing Bath Treatment is made with natural collodial oatmeal, which has long been recognized as a natural way to relieve dry, itchy or irritated skin. The unique formula of this Aveeno Oatmeal Bath and Soak Treatment is collodial oatmeal combined with a special moisturizer before being milled into an ultra-fine powder. When dispersed into water, this powder forms the soothing, gentle Colloidal Oatmeal Bath from Aveeno. After soaking, your baby's skin will be softer and smoother, and dry, irritated or sensitive skin will be eased. This mix cleans your child without the use of soap, and the Aveeno Baby Soothing Bath Treatment is hypoallergenic.
Additional Information
5-packets of Aveeno Baby Soothing Bath Treatment to help relieve dry, itchy, irritated skin
Soothes skin irritation and itching due to rashes, eczema, poison ivy/oak/sumac, or insect bites
This unique baby eczema therapy bath combines a special moisturizer and natural colloidal oatmeal
Bath treatment is indicated to provide itchy skin relief
When dispersed in water, this fragrance-free, ultra-fine powder forms a milky soothing bath
Baby soothing bath is also a natural, soap-free cleanser that is gentle enough for sensitive skin
From the pediatrician-recommended brand, this bath treatment provides itchy skin and eczema relief
This baby eczema therapy is gentle on the eyes and is steroid-, paraben- and phthalate-free
Reviews
VanS924
Good for all
Aveeno Baby Eczema Therapy Soothing Bath Treatment For Minor Skin Irritations, 5 Count The following is a review of the Aveeno baby eczema therapy soothing bath treatment for minor skin irritations, 5 count. I have two small kids who have eczema. I have eczema as well. I decided that I would use the product myself before I let my kids use it. If it irritated my skin, then I would know that it would be no good for my kids. I fill the tub with not hot, but really warm water. I poured in the powder and mixed it up in the water. Once I got in the tub, I could feel the difference then say just getting into a regular tub of water. After relaxing in the tub for quite some time I got out. My skin felt smooth. I will wasn't itchy. It was a very pleasant feeling. It was soothing. I get very itchy during the winter months, and this helped a great deal. I would definitely recommend this product to anyone who has eczema. It is not just for babies or little children. It is for anyone who is suffering from eczema. I will definitely be purchasing this in the future
Lorinzo
I think it works wonders.
It's nice to have smooth skin again. I didn't really notice a difference every day after I used the Aveeno Purifying Body Wash. But after using it for five days, some days consecutively, I noticed that my arms were soft and smooth and all but one tiny scab from a scratch remained. The skin on the top of my arms was very rough since that miserable two to three weeks of poison ivy that occurred six weeks ago. I think the rough skin was caused mostly from scratching when almost everyone knows, one isn't supposed to scratch. More than one area got infected and swelled. But after the swelling went away, I was left with spots on my shins and a feeling of roughness on my forearms. The spots on my legs aren't completely gone, but I noticed that they have faded. I can't say that this product is the sole reason for my improved skin, but I do believe it helped while I was receiving other things. The Aveeno Purifying Body Wash comes in a soft plastic bottle with a hard plastic flip up cap. I think a pump applicator would be more suitable for us. The appearance of this product is a light green liquid, which has a luxurious feel between my fingers. It reminds me of cream rinse, but it isn't as thick and it isn't greasy. It has a pleasant perfume, which is a tad too strong for me. I prefer a more subtle fragrance. I wondered if this was the reason that I felt the need to extend my rinsing time in the shower. But when I dried off, I didn't feel like I left soap on my skin. I could still smell the perfume, even though ten minutes had passed since my shower. The Aveeno body wash doesn't have a thick lather, which is actually reassuring, when I read that the second ingredient was sodium laureth sulfate (SLS). This additive gives cleaning agents their lathering ability, but if too much is added, it causes all kinds of problems. The approved amount is less than 1%. According to the bottle of the Aveeno Body Wash, the ingredients in order of placement are: water, sodium laureth sulfate, cocamidopropyl betaine, glycerin, acrylates copolymer, citric acid, fragrance, sodium benzoate, avena sativa (oat) kernel flour, polysorbate 20, tetrasodium EDTA, sodium hydroxide, laminaria saccharina extract, mica, titanium dioxide, and chromium oxide greens. It's good to know the contents before one orders it, in case it contain an ingredient that conflicts with one's body chemistry. I used to never read about the ingredients in the cleansers I used on my skin. But I was motivated to learn, when during the first few days of using the Aveeno Body Wash, I started feeling temporary itchiness to different areas of my skin. This could be my body healing or something in my environment or one of the ingredients in the Aveeno Body Wash. I have enjoyed the other Aveeno products, but this appears to be a different formula altogether. However, I can't deny that it has helped the skin on my forearms return to normal and benefited my legs as well.
Amanda
Soothing Bath Treatment
I was given this product for free in exchange for my honest opinion. My 3.5 year old suffers from eczema and it is especially hard to manage in the winter months. I have used Aveeno products in the past and have been pleased so I was excited to try this out. I like the fact that it is accepted by the National Eczema Association. The bath was in fact soothing. I feel like it was much less harsh on his skin than a regular bath. Part of the appeal of this bath treatment is that it works as a natural cleanser and cleans the skin without soap. I especially like this because soap usually irritates my little ones' skin. Because this is targeted towards babies, the packets are sized for a baby tub. Since I bathe my 3.5 year old in a regular bath, I need to use two packets. I just wish there were 10 packets to a box rather than 5. That is my only complaint. It is easy to use and I am pleased with the results. I love that it is steroid-free, fragrance-free, paraben-free, phthalate-free and uses natural oatmeal as an ingredient. I will buy this product again.
Evilelf
Nature has a remedy for dry skin and it is oatmeal
My family is plagued with eczema. This becomes more of an issue as the cold weather sets in. Aveeno Baby Eczema Therapy soothing bath is an amazing and natural product to soothe itchy and dry skin for the entire family. I would recommend two packets per bath as this seems to be very finely milled. Two packets ensure enough of the healing properties of the product. After using the itch and dryness are gone.
Ced45
Soothing Bath Treatment
I received this product as a member of the walmart spark reviewer program. It states that it is steroid free, paragon free, and phthalate free and though there is no way i as a "lay person" can ever confirm this I have to say it the feel of it on the skin is good enough to say that i am a believer. It also says it is fragrance free but it does have a very nice scent to it. The scents not a heavy scent but a mild scent that is non-striking scent. However I do have a sensitive nose so i wonder if others may pick it up. the oatmeal additions is one of the primary reasons i got the product as the oats help to nullify inflammation from my knowledge. It really does the trick. I had hives and was extremely itchy from an allergic reaction to rice, which was a in a protein bar i had eaten (they used rice flour), and once i got in the shower and used this aveeno eczema therapy bath treatment the itching subsided and there was a subtle nice soothing effect once you walk out of the tub and felt a little breeze. The only issue i had was the packaging. It comes in 5 sachets and when you open one you do not necessarily use it all in one go. it would have been nice to have a ziplock feature to seal it instead of having to curl it up and place it in a ziplock bag so as not to have any moisture intrusions. Overall, great product and i would recommend.