Aveeno Daily Moisturizing Lotion To Relieve Dry Skin, 8 Fl. Oz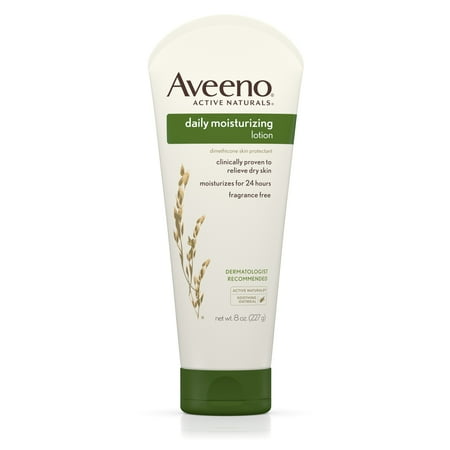 MSRP :

$8.13





Sale :

$6.46

Sold & shipped by Walmart
Product Description

Additional Information

Reviews
Product Description
Restore your skin's beauty with this Aveeno Daily Moisturizing Lotion. It is dermatologist recommended and clinically proven to relieve and improve the quality of dry skin. The fragrance-free lotion can moisturize the skin for up to 24 hours. It is made with natural colloidal oatmeal and will help protect chafed, chapped or cracked areas. Use this 8-oz Aveeno moisturizing lotion to help safeguard your skin from the effects of the elements.
Additional Information
8-fluid ounce bottle of body lotion
Moisturizes for 24 hours
For dry skin
Soothing oatmeal
Dimethicone skin protectant
Clinically proven to improve skin's health in 1 day
Fragrance-free, non-greasy, and non-comedogenic
Reviews
bk28
Need to fix the pump
I Love Aveeno. My rating would be much higher if you would work more on the pump problem. There is ALWAYS 1/3 of the product in the bottom when it stops working because the stem is too short. I know there must be some gap at the bottom, but that is ridiculous. When each bottle gets to this point, I turn it upside down, put it in the closet and let it sit for awhile. Then when the next bottle gets down there, I dig out the other one and pound it and squeeze it out into the next bottle. Takes a lot of time, isn't fun, and ticks me off each time. Sometimes I squeeze it into an old small wide mouth container which is easier, but I don't use it up fast enough to do that every time.
diana47
pump doesnt work with lotion left in bottom
i have psoriasis and aveeno fragrence free is wonderful for my skin keeps it moist and stops the itching and dryness.. but there is a problem with the pump..it doesnt work towards the botom with alot of lotion left..it would be great to have that problem fixed..the lotion is worth it... psoriasis can be painful and itcy.. diana from calif..
niamh
great results
my son was getting dry skin even tho i put lotion on every day, i changed to aveeno and saw results straight away, so now we all use aveeno body wash and lotion and i use positivly raident, i love the results
Fraurisa
A-second look
I did not like the Aveeno daily lotion with sunscreen and I've come to the conclusion that I have a long history of NOT liking products with sunscreen. Products with sunscreen always feel thick to me.For some reason 'they( products with sunscreen) feel like an extra sticky layer of 'stuff!' I decided to try the smallest version of the Aveeno Daily Lotion I could find---it was like night and day--or day and day! This lotion had none of that heavy feel--I didn't use it on my face--Aveeno Baby sensitive for THAT-but it felt fine on my hands and legs. There was a little excess in the application but nothing I couldn't deal with quickly--minus tissues and a towel. No strong scent no irritation--I know within a few minutes (sometimes) how my skin will react. Turn red, itch ect. I can put this in my purse-I like the tube/container size. Yesterday my husband made a mistake and put my Aveeno Baby lotion in A.J.s baby bag---this morning I found two (tubes) his,mine and his!!! Thanks!
Fraurisa
Love the lotion, disappointed in the packaging
Aveeno is so much better than any other lotion I have tried. It soothes my extremely dry skin. However the pump stops working when the bottle still has a lot of lotion left.