Johnson's Bedtime Lotion, Nighttime Moisturizer, 15 Fl. Oz.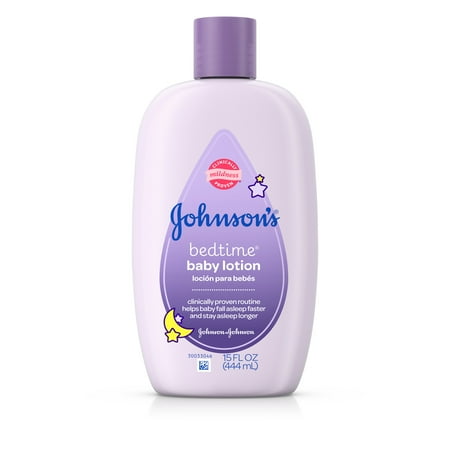 MSRP :

$6.48





Sale :

$5.99

Sold & shipped by Expresshop
Product Description

Additional Information

Reviews
Product Description
Help your baby wind down after a busy day with Johnson's Baby Bedtime Lotion. Everyone in a family needs a good night's rest. A bedtime routine that includes a warm bath with Johnson's Bedtime Bath (sold separately), and a massage with Johnson's Bedtime Lotion is clinically proven to help babies sleep. When your baby sleeps better, then you can rest easier as well. The lotion releases natural calm essences that promote relaxation. Having a consistent aroma is soothing as well. This special type of Johnson's baby lotion is mild enough to use daily on your baby's skin. It is also formulated to help keep your baby's skin moisturized. This unique baby skin lotion would make a great addition to your child's bedtime routine. Keep this gentle Johnson's Bedtime Lotion within reach in the bathroom or on a changing table shelf. Get your baby into a good nightly routine with a warm bath and a massage with Johnson's Baby Bedtime Lotion
Additional Information
27-fluid ounce bottle of moisturizing lotion
Helps soften and soothe skin
Formulated for babies
Best For Baby Standards: No Parabens, No Phthalates, No Soap or Dye, Hypoallergenic, and not tested on animals
NaturalCalm essences release relaxing aromas
Use as part of a clinically proven routine to help babies sleep better
Dermatologist-tested
Reviews
Starrsmommy
awsome product!
i was very hesitent rather to buy this product....i figured it was just another way of the company trying to make more money...but i bought it anyways along with the better sleep wash!!! i take my daughter a warm bath with the better sleep wash and then put the lotion on her and within little time she is zonncked out!!!! its amazing how it works and she sleeps more hours now!!!! great for her and myself!!!!
Starrsmommy
Execellent It Works!!
I have nothing but good things to say about this lotion. This stuff really works each time I have used it on my baby she has been out like a light in the very next few minutes. If your having trouble getting your baby to sleep, give him or her a nice warm bath then message them down with this lotion maybe a nice warm bottle and I promise you before you know it they'll be counting zzzzz's :)
ebonytanya
It works wonders for bedtime
I use this lotion after I give my newborn and 2 year old a bath with the bedtime bath and they both fall asleep soon after and sleep through the night. I don't know what it is about this lotion and baby wash but my house cannot live without it right now.
Cami
Love this lotion
I use this lotion on my son every night after bathtime. I also use the Johnson's baby bedtime bubble bath. He smells so good and sleeps so well. I wouldn't use anything else!
Liiv319
Love
I love love love love this product. When my son I fussy, is lather him up with this and he goes straight to sleep.