Johnson's Tiny Traveler, Baby Bath And Baby Skin Care Products, Travel Gift Set, 5 Items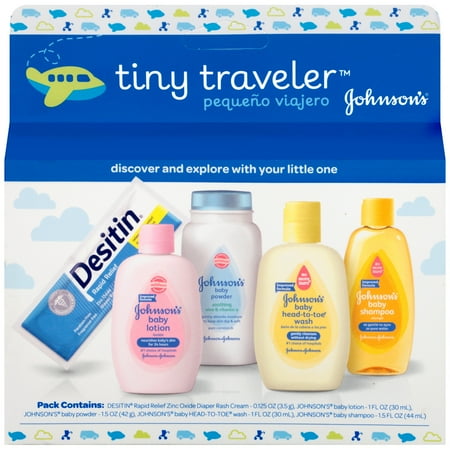 MSRP :

$3.92





Sale :

$3.86

Sold & shipped by Walmart
Product Description

Additional Information

Reviews
Product Description
The Johnson & Johnson Take Along Pack is a convenient way to make sure you have all your favorite baby products when traveling. Included is everything you may need to keep babies clean, healthy and happy for every occasion, from bath time to diaper change. This Johnsons baby take along pack comes with a pure cornstarch powder with aloe and vitamin E that absorbs moisture to keep skin dry and soft, one bottle of lotion, a head-to-toe wash, a baby shampoo that is gentle on the eyes, and one packet of No More Rash diaper rash cream.
Additional Information
Johnson's Baby Shampoo, 1.5 Fl. Oz
Johnson's Baby Head-to-Toe Wash, 1 Fl. Oz
Johnson's Baby Lotion, 1 Fl. Oz
Johnson's Baby Powder with soothing Aloe Vera & Vitamin E, 1.5 Oz
Desitin Rapid Relief Zinc Oxide Diaper Rash Cream, 0.125 Oz
Reviews
CarolH
Awesome product
It was awesome to have and came in so handy also I loved them smell of my baby after using it on him.
ahumblelove
Everything You Need for Changing Baby on the Go
This sample pack has everything you need when traveling and staying out of town. These are all sample sizes but the amount needed from each one is minimal for your baby or toddler and this will more than likely last your trip and still have some left over to use at home or your next outing. The baby lotion is the Johnsons standard is personally my favorite since it smells so fresh and clean as with the baby head to toe wash and baby shampoo. The Soothing Aloe and Vitamin E baby powder however is my favorite. There is definately a difference in the quality of this baby powder and I just love it. I always use baby powder in my children diapers while traveling because they are sitting and not moving around as normal and I find this baby powder tends to help a lot in absorbing the moisture and keeping their skin dry and soft. "I'm a member of the Crowdtap JOHNSON'S® rewards program, and JOHNSON'S® sent me a sample of its baby take along pack to review."
meaniegirl
mommy's little helper
it was a big hit! i put this and the sample sized diapers and some wipes in gift bags for the mom's who registered their kids for the free toy at Christmas. the moms that had infants got to take a bag to help with their little ones and were so appreciative. i wish that i could have done more.
Deanne
Wakes traveling easy!
So these little bottles make traveling with baby products so much easier because most people know that most baby products like this come in those large bottles and it makes it hard to go traveling with your baby and bring his or her baby bath products when they are in such large bottles, but now Johnsons have made this little baby bath/rash travel pack and this makes traveling with baby SO much easier now, my ha and, my baby and I when on a trip just a week ago and this little travel pack made it super easy to pack these kinds of things for my baby! I will always use this when we go traveling with our baby. Or even just putting these in a over night bag or diaper bag when your just doing era ends. I received this Johnsons baby travel pack through CrowdTap/Johnsons for free to try out, share about and then write a honest unbiased review on my experience on this product.
Missmemama
A travel must have!
"I'm a member of the Crowdtap JOHNSON'S® rewards program, and JOHNSON'S® sent me a sample of its baby take along pack to review." Im so thankful to get to try this Baby take along pack! Anyone who is traveling with a baby or child should get one! This take along pack includes everything you will need to keep your baby clean during your travels! It's perfect size too! Easy to pack but not so small that it's only used once or twice! This travel take along pack includes 5 items: Johnson's brand baby powder, head-to-toe wash, baby shampoo, baby lotion and Desitin! It has everything you need to bath your baby or child! I love this pack because we are avid campers and travelers with 8 kids, including every child when they were newborn! I appreciate having everything I need in a size that leaves room for the other things I need to pack!