Johnson's Baby Oil with Aloe Vera & Vitamin E, 20 fl. oz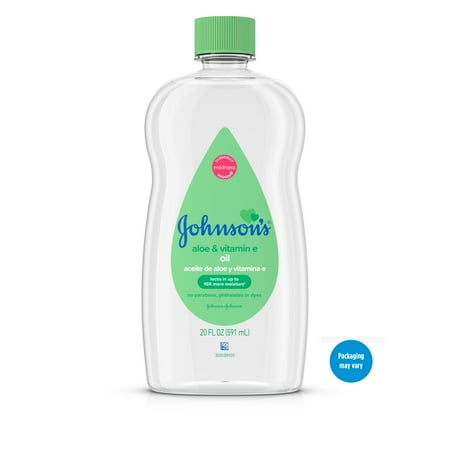 MSRP :

$4.99





Sale :

$4.92

Sold & shipped by Walmart
Product Description

Additional Information

Reviews
Product Description
Our Johnson's Baby Oil is enriched with natural Aloe Vera, known for its dry skin-soothing qualities, as well as Vitamin E, a known skin conditioner. It forms a silky barrier to prevent excess moisture loss and protect against dryness, leaving baby's skin soft and smooth. This moisturizing oil locks in up to 10x more moisture *on wet skin than an ordinary lotion can on dry skin. This allergy-tested gentle oil is great to use for a baby massage and parent-baby bonding. Use after bath, for a gentle massage, or anytime you want to help seal in moisture and refresh dry skin. Baby massage can be a relaxing, bonding experience for you and your baby.
Additional Information
20-fl. oz of baby oil enriched with Aloe Vera & Vitamin E for protecting skin from drynessLocks in up to 10 times more moisture on wet skin than an ordinary lotion can on dry skinPure baby mineral oil forms a silky moisturizing barrier to prevent moisture lossBaby oil is clinically proven to be gentle and mild for baby's skin, great for baby massageHelps moisturize and protect skin from dryness, great for relieving your dry skin or rough patchesHypoallergenic and dermatologist-tested baby oil contains no parabens, phthalates, or dyesSpecially formulated for babies' delicate skinAllergy-tested and lightly scented, leaves baby's skin feeling soft and smooth
Reviews
Reese
Serious allergic reaction
I bought this per dermatologist to soften skin on my legs and arms as I was receiving precancerous lesion treatment. I had severe itching over the areas involved from the beginning. Mypost treatment healing process went from bad to worse. I kept putting more baby oil on and started applying all over after showers, not recognizing it was not dermatology treatment sideffect. When I started covering myself I woke up in morning covered with generalized swelling all over and severe hives and itch. Everywhere.i stopped baby oil abruptly. It's been two weeks now. I'm still covered with sores in various stages of healing from scratching in the end, but I am done with hives, itch and baby oil.
Casper
My skin so soft
I mixed it with lotion in a old bottle and shook the heck out of it and it's leaves my skin the softest it's ever been. I apply a little every night and put lotion socks on after and wake up to baby softness.
Proud Gramma Suz
Everyday Shower Product
I have been using Johnson baby oil at the end of every shower for over 20 years now. I am 54 years old and anyone who is not my husband that has the opportunity to feel my skin is always impressed how soft and firm I am. Plus, most people think I am in my late 30s or up to mid 40s. Love, love this product
Fairytales2
Best for Sensitive Skin
I have sensitive skin. I have no problem using baby oil. If you are allergic to other body lotion, try baby oil. To me this is the only option. Hope you find your own.
CKCKHC
Soft Skin
i use this product after showering while my skin is still wet. It helps to hold in the moisture.