Clean & Clear Continuous Control Daily Acne Face Wash, 5 oz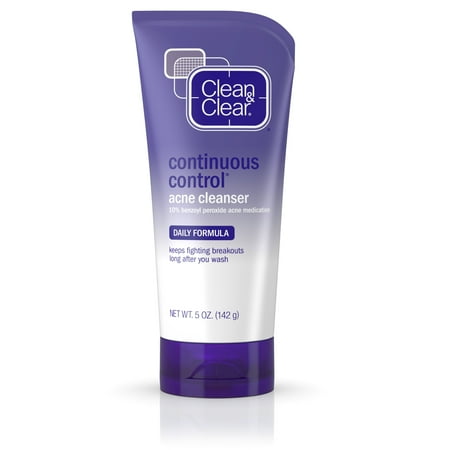 MSRP :

$8.69





Sale :

$4.97

Sold & shipped by Walmart
Product Description

Additional Information

Reviews
Product Description
Help keep your skin healthy with Clean & Clear Acne Cleanser. It washes away dirt and impurities, leaving you with soft, clean skin. This Clean & Clear cleanser will also continue to fight acne long after you wash your face.
Additional Information
5-oz of Clean & Clear Continuous Control Acne Cleanser with benzoyl peroxide acne medication
Daily acne face wash helps remove dirt and oil while also treating and preventing breakouts
Contains 10% benzoyl peroxide, the number-one pharmacist-recommended acne medication
Specially formulated for acne prone skin, it's ideal for normal, oily and combination skin
Acne cleanser features unique pore-penetrating technology that targets the source of blemishes
Face wash contains both mineral oil and menthol to help hydrate and calm facial skin
Keep fighting breakouts long after you wash & prevent breakouts with this acne face cleanser
This Clean & Clear facial cleanser provides continuous acne control and is intended for daily use
Reviews
Jessica
HOLY GRAIL OF FACE WASHES
This is one of the best acne cleansers I have found thus far. It's a bit strange as it does not lather and get soapy, but it does work. I suffer from severe hormonal acne, my doctor has me on birth control pills(which were not working) and just as we were about to try something else I discovered this product. I noticed a difference right away but still I've used this product for about 2 weeks now and it has cleared up nearly all my acne. Before I would break out in 15+ pimples all over my face, now when I break out it's only 1 or 2, and they are usually whiteheads and not actual pimples. However, there are a few downfalls, I have now been breaking out on my neck and chest whilst using this product. This was never a problem for me before but I don't think it is a result of the face wash, as I only use it on my face. I think my acne is kind of like "we can't go on your face so we'll go somewhere else." The only other downfall is that it is EXTREMELY drying. I normally have oily skin and after using this my face was covered in dry patches and very itchy. I had to try four different moisturizers just to find one that was hydrating enough to even out the dryness, even now I find that my face is still a bit irritated. This is an amazing product but make sure you have an extremely hydrating moisturizer to use in pair with it. **Pictures attached just so you can see the difference, my face is very unproportional so I only attached on half, but that's not the point! I still have scarring of course but you can see my complexion is much more even and no active breakouts!
KaitSlace27
Didn't work for me :/
On the bottle it states that after one week of use skin is visibly clearer. Well I waited a week, and my skin had actually gotten quite noticeably worse. I assumed that my skin wasn't use to it yet, and waited another 2 weeks on top of that. It still didn't work after that, and I felt it drying out my skin even though I was only using it once a day. I applied moisturizer to help balance it out, and took a break from using the Continuous Control to help get the natural oils back in my skin again. This helped a little bit, but now when I try going back to using this cleanser again it still doesn't work. Now after about 5 weeks of using this product, I am worse off than I started. The only thing that I am left with is trying to reverse the damage that it did in the first place. I don't want to hate on this, I really really just want clear skin! Help!
aprilisliving
Hate the new formula - DISAPPOINTED
DISAPPOINTED in the cost cutting changes I have used this product since it hit the market. As an adult that always had sensitive skin and adult acne, this product beat out Proactive in price and effectiveness. I started using my new container just to discover it has changed after all these years. I hate it! 1. since it is sold by volume, not weight, the new formula is whipped with air so there is actually less in the container. 2. The ingredient list has changed. The new formula makes my face feel heavy and gross, like I can't wash it off. 3. I admit, I tried the generic last year that came out, I didn't like it. I threw it away and returned to Clean and Clear. Guess what, this new formula is just like the that generic - what will justify the price if I can get the same thing generic. 4. The comment form to send on their website doesn't have the USA as a country - so they prevent their largest market from sending forms directly.
Ash
Great for Once a Day Use
The product was great for the first couple of weeks. I started to use the product twice a day and my skin started to get irritated. I was peeling and my breakouts got worse. I went back to only using it for once a day and it was great. Now I just use a lighter product in the morning.
Ash
MUUCHHHH BETTER THAN I EXPECTED!
After about a week it made all of my acne and most of my blackheads dispear!! It's like magic! >.< My routine: 1.I wet met face with hot water for about 20seconds+ over and over to help open up the poors. 2.Afterwards, I get about a centimeter or two and pour it evenly on my face, massaging it into my pores for about 15~30seconds max. 3.I then use cold water to wash it away(might sting just a bit). I use cold water to close up the pores and help the medicine stay inside to increase its effect. 4.Then just pat dry softly with a clean towel!