Johnson's Head-To-Toe Baby Wash, Gentle Cleanser, 15 Fl. Oz.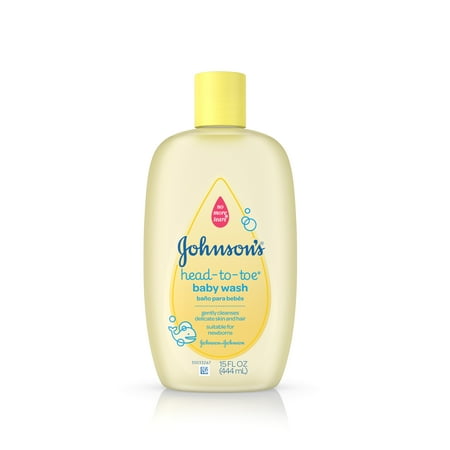 MSRP :

$6.58





Sale :

$14

Sold & shipped by The Cosmetic Depot Company Inc
Product Description

Additional Information

Reviews
Product Description
We love babies. And we understand that their delicate skin and eyes are sensitive. That's why we made our unique No More Tears Head-To-Toe wash gentle enough to cleanse sensitive baby skin without drying. Now with hypoallergenic fragrance, it's dermatologist-tested, dye-free, soap-free and hypoallergenic. No wonder it's the #1 choice of hospitals and at home. Moms trust Johnson's Baby Always Mild & Gentle.

How to Use:
Wet baby's hair and body with warm water, apply wash with your hand or washcloth, gently lather, rinse & snuggle.

Safety Tip:
Keep out of reach of children. Do not use if quality seal is broken.

Ingredients:
Water, Cocamidopropyl Betaine, PEG-80 Sorbitan Laurate, Sodium Trideceth Sulfate, PEG-150 Distearate, Glycerin, Polyquaternium-10, Tetrasodium EDTA, Citric Acid, Sodium Hydroxide, Sodium Benzoate, Ethylhexylglycerin, Phenoxyethanol, Fragrance
Additional Information
15-fluid ounce bottle of foaming hair and body wash
Gently cleanses without drying
Formulated for sensitive baby skin
Dermatologist-tested to be gentle
Johnson's No More Tears formula
#1 choice of hospitals
Soap- and dye-free formula
Hypoallergenic
Reviews
Laurenf
Best shampoo ever
This shampoo smells so good.
Subby1963
Not Hypoallergenic
Johnson Head to Toe has been the only body wash I have been able to use for the last 25 years because of severe allergies and asthma. When I opened my newest bottle the first thing I noticed in the shower was the horrible smell of perfume. The second thing I noticed was the intense itching that started almost immediately. The worst part the asthma attack triggered by the allergic reaction. Those are the worst kind of asthma attacks. The whole time I couldn't figure out where the allergic reaction and smell was coming from because if you smell the wash it smells the same. It doesn't smell like perfume until it mixes with water. I don't know what I will do now as this was my wash, shave gel, and the only oil free peanut tree nut free product I could find that wasn't scented. Johnson and Johnson you made a huge mistake with your improvement. I use to give this as part of every baby gift I bought but I won't now baby's should never be exposed to scents this strong.
Princess22
Love this product
I gotten some samples of these from my sons ped office and used them and now I buy the biggest bottles of these they have when I go to Wal-Mart I love how it last a long time and how it's for body and hair so I don't have to use one for body and a different one for hair so it's a time saver to just use 1 bottle for both I also love the way it smells and how my son smells so clean after I wash him and I love how soft it makes his skin . Love this product so much I sometimes use it on myself . This is the best of all the soaps Johnson's have that I have used .
DisappointedMomof1
Please change it back
I have been using this product since my baby was born 7 months ago. A few weeks ago I ran out and bought another bottle, not even paying attention to the fact that the new bottle was "new and improved." Much to my dismay, the first time I used the new bottle I realized that the smell was completely different! It's awful! It's so bad that one night (almost immediately) after giving my baby a bath, my husband had to ask if I had bathed her or not- he couldn't tell if she was "clean." The smell reminds me of the generic/mass produced hand soap that they have in my daughters' Pediatrician's office or in an Elementary School. Not at all what I was used to. There was something so soothing about the original scent. On top of that, my daughter has started breaking out on her face, which hasn't happened once since she was a newborn. My only saving grace is that I am visiting my parents house this weekend, so I can steal their bottle of the original. That's the only reason that I am giving this product 2 stars, instead of just 1. The old product was the BEST!
JenGrin
Johnson Baby Head-to-Toe Wash
Most people would think me strange, but I still use this shampoo on my son. He is now eleven, and I've used it on him since he was a baby. I love the no more tears. He actually washes his own hair, but I get no complaints because he knows his eyes won't get burned from the suds. It always leaves his hair in a clean and beautiful condition. Don't really know yet when I'll stop using it. Lol