Johnson's Naturally Derived Cornstarch Baby Powder with Aloe & Vitamin E, 9 oz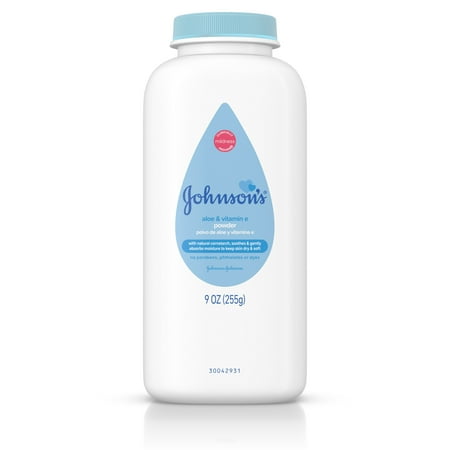 MSRP :

$6.58





Sale :

$6.58

Sold & shipped by Pharmapacks
Product Description

Additional Information

Reviews
Product Description
Let the natural moisture-absorption qualities of pure cornstarch keep your babys skin comfortable and dry.
Additional Information
9-oz of baby powder with naturally derived cornstarch, aloe & vitamin E
Baby powder gently absorbs moisture to keep skin dry & soft and soothes delicate skin
Hypoallergenic, Dermatologist-tested, and specially formulated for baby's unique skin
Free of parabens, phthalates, dyes, and harsh fragrances. 100% gentle.
Clinically proven mild baby powder with a light, silky texture for easy application
Great for kids and adults too! Try it at the beach to help remove sand.
To use, shake powder directly into your hand, away from the face, before smoothing onto the skin
For over 125 years, Johnson's formulas have been specifically designed for baby's delicate skin
Reviews
Marilyn26
No great features as manutured in China
I have uses J&J Baby Powder for many years. Sadly, since you are now manufacturing it in China, I will no longer be purchasing this product. I will, however, continue to use the Baby Oil as long as you continue to manufacture it in the USA or Canada.
Ann18
Allergic to new formula baby powder
I have been using Johnson & Johnson baby powder for about 3 years after changing from Shower to Shower. Ever since I started using the new pink label powder I have had blister rashes everywhere it is applied. I have tried changing undergarments brands with no effect. Is there something new in the powder that might cause this reaction? Very desperate!
Pebbles
Pink tear drop
I've been using the classic white label powder with no issues. Couldn't find that one so bout the pink tear drop within a day or two I'm bike out in a rash everywhere the powder touched. Where's my white label one???? What changed
Trina725
What has happened to my baby powder??
Did J&J change something with the baby powder? For years myself and my husband have used this product and it never gave us a problem. Now the packaging has changed, and the powder seems thin, and does not work how it usually would. I would hate to think that my beloved product has changed and will no longer be able to use.
Shelley 287
Now causes rashes on me and baby
I've used Johnson's baby powder (JBP) (cornstarch)my entire life --as did my mom-- and I've used it on my kids as well. I'd never had a problem with it UNTIL this past year. I've always been a very big girl/woman so JBP has forever been a mainstay in my hygiene practices. I just had my second child in January 2018 (oldest is 12) and of course I used JBP with her first diaper change, as with each one until she was about a month old. I changed her frequently, cleaned and dried her well, and always used JBP as I did with my oldest. But she began developing an irritation or rash where it looked as though the skin was peeling, from front to back and halfway down her thighs. I tried using different wipes, creams, ointments, soaps, and even diapers, but it would not let up. Never did I imagine it could have been the powder that caused it. At her 1-month checkup we saw a different doctor than usual who said to stop using powder immediately (citing risk to lungs) and prescribed an antibacterial ointment for the rash. I thought both of those things to be weird/overbearing but I stopped using powder with her very next change just for the heck of it and waited on the ointment. As soon as I stopped using the powder (using only A&D ointment instead) the rash began to clear and heal. It got better and better and healed completely after about a month. It took another month for the skin discoloration to change (she has medium complexion and the rash was white/pink). Still, I thought maybe SHE was just sensitive to it and a couple months later I used it (a brand new bottle) on my own genital area for two days until I started getting the same irritation. It itched like crazy and the skin began peeling. I threw it away and I'll never buy it again. There are other brands out there but I've learned to live without powder completely.