JOHNSON'S BATH DISCOVERY Baby Gift Set, 8 Items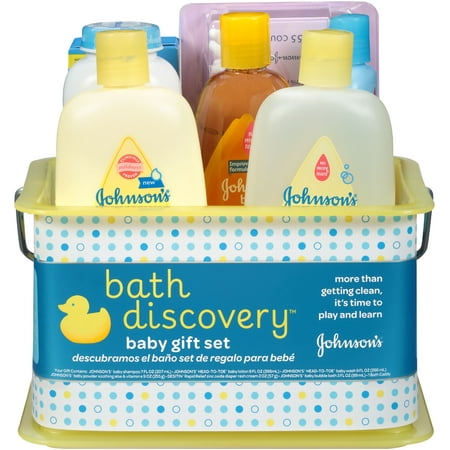 Sale :

$23.94

Sold & shipped by Discount Deals & More
Product Description

Additional Information

Reviews
Product Description
JOHNSON'S BATH DISCOVERY Baby Gift Set has been specially designed for families with newborns. It contains all the essentials for a baby's bath: swabs, shampoo, lotion, wash, bubble bath, powder, and diaper rash ointment, all tucked neatly into a bath caddy. Created by the #1 baby skin care brand around the world, this set is a great gift for any parents-to-be.
Additional Information
JOHNSON'S Baby Shampoo,7 Fl. Oz JOHNSON'S BabyHEAD-TO-TOE? Lotion, 9 Fl. Oz JOHNSON'S BabyHEAD-TO-TOE? Wash, 9 Fl. Oz JOHNSON'S Baby BubbleBath 3 Fl. Oz JOHNSON'S Baby Powderwith soothing Aloe Vera & Vitamin E, 9 Oz JOHNSON'S Safety Swabs,55 Count DESITIN Rapid ReliefZinc Oxide Diaper Rash Cream, 2 Oz 1 Plastic Bath Caddy
Reviews
Step419
No bath toy/mismatched picture & description
I bought the Johnson's Bathtime Gift Set to use when my daughter was born. I was excited to try all the different J&J products in the gift set. I am overall pleased with the variety & quality of products & give the item 5 stars. However, the picture shows a bottle of baby bubble bath & wash, and the description does not have the bubble bath & wash but a 4 oz baby oil. I would have been pleased to try either product. I did not receive a bubble bath or baby oil, but a 4 oz bottle of Head-to-Toe wash. Also I did not receive the cute bath toy as described. Please change the picture & the description to match the current gift set so as not to cause any confusion for future purchasers. Thank you Walmart & J&J!
MisplacedTexan
No bath toy/mismatched picture & description
This product is great for all new and pro. moms out there. It provides you with all the baby bath and after essetials that are neccessary in every day life after the baby is born.
dottylilmom
Useful
i got this as a gift when my daughter was born.. i love all the stuff that came in the basket but it was shipped and when it got to me the basket was broken :( other than that tho i love it.. the duck is cute and the things included last a long time!
DDR52
Disappointing
I bought this item as it was listed on a baby registry for an upcoming baby shower. I guess I should have read more information about product sizes included with this prior to purchasing this item. It appears that the products in the basket are fairly large size. When product arrived I found it had a plastic base inside the container and so the different lotions, shampoos, etc. were small. Not worth the price. Should have gone with my original idea: bought my own basket, covered it with material and bought regular size items.
truthad
Good value!
This set has everything helpful to care for baby! Has a lot of items. A brand you trust.