JOHNSON'S BATH DISCOVERY Baby Gift Set, 8 Items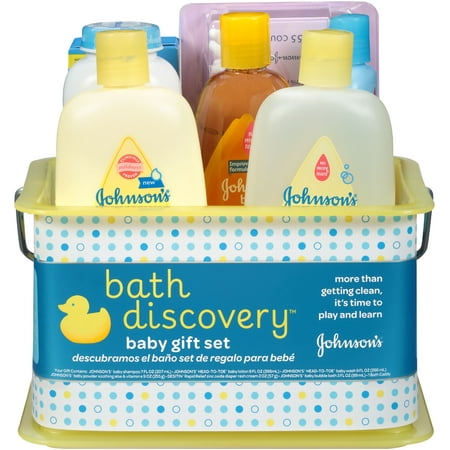 Sale :

$24.29

Sold & shipped by Pharmapacks
Product Description

Additional Information

Reviews
Product Description
Johnson & Johnson is a leading brand that manufactures toiletries for babies. The Johnson's Baby Bathtime Gift Set has been specially designed for use by families that have newborn babies. These baby bath gift sets contain a Baby Shampoo, a Baby Lotion, a Bath Caddy, Head-to-Toe Baby Wash, a Baby Oil, a 9oz Baby Powder Pure Cornstarch with Aloe and Vitamin E, Safety Swabs and Desitin Creamy Zinc Oxide Diaper Rash Ointment and Bath Toy. The Johnson's essential pack can be given as baby shower gifts, birthday presents or you could buy a pack for your own child's usage. The seven products come neatly packed in a reusable tote bag. Studies show that nearly eight out of ten pediatricians choose Johnson & Johnson products for their own children. Get home the Johnson's essential pack and give your baby the bath time care he deserves.
Additional Information
JOHNSON'S Baby Shampoo,7 Fl. Oz




JOHNSON'S BabyHEAD-TO-TOE? Lotion, 9 Fl. Oz


JOHNSON'S BabyHEAD-TO-TOE? Wash, 9 Fl. Oz


JOHNSON'S Baby BubbleBath 3 Fl. Oz




JOHNSON'S Baby Powderwith soothing Aloe Vera & Vitamin E, 9 Oz




JOHNSON'S Safety Swabs,55 Count




DESITIN Rapid ReliefZinc Oxide Diaper Rash Cream, 2 Oz




1 Plastic Bath Caddy



Reviews
McCrarymomof2
Excellent for Bath Routine!!!
I've always loved these products they will always be my go to for my children. The Soothing Vapo wash definitely helped my baby get in a great nights rest with a cold.
Cristy19
One of the best lotion.
I loved this lotion. It has a mild scent and gentle to my skin. They discontinued this product . I'm glad that they put it back in the market. I would recommend this to my friends and family.
Gagirl18
Not for sensitive skin
I would not recommend I used this on my daughter after using dove since she was born and she broke out in big red Patches all over her skin ..
Step419
No bath toy/mismatched picture & description
I bought the Johnson's Bathtime Gift Set to use when my daughter was born. I was excited to try all the different J&J products in the gift set. I am overall pleased with the variety & quality of products & give the item 5 stars. However, the picture shows a bottle of baby bubble bath & wash, and the description does not have the bubble bath & wash but a 4 oz baby oil. I would have been pleased to try either product. I did not receive a bubble bath or baby oil, but a 4 oz bottle of Head-to-Toe wash. Also I did not receive the cute bath toy as described. Please change the picture & the description to match the current gift set so as not to cause any confusion for future purchasers. Thank you Walmart & J&J!
MisplacedTexan
No bath toy/mismatched picture & description
This product is great for all new and pro. moms out there. It provides you with all the baby bath and after essetials that are neccessary in every day life after the baby is born.